We need more encouragement
Share - WeChat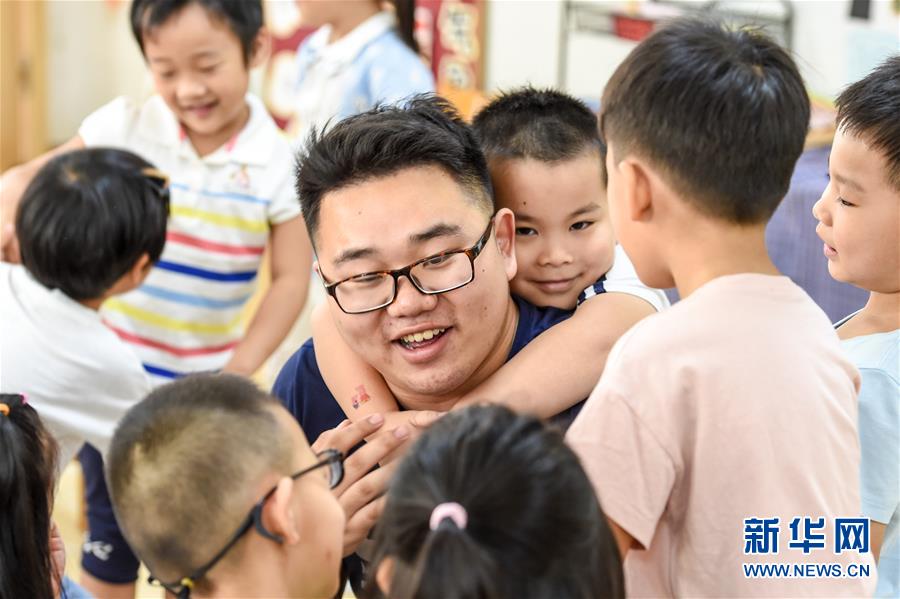 Xing Xiaoyong, a male kindergarten teacher in Guangzhou, Guangdong province.
I have been a kindergarten teacher for 15 years and although many male teachers I know have left the job, I have stayed all this time and plan to teach at kindergartens until I retire.
In 2005, I graduated from South China Normal University in Guangzhou, Guangdong province, having majored in physical education, and started teaching at a kindergarten in the city.
I was the only male teacher at the kindergarten at the time, and although several other men taught there later, they all left after a few years.
In addition to teaching, male kindergarten teachers are often required to fix things, make toys and organize sporting activities.
Preschool children go through an "imitation stage" and outside influences are very important, so there is a need for masculine figures to help cultivate well-rounded characters.
Low salaries, a lack of professional satisfaction and the persistent stigma associated with men who are kindergarten teachers are the primary reasons for the scarcity of male teachers.
Society is biased against men who aspire to become teachers because education is not perceived as a successful or lucrative career for them.
Some even face difficulties in finding a spouse because of the social bias against the profession. I believe it is important to change society's attitude toward male kindergarten teachers and for men to ignore such bias.
My salary has risen over the years, from 1,500 yuan a month when I first started to about 9,000 yuan ($1,270) now. I have also obtained a professional title equivalent to that of "associate professor".
With the support of my employer and local education authorities, I have established six online courses that explain how to become a good kindergarten teacher.
Over the years, I have seen more men choosing the profession, because the education authorities and kindergartens have introduced measures to attract more males to the profession and keep them in their jobs.
The education authorities should allocate more senior professional titles to kindergarten teachers and the teachers should receive much higher salaries.
Only when the income is commensurate with the work input will excellent young men be encouraged to join teaching teams and change the gender imbalance among teachers.
Xing Xiaoyong spoke with Zou Shuo.