Train carrying epidemic gear leaves Wuhan for Belgrade
Share - WeChat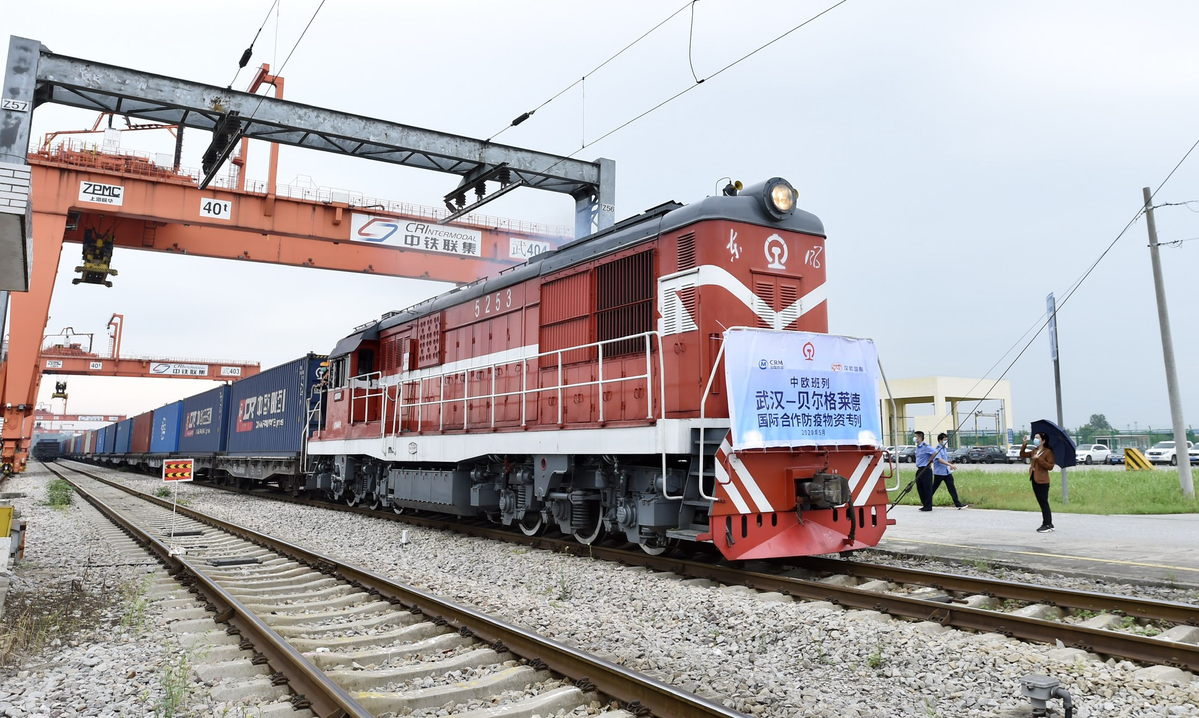 Cargo includes 7.4 million surgical masks, plus goggles and thermometers
A China-Europe freight train carrying epidemic prevention and control supplies left Wuhan, Hubei province, on Saturday bound for Belgrade, the capital of Serbia.
The train left Wujiashan railway container center station at 10 am carrying almost 300 metric tons of anti-epidemic supplies worth more than $15 million, according to Wuhan Asia-Europe Logistics, the operator of the train.
It was the first train carrying only anti-epidemic supplies to have left Wuhan, a city once hit hard by novel coronavirus pneumonia, since freight train services resumed on March 28, it said. The cargo included items bought by Serbians and donations from Chinese.
Gao Ruorui, the company's deputy general manager, said the supplies included 16 million nonsurgical masks, 7.4 million surgical masks, 10,000 nonsurgical protective suits, 220,000 surgical protective suits, goggles, thermometers and medical devices.
The cargo would arrive in Belgrade in 18 days, he said, adding that it would leave China by the Alataw Pass in Xinjiang.
"The Serbian government and its people offered great support to China when it was seriously hit by the epidemic, and it is our turn to return the favor," he said.
Fifteen China-Europe freight trains carrying the equivalent of 1,366 standard 20-foot containers have left Wuhan since the resumption of services, Gao said.
The stable operation of China-Europe freight trains has contributed to the resumption of work at foreign trade enterprises in Wuhan and neighboring regions, ensured the continuation of the global supply chain and supported the global fight against the pandemic, he added.
The first China-Europe freight train to leave Wuhan after the resumption of services arrived in the western German city of Duisburg on April 14. The services were halted when Wuhan was put under lockdown in January.
The goods on that train included medical supplies, auto parts, electronic products and optical communication fibers, Wuhan Asia-Europe Logistics said.
In March and April, China sent 3,142 tons of anti-epidemic supplies on China-Europe freight trains to European countries, where the epidemic situation was grim, China State Railway Group said.
In the first four months of this year, 2,920 China-Europe freight trains transported 262,000 20-foot equivalent units of cargo between the two regions, up 27 percent year-on-year, it said.
The trains have remained a reliable transportation channel connecting China, Europe and countries involved in the Belt and Road Initiative.
There were 8,225 China-Europe freight train services last year, up 29 percent year-on-year, China State Railway Group said.