Garbage sorting hits home on Friday in Beijing
Share - WeChat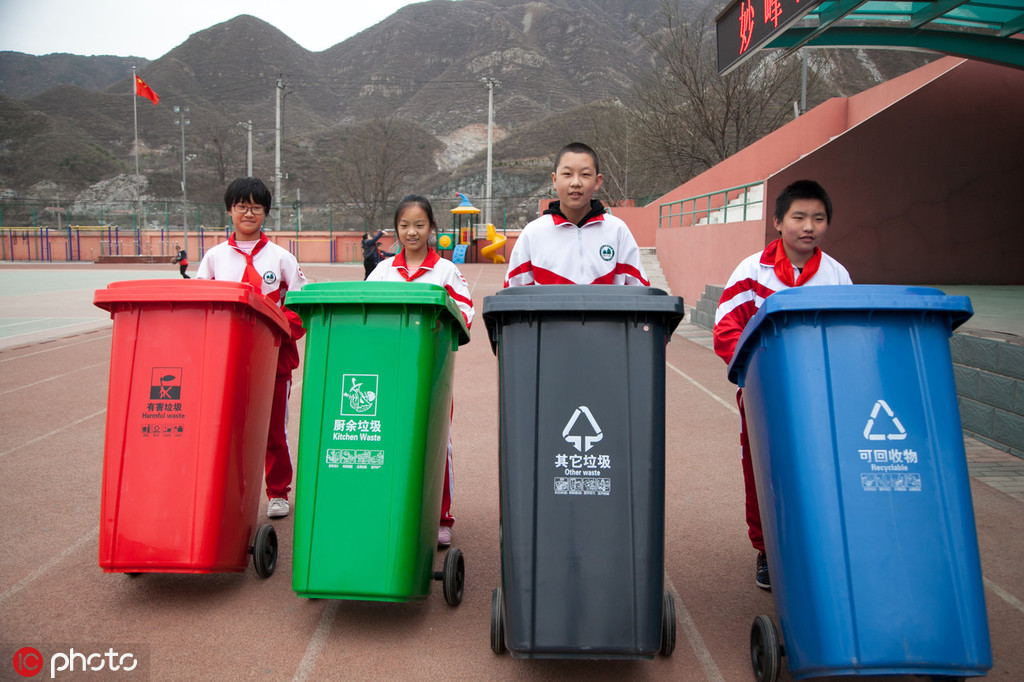 Beijing will enforce mandatory garbage sorting citywide starting on Friday as officials press ahead with issuing guidelines.
The strict garbage sorting rules require citizens to classify their domestic refuse into four categories: kitchen waste, recyclables, hazardous waste and other waste. Those who fail to sort trash appropriately may face fines up to 200 yuan ($28).
Four colored trash bins are also required in communities across the capital. Residents toss their junk in a trash bin whose color corresponds to the category — green, blue, red and gray.
To help people classify their domestic rubbish, a guideline released by the city's urban management commission on Monday advised residents at home to equip themselves with two bins and a bag to separate waste conveniently.
Inspections will be conducted until the end of July to enforce the rules. They will include a focus on dumping and the transport of mixed refuse.
Another three-month campaign by the city's market supervision authorities regarding the use of plastic bags will also start on Friday to crack down the illegal use and sale of the bags.
Under the newly revised domestic waste regulation, supermarkets, shopping malls and trade markets may no long use superthin or free plastic bags. Restaurants and hotels must stop offering disposable items unless customers request them.
As of the end of March, there were 44 domestic waste treatment facilities in Beijing handling 32,711 tons of rubbish per day, according to the capital's urban management authorities. The city is equipped with more than 113,000 waste classification bins and sorting stations to help with the upcoming sorting process.