TCM doctor helps boost residents' immunity
Share - WeChat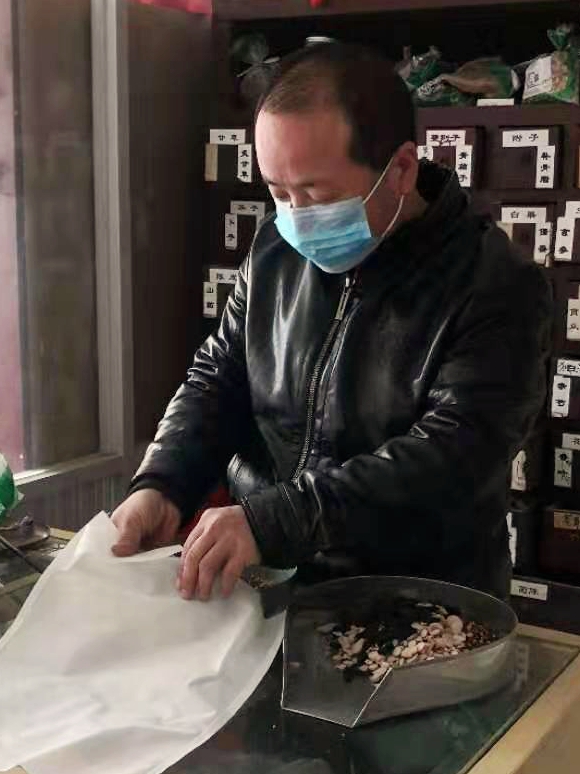 Editor's note: This series tells the stories of selfless individuals, from medical workers to volunteers, who are bravely fighting the virus outbreak with extraordinary dedication.
Lu Erzhuo's clinic has had fewer visitors in the past two months because people had been asked to stay home in order to reduce the risk of novel coronavirus infection.
As a practitioner of traditional Chinese medicine, Lu wanted to do something to society, but he didn't know how he could help during this health crises, even as the frontline medical workers were making all efforts to save lives.
"I wanted to do my bit when people were facing the deadly virus," said Lu, 50, a TCM doctor who has been treating patients for 27 years, mainly those with stomachache, gynecological problems or those suffering from hypertension and hyperglycemia, or high blood sugar level, which is common among diabetics.
When a friend met him in February at his clinic in Raoyang, a county in Hengshui, Hebei province, asking for ways to build immunity, he saw an opportunity. Lu felt he could come up with a preparation for his neighbors.
He decided it would be made available free for all residents of his community, which is called Erzhong Families Home, and houses some 80 families.
His clinic is located within the community.
Lu shared his thoughts on the WeChat group that comprised residents of the community.
The response was overwhelming, with many of them giving a thumbs-up to the idea.
More than 30 community members gave their go-ahead on the same day. Two days later, the number rose to about 80, which is more than half of the community's residents.
"We all know each other. It's like a big family, and I want to ensure they all have a strong immune system," he said.
With the help of his wife, Lu prepared a concoction using different types of herbs, including cassia twigs, white peony root and ginger, which have properties that help to build immunity.
Once the preparation was ready in the morning, the couple packed them into small sachets and kept them at the entrance to their home so the residents could pick them up by themselves.
"This is the best way to distribute medicine because it prevents contact between people, reducing the risk of spread of the virus," Lu said.
Geng Congjun, 60, a resident of the community and one of the recipients of the medicine that Luo had made, said he had it for four days.
"Although I could not feel any obvious effects, I and my family members didn't catch cold or any other illness since the Spring Festival holiday, when COVID-19 started to spread wide and fast across the country," he said.
Gao Tingying, who also lives in the community and is leading the epidemic prevention and control work, said Lu had been helping in the prevention efforts.
Lauding Lu for helping the residents improve their immunity, Gao said: "People (in the community) have been cooperative in enforcing restrictions imposed to reduce the spread of the virus."
Meanwhile, more patients have started to visit Lu's clinic with life gradually returning to normal.
Like Lu, many doctors or medical practitioners in villages and communities in cities across the country have been playing a key role in the fight against COVID-19.
Liao Songlin, 63, a retired doctor at Gantang, a village in Central China's Hunan province, picked up his medical kit in February, and went around the village to check on people for symptoms of COVID-19, according to Changsha Evening News.
"Doctors like us can play the basic, but important, role of protecting people from the disease," Liao was quoted as saying.