With lockdown over, locals go out for noodles
Share - WeChat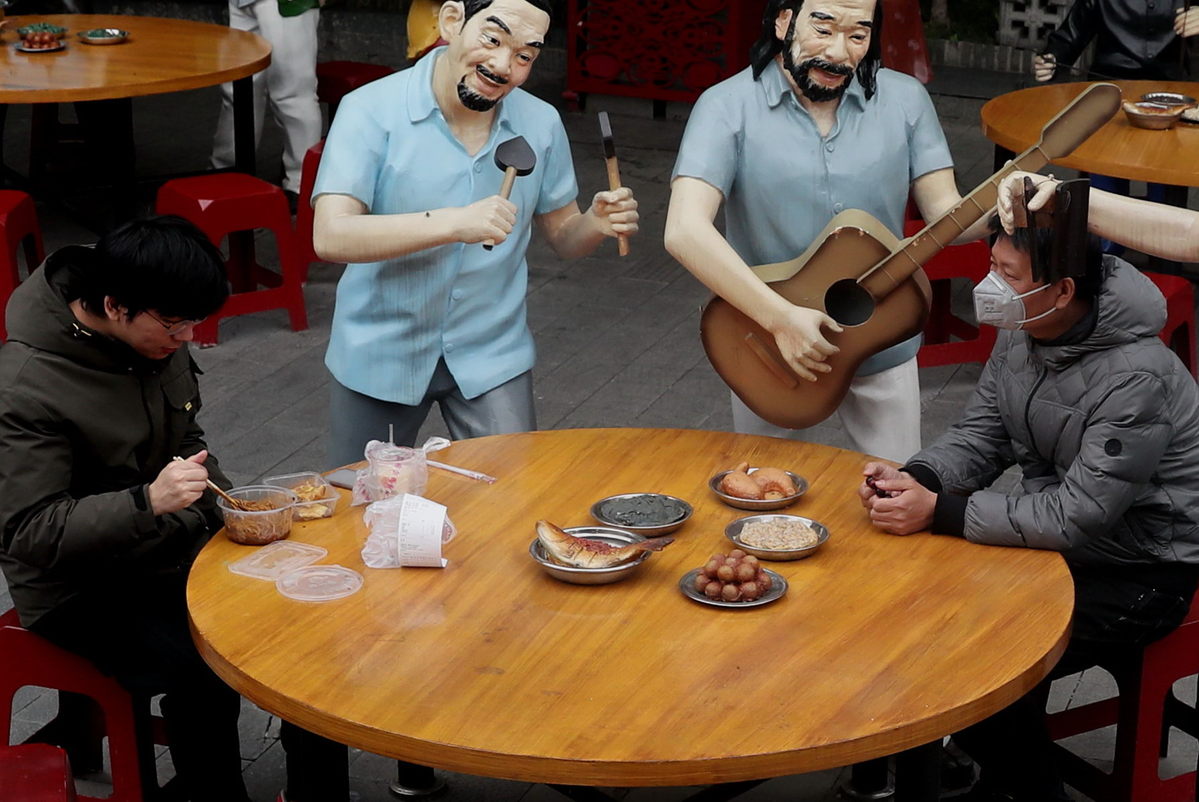 Customers flock to restaurants to satisfy cravings for beloved specialty
Although not allowed to eat inside the shop, customers eager for hot dry noodles-or reganmian in Chinese, the favorite local food in Wuhan-lined up for takeout.
The capital of Hubei province reopened to the outside world on Wednesday after a 76-day lockdown due to the novel coronavirus, and it is gradually getting back to normal.
Cailinji, Wuhan's fast-food iconic chain restaurant, began resuming its operations two weeks ago.
"With the city gradually getting back on its feet, the need for hot dry noodles will definitely increase because this is the first thing that comes to mind when people are thinking about what to eat for breakfast here," said Li Jie, public relations manager of Cailinji.
According to the company, about half its 70-plus branches in Wuhan have reopened, and the rest will resume operations in the coming days when more staff return to the city.
According to Li, each of those branches that are open can sell about 5,000 bowls of noodles every day. "Our sales may reach tens of thousands of bowls of hot dry noodles on Wednesday as more people go out," Li added.
Since the epidemic has basically been brought under control in the city, people from communities with no confirmed cases are allowed to go to work after a long stay at home. But they are still not allowed to be served in restaurants and can only order food online or take it away from the shop.
It is also suggested that people maintain distance from others to avoid potential virus spreading.
Li even put a table at the gate of the restaurant to serve as a takeout service desk and isolation line.
"We strongly suggest that customers order food online and eat by themselves," Li said.
Moreover, all employees receive temperature checks three times a day, and the company also ensures a supply of masks and disinfectant supplies.
"We do want to provide dine-in service when everything is OK. It will also mean that Wuhan is totally back on its feet again," Li said.
Customers said they have missed their favorite food after being locked down for so long.
"It is my first day going out after the lockdown since January. I cannot wait to buy hot dry noodles for the first time, which is some kind of sign of returning to normal life," said Wang Ling, a local who came to Cailinji to order noodles with her mother.
Besides the fast-food restaurants, most shopping malls and central business districts have gradually restarted operations over the past week.
Luo Fei, deputy general manager of Wushang Plaza Shopping Center, said its current bestsellers include cosmetics and spring clothes.
"We have been locked down for the whole winter, and people are desperate for changes," Luo said. "With the coming of spring and normal life, people want to enjoy life and shop again."
In line with the government's requirements, all safety measures are available in Wuhan for protecting the stores and the people in them, including temperature testing and disinfection.
All customers should follow protective procedures, wear masks and show a health certificate before entering shopping malls.
Zhang Yiduo and Yu Qimeng contributed to this story.