Lake near Hangzhou sees uptick in visitors
Share - WeChat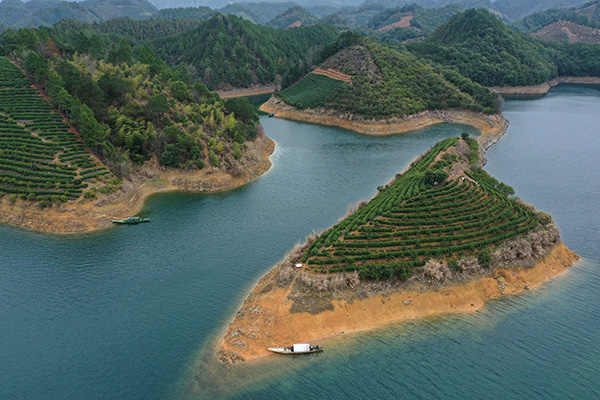 Many visitors were recently seen in the county without face masks after Chun'an issued a notice telling tourists they need not wear masks in open-air or low-density spaces. The lake is a main attraction in Chun'an that has seen tourism rebound since the outbreak. The county has reported no confirmed cases of infection so far.
Most local hotels and restaurants, homestay facilities and tourism venues have resumed operation in Chun'an as the COVID-19 situation improves nationwide.
Fang Bisheng, director of the county's culture, radio, TV, tourism and sports bureau, says he is very confident about the revival of local tourism.
Most travelers visit Qiandao Lake to hike the hill nearby or experience rural life, says He Lihong, an employee at the scenic spot.
Many have also rented bicycles to go around the lake and take in the natural setting along the way. The lake now offers boat rides and visitors can enjoy distinctive local cuisine in the area.
The Meifeng observation deck is something that travelers shouldn't miss. It offers a full view of the labyrinth of the islands. There are professional photographers taking pictures for tourists on the deck, and each photo costs 25 yuan ($3.5). About 200 people go to the deck daily as compared with fewer than 10 when the scenic spot reopened to the public in late February.
Travelers can also opt for small islands on the lake, where karst landscape and monkeys can be spotted.
At the Xipo homestay in a lake resort, employees are busy preparing for travelers. The county has asked local workers to take vacations after the pandemic in China is over. Bookings for weddings later this year, especially in September, have surged at Xipo. Many weddings had to be postponed because of the viral outbreak and were rescheduled, according to the homestay management.
Chun'an plans to roll out more favorable policies in near future to draw in travelers from far and wide, the county government says. A big tourism promotion campaign will be launched soon in the county, aiming to draw more residents from Hangzhou to the Qiandao Lake area.
Che Jun, Party chief of Zhejiang, says Chun'an is a "garden of the province" that will move ahead in tourism recovery.