Live streaming helps spread Mongolian ethnic culture
Share - WeChat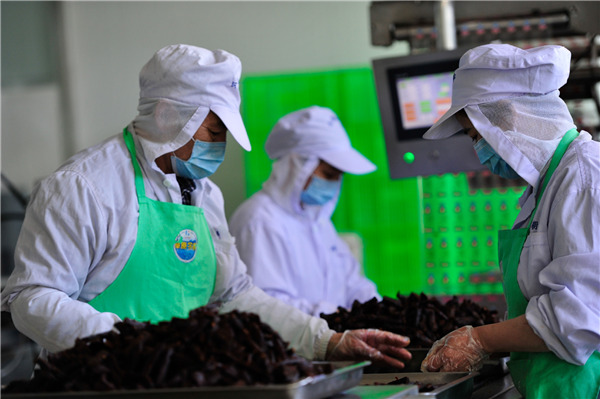 Altantuya spends about four hours every day live streaming the original processing craft of beef jerky and other Mongolian cuisine in her factory in North China's Inner Mongolia autonomous region.
After putting on her dark blue uniform, a disposable mask and gloves in a processing room, Altantuya picks up a chunk of beef and throws it on a chopping board.
"I can tell if the beef quality is premium from the way it vibrates. The skill can only be obtained through practices, not words," Altantuya told her audiences.
Altantuya developed a keen interest in the beef jerky-making technique from an early age and became the fourth generation inheritor of her family's special recipe for the traditional Mongolian air-dried meat.
In 2013, she opened a beef jerky processing factory in her hometown of Xilin Gol League, which is known for fine livestock species and high-quality dairy products. The factory, covering an area of nearly 4,000 square meters, produces about 100 tons of beef jerky per year.
At the very beginning, Altantuya just sold her products at brick-and-mortar stores and supermarkets. In 2015, she expanded her business by opening online stores on e-commerce platforms.
For her unique beef jerky-making technique and successful startup experience, she was named the inheritor of the intangible cultural heritage of the Mongolian air-dried meat processing craft at the regional level in 2016.
But an entrepreneurial journey just tells one page of her story.
Most Popular