Beijing Parks, including Summer Palace, cancel cultural events for Tomb Sweeping Day
Share - WeChat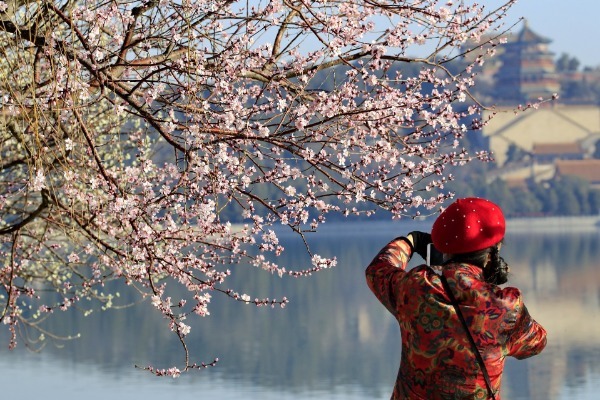 Flower viewings and other cultural events for the upcoming Tomb Sweeping Day will be cancelled in 11 public parks in Beijing, the Beijing Municipal Administration Center of Parks announced on Thursday. The Summer Palace, Beihai Park and the Temple of Heaven will all put their activities on hold.
The beautiful spring scenery has been attracting an increasing number of nature lovers to Beijing parks.
To ensure public safety during the COVID-19 outbreak and curb big gatherings, the city's parks have adopted nine measures to monitor visitor flows, including online ticket booking, traffic control and body temperature measurement.
The Summer Palace, Fragrant Hills, Yuyuantan and Beijing Zoo as well as Jingshan, Taoranting and Beihai parks all now require visitors to purchase tickets online. Bookings can be made 1 to 7 days in advance through the WeChat public account of each park.
The Summer Palace and Beijing Zoo are using a real-name reservation system. The ticket buyer must provide their identity card to validate their booking.
Staff are also in place at 227 spots where people usually tend to gather, including the Long Corridor and the Longevity Pavilion at Temple of Heaven.
If parks notice an instant increase in the number of visitors, a mechanism to control the flow of people will be put in place to reduce the crowds on site to 30 percent of the park's total capacity.
Measures include partially controlling the crowds, slowing down entry of visitors and closing the venue to new arrivals.