Xi stresses green model of growth
Share - WeChat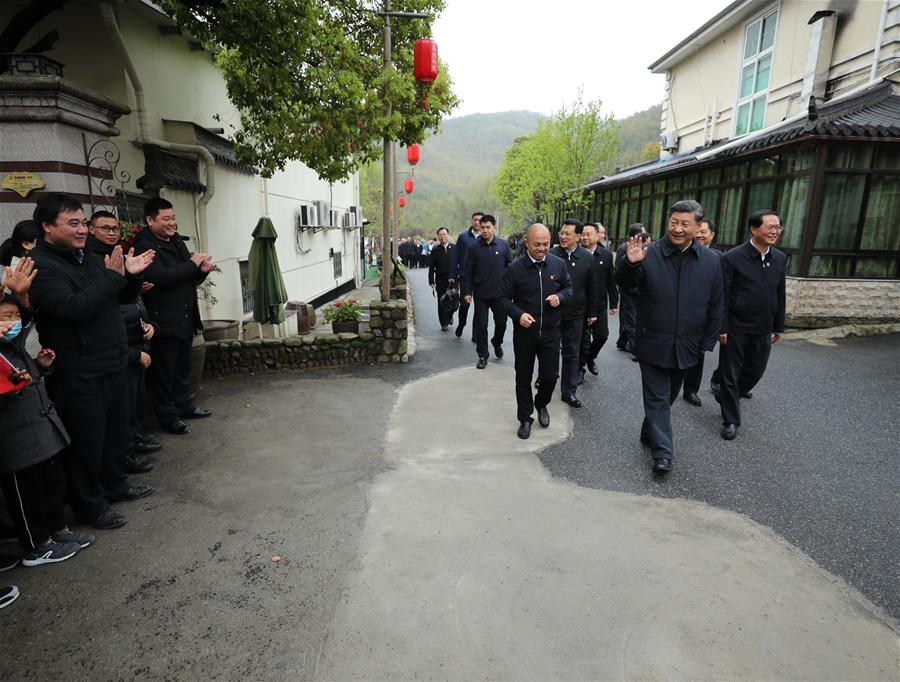 President says care for environment provides rich economic dividends
President Xi Jinping stressed the importance of environmental protection during his inspection tour of eastern China on Monday at a village where he unveiled his theory of ecological civilization 15 years ago.
Xi, who is also general secretary of the Communist Party of China Central Committee and chairman of the Central Military Commission, visited Yucun, a village in Anji county of Zhejiang province, and talked about environmental protection.
Protecting the mountains and waters well will provide special advantages for the further development of the village, Xi said, adding that the economy should not be developed at the cost of destroying the environment.
"The environment itself means the economy. If you protect the environment, you will receive rewards from the environment," he said.
Building a modern socialist country includes both the modernization of urban and rural areas, Xi said.
After the goal of building a moderately prosperous society in all respects is fulfilled, the government will promote rural development in all respects and build more beautiful villages, Xi said.
The development of Yucun proves that green development is the right path, which should be carried on in the future, Xi said.
In August 2005, Xi visited the village to praise the local government for stopping mining activities and closing cement factories to deal with the then serious pollution problem. During the visit, Xi put forward his famous development theory of "lucid waters and lush mountains are invaluable assets", which was later known as the "Two Mountains Theory".
"Just now you said that you've made the decision to shut down some mines, which is a wise move. Lucid waters and lush mountains are invaluable assets," Xi, then Party secretary of Zhejiang province, told the local officials at a meeting held 15 years ago, according to a video released by China Central Television.
Yucun now stands out as a rural scenic attraction visited by urban residents of places such as Shanghai, Hangzhou and Nanjing.
Today, the village has 280 households and its residents earned a per capita income of 49,598 yuan ($7,040) in 2019.
"The Two Mountains Theory has given a face-lift and resulted in fascinating changes to the village, improving the residents' income six times," Pan Wenge, former Party secretary of Yucun, told China Daily.
He added that Yucun's successful experience, seeking rural revitalization through green development, has not only raised villagers' incomes over the past 15 years, but also helped to improve their social awareness.
The village has witnessed no lawsuit or criminal case for the past 10 years, he said.
In 2019, the village registered a gross economic income of 280 million yuan, becoming a model of the comprehensive construction of a well-off society in rural Zhejiang.
"For our next step, we are working with nearby villages to boost regional collaborative rural development," said Wang Yucheng, head of Yucun, who briefed Xi about the village's future plan during his inspection tour on Monday.