Aid welcomed in Middle East, Europe, Africa
Share - WeChat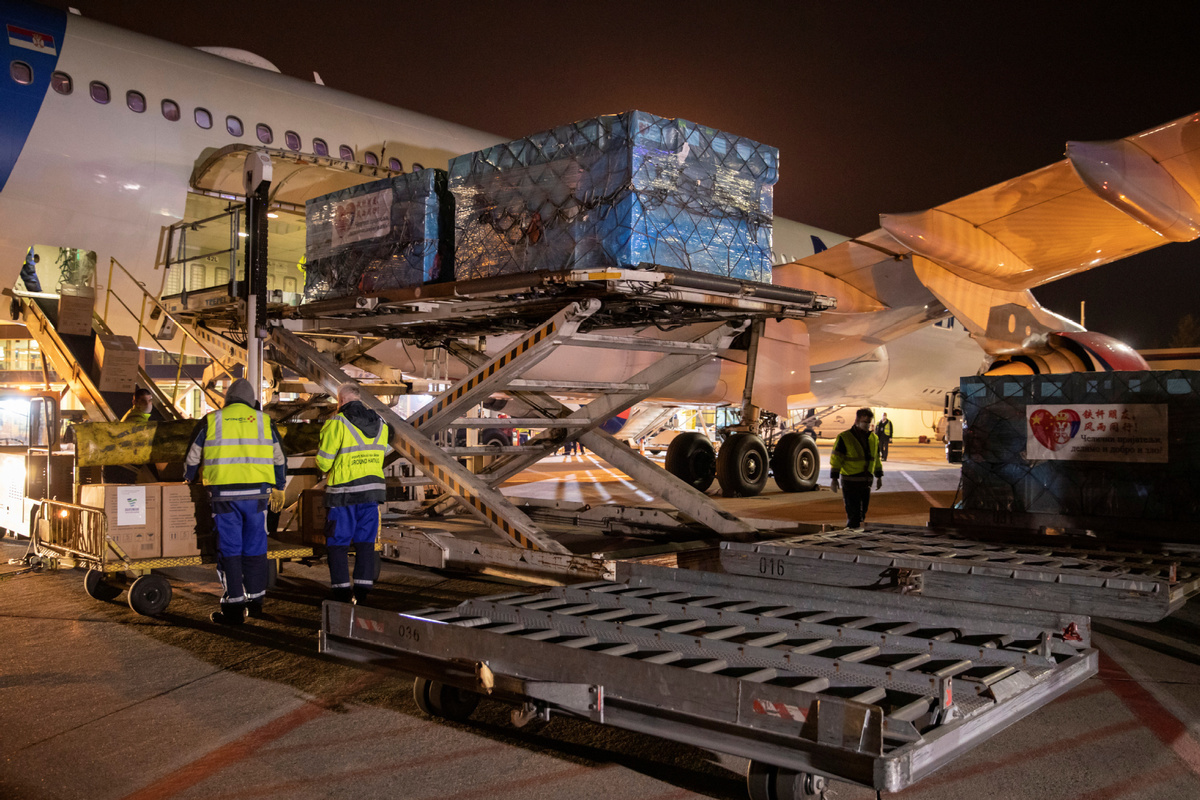 The spread of COVID-19 is now posing an especially severe challenge to the Middle East, where chronic wars, sanctions, famine, financial collapse and political unrest have hampered efforts to contain the virus's spread.
Tens of thousands of novel coronavirus cases have been registered in the region, with Iran alone having more than 35,000 cases. Cases also have been reported in war-torn Syria and Libya, where multitudes of displaced people are acutely vulnerable to diseases.
At such a crucial moment, some Chinese medics are fighting alongside their Middle Eastern counterparts, and Chinese expertise and supplies have been warmly welcomed as the region fights the pandemic.
In Baghdad, capital of war-torn Iraq, a new polymerase chain reaction laboratory is ready to be put into use. The laboratory, set up recently with the help of Chinese experts, is expected to greatly improve the country's capacity to identify cases.
"Testing ability in Iraq is far from enough," said Yang Honghui, who arrived in Baghdad on March 7 as part of a seven-member Chinese medical team sent by the Red Cross Society of China.
The laboratory, with a Chinese donation of nucleic acid test kits and other supplies and equipment, will be able to conduct about 1,000 tests per day, Yang said.
Asaad Mahdi, deputy director-general of the Iraqi Ministry of Health, said, "This new laboratory will enhance our ability to deal with this pandemic for the residents of Baghdad, who make up to about 20 percent of Iraq's population."
Iran, the worst-hit country in the Middle East, also benefited from the on-site help of experts from the Red Cross Society of China, who arrived in Teheran on Feb 29, 10 days after Iran reported its first confirmed case.
The Chinese medical workers returned to China last week after concluding their mission there.
"During the 27 days in Iran, we could feel the friendship between the two peoples, and our work was widely appreciated," said team leader Zhou Xiaohang.
Zhou, the head of the Disaster Relief and Health Department of the Shanghai branch of the Red Cross Society of China, said Chinese expertise, including experience in nationwide mobilization, home quarantine, and full screening and testing of suspected cases, as well as centralized treatment of patients, had been applied in Iran.
Chinese medical teams and aid supplies have also been sent to Europe and Africa.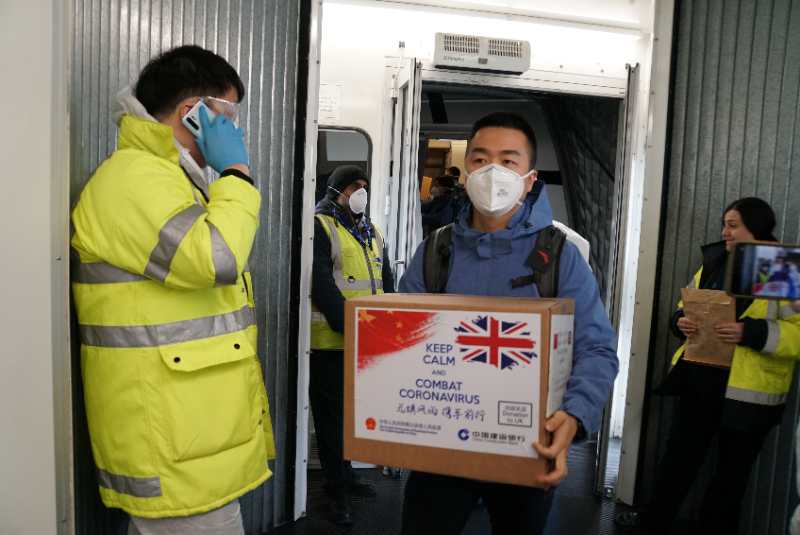 On Saturday, a group of Chinese specialists from Shandong province arrived in London to assist in the fight against COVID-19.
The 15-member team includes six medical experts specializing in such areas as disease prevention and control, traditional Chinese medicine and Western medicine, and psychological counseling.
The team brought 23 metric tons of medical supplies. Team members will also provide health consultation to overseas Chinese, according to Chinese diplomats in the country.
More than 1,200 patients who tested positive for COVID-19 had died in Britain as of Sunday afternoon, according to figures released by the Department of Health and Social Care. As of Sunday afternoon, the number of confirmed cases in the country had reached 19,522.
After medical supplies and equipment from China arrived in Tunisia on Saturday, the country's presidency said: "China has responded without hesitation to the presidency's request to protect the medical and paramedical staff, as well as all agents of various other sectors who are standing in the front line of this war that all humanity is fighting."
Two temporary hospitals have been set up in Iran, said Wu Huanyu, a member of the expert team and a professor at the Shanghai Municipal Center for Disease Control and Prevention. "And more mobile hospitals will be built."
In a video conference on Thursday, Chinese medical experts spoke to their counterparts in several Middle Eastern countries including Libya, Turkey, Lebanon and Syria about fighting the pandemic.
Han Baoyi in London contributed to this story