Nation's first cargo airport could see flights late next year
Share - WeChat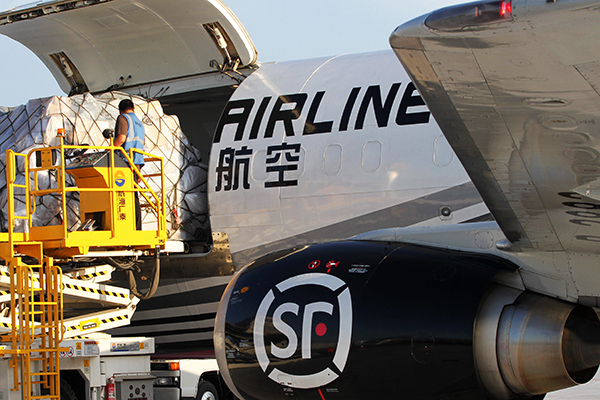 China's first cargo airport, located in Hubei province, is expected to be put into use by the end of next year or early 2022, although the novel coronavirus pneumonia outbreak has delayed its construction, the country's top economic planner said on Sunday.
The country will also accelerate the construction of other cargo airports during the 14th Five-Year Plan period (2021-25) since the outbreak has exposed the country's lack of cargo airports and cargo aircraft, said Ren Hong, an official with the National Development and Reform Commission's Department of Infrastructure Development.
Construction of Ezhou Airport, in Hubei's Ezhou city, which neighbors the provincial capital Wuhan, started in the second half of last year, and it is the first airport in the country to obtain investment from private companies, Ren said, adding that the airport is expected to handle 3.3 million metric tons of freight by 2030.
While the passenger throughput of the country's 235 airports grew 6.9 percent year-on-year to 1.35 billion last year, freight volume rose just 2.1 percent to 17.1 million tons, Ren told a news conference.
"Moreover, there are only 173 cargo aircraft in service in China, compared with more than 550 in the United States, and the Chinese cargo aircraft account for only 4.5 percent of the nation's total civil aviation aircraft," she said.
Zhang Qing, an official with the Civil Aviation Administration of China, said 23 cargo flights had been dispatched to transport more than 4.06 million tons of pandemic prevention and control equipment to other countries by March 26.
The administration has taken various measures to increase international air cargo capacity during the novel coronavirus pneumonia pandemic and ensure the stability of the global supply chain, Zhang said.
It has allocated many peak time slots at major airports for cargo flights, has opened "green channels" to simplify approval procedures and has encouraged domestic and international airlines to launch extra cargo flights, she said.
Jin Jinghua, director of the State Post Bureau's Department of Policies and Regulations, said China delivered 2.1 billion parcels overseas last year, with most of them transported by aircraft.
China Postal Airlines, SF Airlines and YTO Airlines have more than 100 cargo aircraft and have opened more than 30 international routes, he said.
Although the country's international express deliveries have increased by an average of 35 percent a year in the past five years, the international business of China's delivery companies is still in the early stages, he said, adding that international freight services accounted for less than 3 percent of delivery companies' business by volume last year and less than 10 percent of their revenue.
The bureau will encourage delivery companies to expand their services to nearby countries, such as Japan, South Korea and Russia, and broaden delivery channels to West Europe and North America, he said.