President promises full support for WHO
Share - WeChat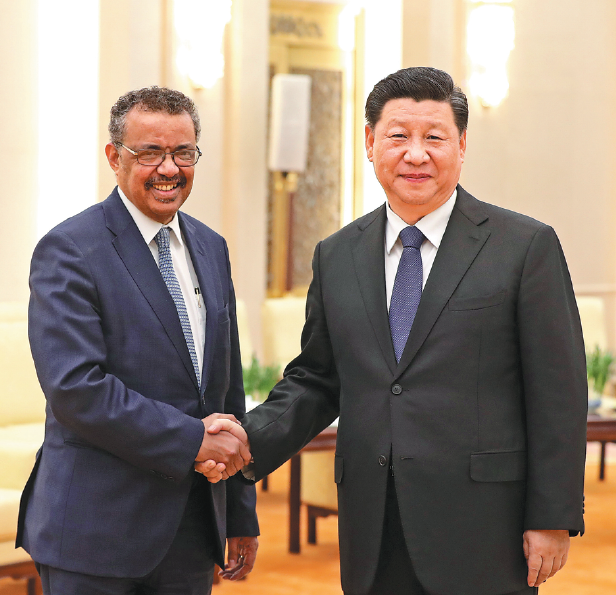 China will work with the World Health Organization and international community to uphold global public health security and continue to provide support for the international community in fighting the COVID-19 pandemic, President Xi Jinping said on Thursday.
Xi made the remark in a reply letter to WHO Director-General Tedros Adhanom Ghebreyesus, who wrote to him on March 17.
In the letter to Tedros, Xi said he appreciated the WHO chief's efforts to advance the global battle against the novel coronavirus pneumonia outbreak and the organization's close cooperation with China on stemming the contagion's spread.
Saying that the epidemic control situation in China has been continuously improving and the momentum for resuming production and normal daily life keeps growing, Xi said the country's efforts to consolidate epidemic control and socioeconomic development have produced positive results.
The country will accurately adjust its priorities and measures in line with the changes to the situation both at home and abroad to ensure it wins the people's war against the epidemic, he said.
Xi expressed firm support for Tedros and the WHO in playing a leading role in international cooperation and said China has supported the international efforts to curb the virus and has provided aid to international organizations including the WHO, as well as more than 80 countries. It will continue to lend a helping hand to the rest of the world to the best of its ability, he added.
Saying the pandemic again demonstrates that mankind is a community of a shared future, Xi underlined the need for international society to help each other at this trying time.
In his letter to Xi, Tedros commended China's incredible efforts to curb the epidemic under the leadership of Xi, and said it was the strong resolve of the Chinese government and the devotion and sacrifice of the Chinese people that enabled the country to respond to the epidemic promptly and comprehensively.
China has shown the world that the epidemic's progression can be changed, he said.
Tedros thanked the Chinese government for its donations to the WHO for international epidemic control. He said it demonstrates the spirit of global unity and mutual assistance and has great relevance to curbing the pandemic as soon as possible.