Baowu to ramp up global expansion
Share - WeChat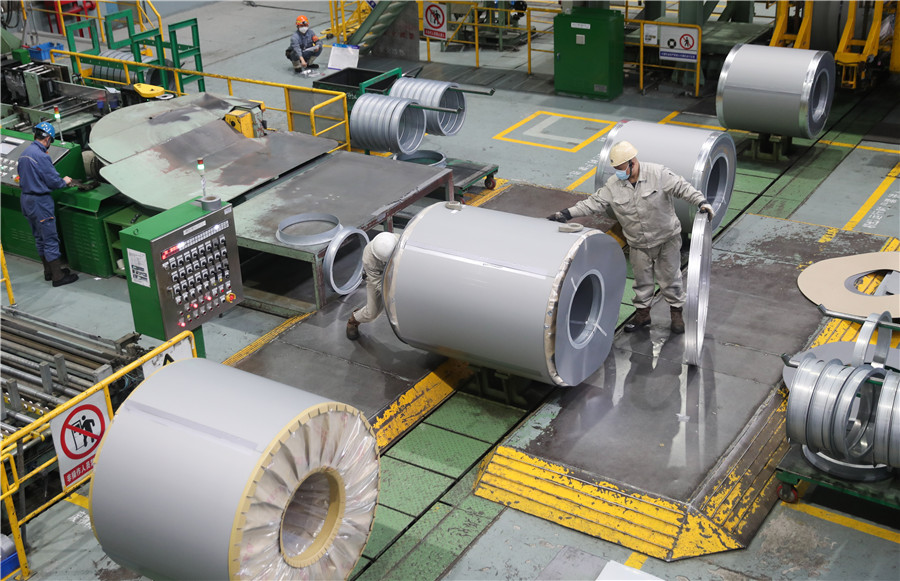 After becoming the world's largest crude steel producer last year, China Baowu Steel Group has not slowed down in seeking a global leadership role as a first-class steel mill.
Chen Derong, chairman of China Baowu Group, told China Daily that the group will further internationalize its business, focusing primarily on the promising European and American markets.
"According to published data, China Baowu has overtaken ArcelorMittal to become the world's leading crude steel manufacturer," Chen said.
In 2019, China Baowu Steel Group produced 95.22 million metric tons of crude steel. Its revenue hit 556.6 billion yuan ($79.48 billion) and its profit reached 34.5 billion yuan, up 690 million yuan from the year earlier level.
The performance is impressive given a slowdown in the industry.
Luxembourg-based ArcelorMittal reported negative net profit of $1.9 billion last year. It produced 89.8 million tons of crude steel in 2019, and generated $70.6 billion in revenue.
"China's steel output accounted for half of the world's total, so it's natural for Baowu to achieve such a result," said Chen.
It is only a matter of time before China Baowu will become the No 1 steel maker by volume as the company has consistently expanded output through several mergers and acquisitions.
In December 2016, China Baowu was formed through the unification of Shanghai-based Baosteel Group and Wuhan Iron & Steel Group in Central China's Hubei province. This created a monolith with a production capacity of 70 million tons, second worldwide only to Arcelor-Mittal.
In June 2019, China Baowu acquired Maanshan Iron and Steel Co Ltd's (Magang), which not only consolidated Baowu's strength in steel production, but also boosted its output to more than 90 million tons.
Last December, Chongqing Iron & Steel announced that its controller Four Rivers Investment Management Co Ltd signed a letter of intent with China Baowu to transfer the controlling interest to the latter. The deal is expected to close by the end of June this year.
"After becoming the world's largest steel maker, we are aiming to become a real global leader in technology and profitability," said Chen, adding Baowu is not yet the most profitable firm in terms of per ton steel profit nor a leader in technology and innovation.
Although Chinese steel companies produced 53 percent of the world's crude steel, no Chinese steel maker has reached the top 10 steel mills ranking by competitiveness, said Wang Guoqing, director of the Lange Steel Information Center.
Major Chinese listed steel companies have been investing heavily in research and development.
In the 2019 annual competitiveness ranking by World Steel Dynamics, five Chinese steel companies were among the top 34 in its listing.
The top Chinese steel maker is China Baowu's Baoshan Iron and Steel Co Ltd (Baosteel) which was ranked at No 15. It was followed by China Steel in Taiwan at 22, Anshan Iron And Steel Group Co Ltd (Ansteel) at 24, Maanshan Iron & Steel Co Ltd (Magang) at 31, and Jiangsu Shagang Co Ltd (Shagang) at 34.
The WSD survey measures 23 criteria for being competitive. This included business scale, production extension, market location, cost saving capability, and technological innovation among others.
"Our focus for the coming three to five years will be our profitability and technology to elevate China's steel industry from the world's largest steel maker into a global steel power," said Chen.
From its establishment in late 1978, Baosteel has been setting the highest technology standards among Chinese steel mills. Over the past few years, investment by China Baowu in research and development has surpassed those of other domestic steel mills.
A report on R&D expenditure by 32 Chinese steel companies compiled by Hithink RoyalFlush Information Network Co Ltd showed Baosteel's R&D investment in the past three years reached 14.9 billion yuan, more than double the amount of second ranked Hebei Iron and Steel Co Ltd (Heteel) at 6.79 billion yuan.
The missing piece for China Baowu to become a global steel leader is globalization. Its chairman said more efforts will be made in its overseas development.
"Globalization is what is inevitable for a conglomerate to develop into certain scale because only in a global market could business efficiency and competitiveness get enhanced," said Chen.
In the past few years, China Baowu's procurement and sales are becoming more and more internationalized, although manufacturing for the moment remains domestic in orientation.
Chen suggested there are opportunities in the mature markets of the United States and Europe as well as countries and regions tied to the Belt and Road Initiative.
"We are more competitive than European countries and the US in terms of equipment, technology, talents and products. And the 2.3 billion people in countries and regions related to the BRI can generate tremendous steel demand," said Chen.
Wang suggested China Baowu's goal of going global would also be achieved through collaborations with partners from across the steel supply chain.