Baowu Steel Group seeks to become global market leader
Share - WeChat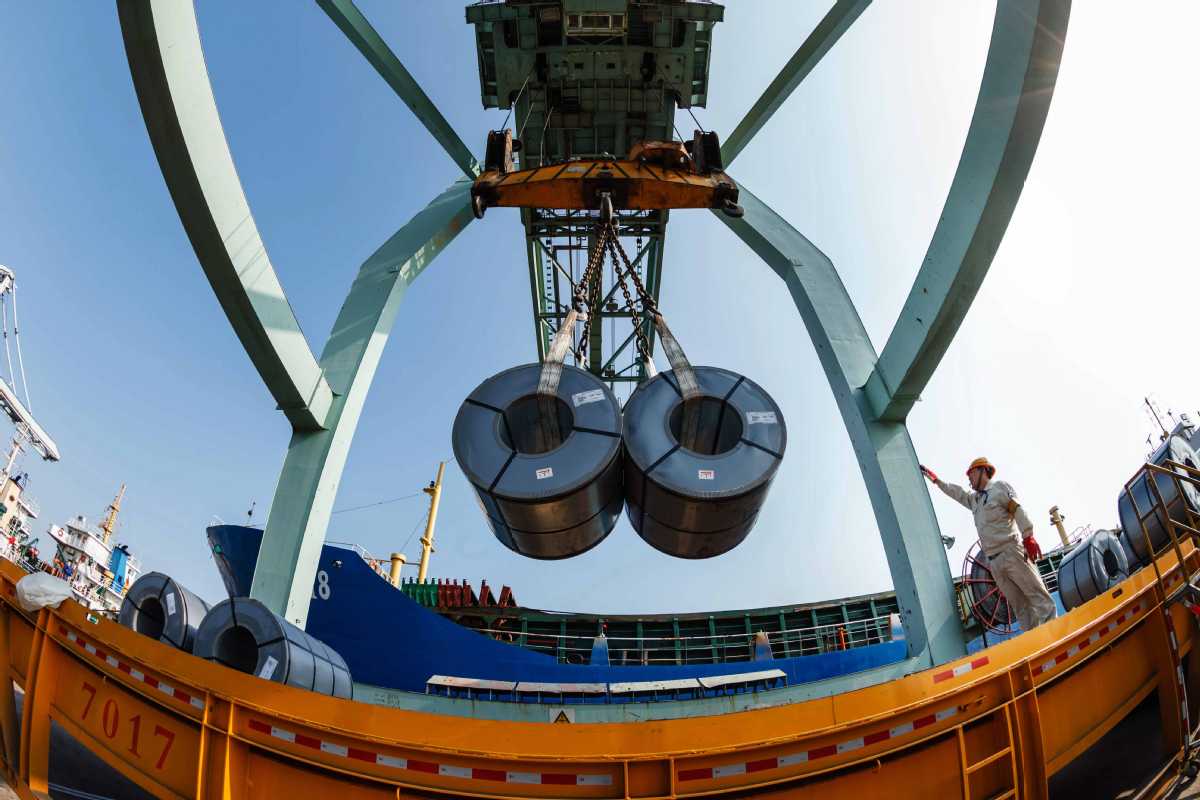 Recent major merger has provided firm with vital support to fulfill strategic goal
China Baowu Steel Group, the nation's largest steelmaker, is seeking to strike a balance between solid growth and sustainable development through supply-side structural reform.
As the bellwether of the Chinese steel industry, China Baowu Steel has been carrying on supply-side reform in the past few years and is striving to become a global steel leader with an annual output of 100 million metric tons in the years to come, said Chen Derong, chairman of China Baowu.
Its recent merger with Maanshan Iron and Steel Co Ltd (Magang) has provided it with support to fulfill its goal. In November, China Baowu has acquired a 57.18 percent stake in Magang's listed entity from its controller Anhui Provincial State-owned Assets Supervision and Administration Commission to date, according to public information.
"Magang has 20 million tons of steel capacity, and Magang's unique product portfolio will extensively consolidate Baowu's strengths and increase its output to more than 90 million tons," said Chen.
China Baowu manufactured 67.43 million tons of crude steel in 2018, and Magang produced 19.64 million tons of crude steel, according to statistics from the China Iron and Steel Association, which means their total output is only 13 million tons away from Baowu's year-2025 goal of 100 million tons.
In addition to increasing their steel production quantity, the restructuring also paved the way for their collaborative development in leveraging each other's advantages. For example, Baowu is well known for its silicon iron and auto sheets, whilst Magang's vehicle wheel steels are widely used on bullet trains.
"The two companies' respective strengths will further enhance their capability in the steel sector with more complete production lines," said Zhang Tieshan, operational director with supply chain company Didisteel.
The marriage of China Baowu and Magang is also expected to allow the two steelmakers to guide the steel industry in a green and intelligent direction.
The creation and growth of Shanghai-based China Baowu is a reflection of China's steel industry, whose total output expanded significantly from merely 158,000 tons in 1949 to 30 million tons in 1978, and it is projected to reach up to 1 billion tons this year.
"The extensive expansion in steel output makes steel more and more affordable, and the steel sector is playing an even greater role in the nation's economy and daily life," said Chen.
"After decades of development, the Chinese steel industry has successfully solved the problem of insufficient supply, and now we are entering into a new stage of meeting the demand for higher quality," said Li Xinchuang, head of China Metallurgical Industry Planning and Research Institute.
An industry-wide restructuring and upgrade is taking place in China, and it is believed more mergers and acquisitions will sweep the sector in three to five years. By 2025, the country's top 10 steel enterprises will raise their output to between 60 percent and 70 percent of the nation's total, as the target set by the State Council stated.
According to Lange Steel Information Center, the figure was 35.3 percent in 2018, and may climb to 36.9 percent after the consolidation between China Baowu and Magang.
"Global demand for steel products has entered a plateau phase, and will develop in a stabilized trend. Opportunities and challenges co-exist in global steel collaboration and trade. Technologies are prevailing across the steel industry worldwide in products, production and management," said Li Xinchuang.
According to him, China's steel sector has already formed one of the world's largest, most active market and the most complete industrial system of the world, as it is moving up the supply chain for higher quality. How to improve the quality and structure of China's steel supply will play a decisive role in the industry's future development.
Chen noted that the widespread application of steel products must be based on sustainable and technology innovation.
"We must make innovative breakthroughs to achieve sustainable growth which is green, effective and high quality," Chen said.
Following the call of the central government for industrial upgrading and high-quality development, China Baowu has already cut 15.43 million tons of overcapacity between 2017 and 2018, while Magang reduced 2.24 million tons of iron and 2.69 million tons of steel output during the 13th Five-Year Plan (2016-20).
China Baowu has taken the collaborative construction of a high quality ecosystem in the Chinese steel sector as its mission. According to its plan, the ecosystem will be a comprehensive service system including research and development, production, trade and finance, and Shanghai will be expected to be a center of research and development, operation and management, and steel trade center, and to become a global intelligent manufacturing center of steel.