Virtual options open new vistas for education sector
Share - WeChat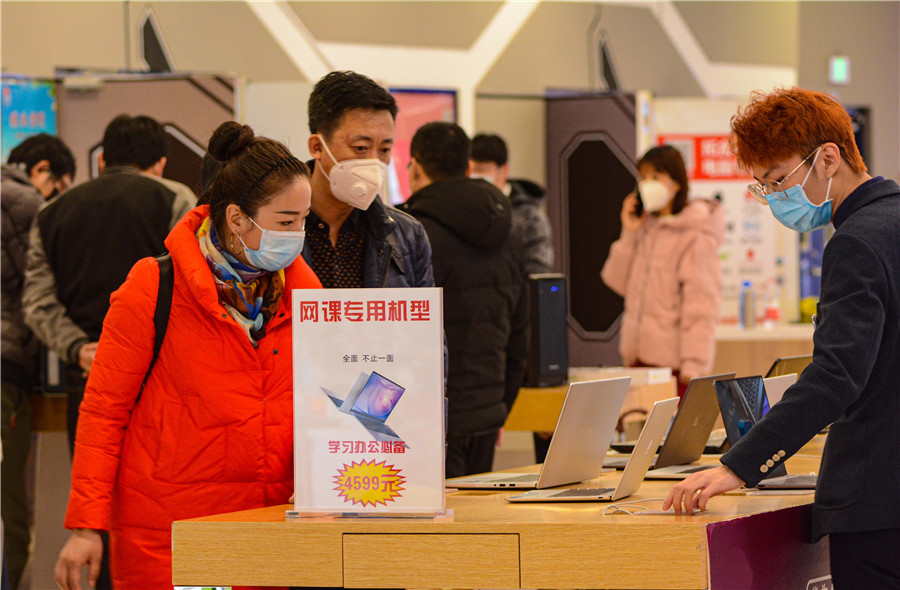 At-home online learning go-to choice for hundreds of millions of students stuck behind closed doors due to the epidemic
At 10 am one recent morning, Zhao Yingying, a chemistry teacher on Youdao-an online education subsidiary of internet giant NetEase Inc-logged into her livestreaming class at home.
While standing before a webcam, Zhao began braising pork in brown sauce, a traditional Chinese dish. At the same time, she began to explain Maillard reactions to her students-chemical reactions between amino acids and reducing sugars.
As such a teachable moment is almost impossible to see in an actual classroom, students watching the livestreaming course are in for quite a treat. They share many notes below the screen expressing their collective enthusiasm.
Like Zhao, at least 600,000 teachers from scores of cities and counties nationwide have been providing lessons online during the novel coronavirus epidemic. As the epidemic has upended the normal school semester, nearly 300 million young people ranging from kindergarten pupils to university students have been studying at home.
Though the epidemic has affected many industries, surging demand for online study from hundreds of millions of students has boosted online education to new highs. The education sector, which traditionally relies heavily on offline schools and institutions, is moving online overnight, creating a unique homebound economy.
"The epidemic is directly driving the online education industry to make a big leap forward in the country. It has now become a large-scale education experiment," said Zhu Yongxin, deputy secretary-general of the Central Committee of the Chinese People's Political Consultative Conference and vice-chairman of the Central Committee of the China Association for Promoting Democracy.
Liu Mingdi, head of China strategy at UBS Investment Research, said: "The outbreak has shifted people's consumption habits from offline to online in a range of sectors, including shopping, entertainment and education. Like the rapid rise of online shopping after the outbreak of severe acute respiratory syndrome in 2003, many online sectors will see new opportunities."
Right after the coronavirus broke out, more than 80 educational companies including TAL Education Group, leading startups like Zuoyebang and Yuanfudao-as well as online English tutoring startup VIPKid-have been offering free online courses to students nationwide.
For example, VIPKid has opened its Weimi livestreaming platform free of charge to schools and institutions nationwide. The platform is able to support over 200,000 classes of different levels everyday.