Parents fear online classes could harm students' eyesight
Share - WeChat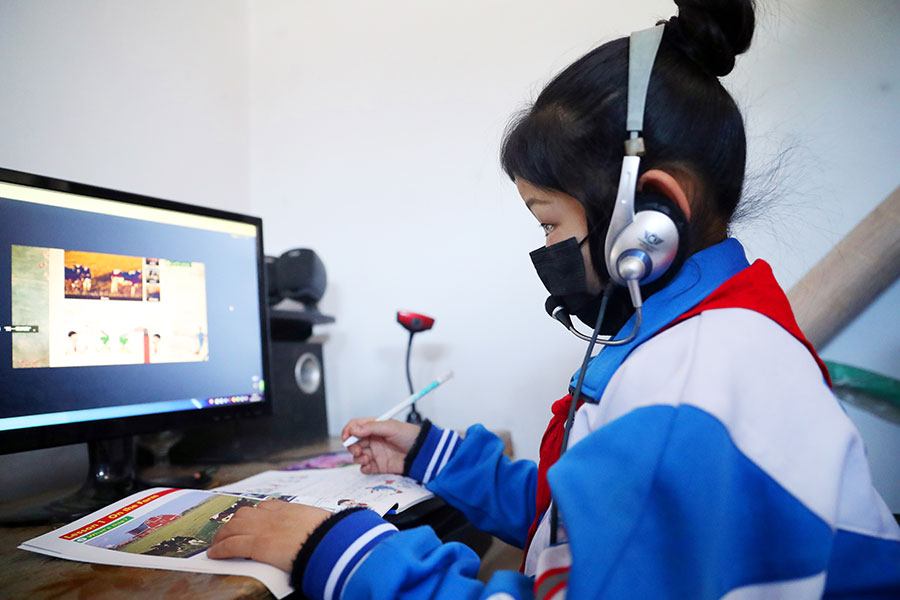 With children glued to screens for hours a day taking online courses as schools remain closed during the novel coronavirus outbreak, parents worry that the long exposure to electronic devices will be harmful to their children's eyesight.
Xie Wen, mother of a Grade 6 student in Shanghai, said her son takes six online classes a day on the computer at home.
"Even adults feel tired after staring at screens for too long, let alone little children," she said. "I remind him constantly to remain a certain distance from the computer, but the distance keeps getting closer and closer whenever I am not around."
Xie said with students taking online classes at home, parents are obliged to keep a close watch on them, checking homework posted in chat groups, taking photos of completed assignments and submitting them to teachers, which has added a lot of work for her and her husband.
"We both have to work, and you can't ask everyone to resume work while at the same time expecting one parent to supervise children at home."
Nearly 65 percent of parents of primary and middle school students said their children surf the internet for more than three hours a day, according to a recent survey conducted by China Youth Daily.
Of the 1,923 parents surveyed, only 3.4 percent of parents said their children spend less than an hour on the internet, 32.2 percent said their children spend one to three hours online, and 44.4 percent said their children spend three to five hours online.
Yu Feng, father of a Grade 2 student in Changsha, Hunan province, said his daughter takes four online courses every day, each lasting about half an hour.
"I understand it is necessary for senior students who need to take the high school entrance exam or national college entrance exam to take online classes, but is it really necessary for a second-grader to also take such classes?" he said. "Will it be the worst thing if they learn about basic math or Chinese two or three months later?"
Yu said he and his wife usually try to control the time their daughter spends on a cellphone in case of addiction or worsening eyesight, but now her school requires the students to spend large amounts of time online every day.
"I don't understand the logic for little children to learn classes online, since it is very easy for them to lose interest in such classes," he said.
Xiong Bingqi, deputy director of the 21st Century Education Research Institute, said students with weak self-control are more likely to indulge in mobile phones and the internet and increase the rate of nearsightedness.
Nearly 70 percent of Grade 8 students in China had poor eyesight in 2018 despite government efforts to combat nearsightedness, according to a 2018 survey by the Ministry of Education of almost 200,000 Grade 4 and Grade 8 students.
The report also found that 68.8 percent of Grade 8 students had poor eyesight in 2018, up 3.5 percentage points from 2015. The rate among Grade 4 students was 38.5 percent, up 2 percentage points from 2015.
The online classes have also added to the workload of teachers, said Yan Yun, a primary school English teacher in Wuhan, Hubei province.
Her school has conducted online classes since Feb 10. In addition to teaching four courses in the morning, teachers need to answer students' problems via mobile apps and grade students' homework submitted online, she said.
"I can feel my eyesight getting worse from staring at the screen for too long, and I can only imagine the same thing is happening to my students."
The Beijing Municipal Commission of Education issued a notice recently requiring primary and secondary schools not to leave any homework for students taking the online courses, except for senior students in middle and high school.
Other students are not required to take online courses every day or submit videos of them studying, the commission said in a notice.
Students are encouraged to learn and read by themselves at home, and to do more exercise and house chores, it said.