Virtual options open new vistas for education sector
Share - WeChat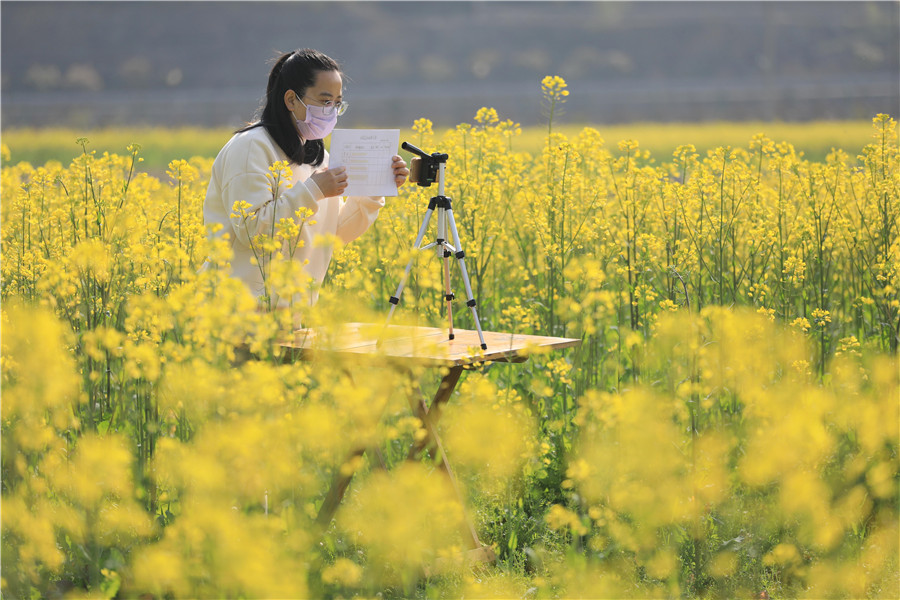 On Dingding alone, more than 50 million new students had taken online courses by mid-February. The online office software platform under tech giant Alibaba Group said such a user surge happened in just one month while it took them five years for them to accumulate 200 million users.
ClassIn, an online classroom service provider of educational firm EEO, received nearly 3,000 registrations from various educational institutions in a single day. The company temporarily enlarged the capacity of its system by 20 fold, but still had to restrict new entries so as to keep its system stable.
"The novel coronavirus outbreak has boosted the awareness and market prospects of online education firms in the country as the online education industry is quickly covering and penetrating into many corners of the nation during the special period," said Zhang Lijun, an education veteran and partner of Sinovation Ventures, a venture capital firm founded by noted investor Kai-fu Lee.
Zhang said it's now easier for companies to acquire users at comparatively lower costs than before and the penetration rate of online education is expected to grow by around 10 percent after the epidemic.
"Following the postponement of school semesters, children have been stuck at home for over a month. Learning something online seems to be a better choice than playing computer games for hours," said Qian Lili, mother of a 14-year-old boy in Shanghai.
Qian used to send her son for offline after-school tutoring twice a week. After the outbreak, she signed up for three online courses for her son to fill up the boy's free time.
Wang Heng, a senior analyst at Duojing Capital, said that lowering barriers for online lessons will definitely increase the use of such services and open new growth frontiers for companies.
"The epidemic has helped the online education sector save advertisement fees of nearly 240 billion yuan ($34.5 billion) in China, given that it took firms around 1,000 yuan promotion fees to move a student from offline study to online," said Chen Xiangdong, founder of online education firm Genshuixue.
The trend of studying at home has been moved to a new height after authorities encouraged schools and universities to teach online. As of the beginning of February, the Ministry of Education had organized 22 online course platforms to open 24,000 online courses for free to students nationwide.
Countless students have begun to study at home. Some high school students have to get up at 6 am as usual and their online schedules are arranged late into the night.
"I've never imagined working in this way, where teachers are like livestreaming bloggers. Compared with common classes, teachers actually prepare more in consideration of students' learning effects," said Xu Lening, an English-language teacher in Huangshan, Anhui province.
Another interesting phenomenon is that the widespread online courses in the country have also led to booming sales of electronic devices. These include iPads, laptops, printers and even projectors as some parents are afraid that longtime learning in front of computers and smartphones will harm children's vision.
According to secondhand platform Zhuanzhuan, the transaction volume of tablets and computer products via the platform increased 84.7 percent from Feb 1 to Feb 13 compared with the same period of the previous month. Among the total, the transaction ratio of third, fourth and lower-tier cities has reached 45.7 percent. Tablet products such as the iPad Air and Huawei M6 were among the top sellers.
During the epidemic, many online companies have attracted a huge amount of users.
"The epidemic has had some negative impact on offline education businesses," said Yuan Dong, vice-president of private firm Beijing Fenbilantian Technology Co, which focuses on national civil service exams.
With its offline classrooms covering more than 30 cities around the country, the education startup recorded an unexpected loss of 150 million yuan so far this year as it received and approved over 10,000 refund applications due to the epidemic.
To tackle the sudden challenge, the startup quickly shut down all its offline courses and moved them online. While switching to online education, the company has quickly developed more all-around plans offering online courses for students to choose from. The company's founder now only draws 60 percent of his salary while 10 management executives are currently paid 80 percent of their salaries.
Such measures have saved the company. More than 80 percent of its offline users have chosen to switch to online options and revenue from its online business has increased 100 percent since the adjustments were made, the company said.
While online education continues to boom, Zhang from Sinovation Ventures pointed out that many challenges still exist.
"It will be difficult for companies to retain users on a sustainable basis and for them to become loyal customers after the epidemic. The online education sector is unlikely to replace offline businesses in the long run," she said.
"Offline education will once again be the priority for many parents because some of them don't have the time and energy to take care of their children all day in front of a computer, while others want to protect their children's eyesight," she said.
Her words echo some parents' claims that online classes are not easy to control and the studying effect is not as good as in classrooms. Others argue that the network is not always stable due to the huge amount of users.
"Also, with many people stuck at home for long periods, there is the possibility that once the epidemic is over, offline consumption will see explosive growth, which in turn will lead to a downturn in online demand," said Xu Linfeng, a senior analyst at Huaxi Securities.