Communication gets a push at Wuhan hospital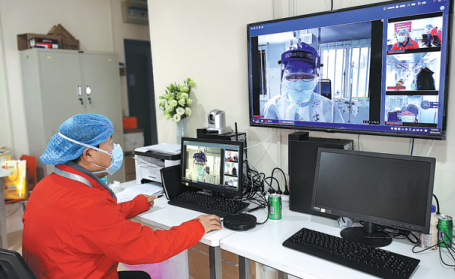 Editor's note: This series tells the stories of selfless individuals, from medical workers to volunteers, who are bravely fighting the virus outbreak with extraordinary dedication.
The Liaoning medical team has installed an audio and video real-time interconnection system at Leishenshan Hospital-the second temporary hospital built in Wuhan, Hubei province, to treat patients infected with novel coronavirus-greatly improving communication between medical staff.
"Now we can communicate with colleagues outside of the isolation area any time about doctors' advice and patients' problems," said Li Yanxia, a doctor with the First Affiliated Hospital of Dalian Medical University, Northeast China's Liaoning province.
"We can see each other on the video, just like we are all in one office."
With this system, medical workers at the headquarters, nurses' station, isolation wards, and cleaning area can conveniently share information.
It has ensured interconnection between doctors at Leishenshan Hospital and the medical consultation centers at other places.
Xu Yinghui, head of the Liaoning medical team at Leishenshan Hospital, said the system was first installed in 17 wards that the Liaoning team was in charge of. A week later, all the 32 wards were covered.
Medical teams from across the country are working in the hospital to treat COVID-19 patients, and the Liaoning medical team, comprising 1,183 members from Liaoning province, is the largest.
At Leishenshan Hospital, each ward is divided into isolated and non-isolated areas, and the access between the two areas requires a strict protective disinfection process.
When it officially started admitting patients on Feb 12, handheld walkie-talkie was the only way to communicate between inside and outside of the isolation areas.
In order to discuss and analyze medical records, doctors and nurses inside the isolation areas had to share photos via their cellphones.
Confronted with the problem, Xu, also president of the First Affiliated Hospital of DMU, contacted his colleagues in Dalian. They immediately developed a solution that could meet the needs of epidemic control and could be implemented quickly.
Led by Yang Yanzong, a leading cardiologist in China, a technical team left Dalian for Wuhan on Feb 17. It first flew to Zhengzhou, capital of Henan province, and then drove for six hours before arriving at the hospital at 8 am the next day.
"When I saw medical workers in Dalian and around the country coming to support Wuhan, I was inspired. I have always been trying to do something for the city," said Yang.
Within three days, the system was installed. Now, medical workers inside the isolation area do not need to take handheld devices but only need to wear a wireless headset to receive real-time calls from people outside. They can share case information via mobile devices.
The staff in the non-isolation area, the medical teams and the administrative center can see the real-time situation in the isolation area through a large screen at any time, and ensure communication at multiple places.
"By breaking the physical barrier, we can communicate more directly and effectively, like face-to-face contact," said Liu Zhiyu, vice-president of the Second Affiliated Hospital of Dalian Medical University.
In addition, the system can be connected via the internet or 4G and 5G hot spots, so as to share diagnosis and treatment information in a confidential manner, and provide for remote consultation and discussion, thus improving the treatment levels.
Yuan Yufeng, vice-president of Leishenshan Hospital, said the system can improve work efficiency and increase the safety of medical staff and patients.
The system has also been installed at Huoshenshan Hospital-which was built in 10 days to battle coronavirus-on March 9. Now, it is being installed at Wuhan Jinyintan Hospital.
Liaoning Satellite TV contributed to this story.