Medical teams to withdraw from Hubei
Share - WeChat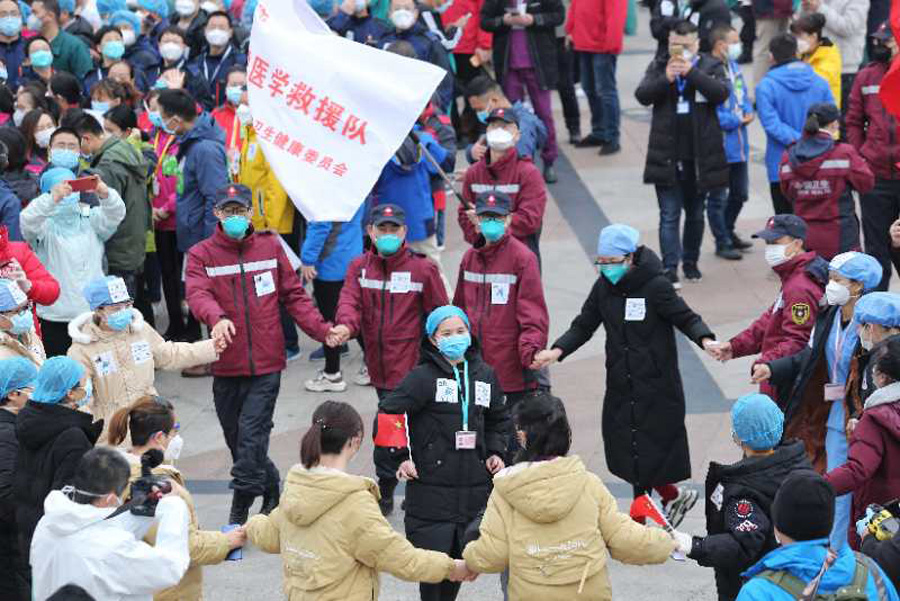 Leading group says experts will leave as epidemic brought under control
China will conduct a phased withdrawal of medical workers sent to aid medical treatment in Hubei province, the center of the coronavirus outbreak, in another sign that the epidemic has been brought under control in the country and its hardest hit region.
The announcement was made at a meeting of the leading group of the Communist Party of China Central Committee on coping with the novel coronavirus pneumonia outbreak chaired by Premier Li Keqiang on Monday.
The withdrawal of medical workers from Hubei province must be conducted in an orderly manner and on the condition that severe cases have received high-level treatment and normal medical services have been resumed in the province, said a statement issued after the meeting.
China sent 346 medical teams and more than 42,600 medical workers to help with the medical treatment in Hubei province, an official with the National Health Commission said on March 8.
It noted that China has seen a sustained positive momentum of epidemic containment and the spread of the outbreak has been brought under control in general.
However, the group said imported cases have brought uncertainty about the end of the epidemic in China, and it is imperative that individuals, local authorities, travelers and families strictly implement the mechanism on reporting infected or suspected cases.
The Chinese mainland reported 16 new cases of novel coronavirus on Sunday, 12 of which were imported from other countries, according to the National Health Commission.
The meeting highlighted the necessity for more targeted steps-including stronger cooperation and coordination with other countries in health, customs, immigration and education-to prevent the import and export of COVID-19 cases.
It also urged a higher level of international cooperation in treatment plans and pharmaceuticals to cope with the pandemic and joint efforts to follow guidebooks on containing the virus among travelers.
Authorities in Hubei province and Wuhan, the provincial capital, must bolster treatment of patients in critical condition and lower the mortality rate, the statement said.
Local authorities must ensure the issuance of subsidies to front-line medical workers, community workers, police officers and volunteers in full and on time, in addition to payments to workers who have taken part in the building and renovations of medical treatment facilities, the statement said.
A special plan will be made to help travelers stranded in Hubei province as well as residents of the province stranded in other regions return home, the group said.
The meeting pledged to guarantee the rights, including salaries, of workers placed in isolation. Businesses will be encouraged to stabilize labor relations with their employees through adjusting payments, shortening working hours and working in shifts.