Medical team arrives in Italy with 31 metric tons of supplies
Share - WeChat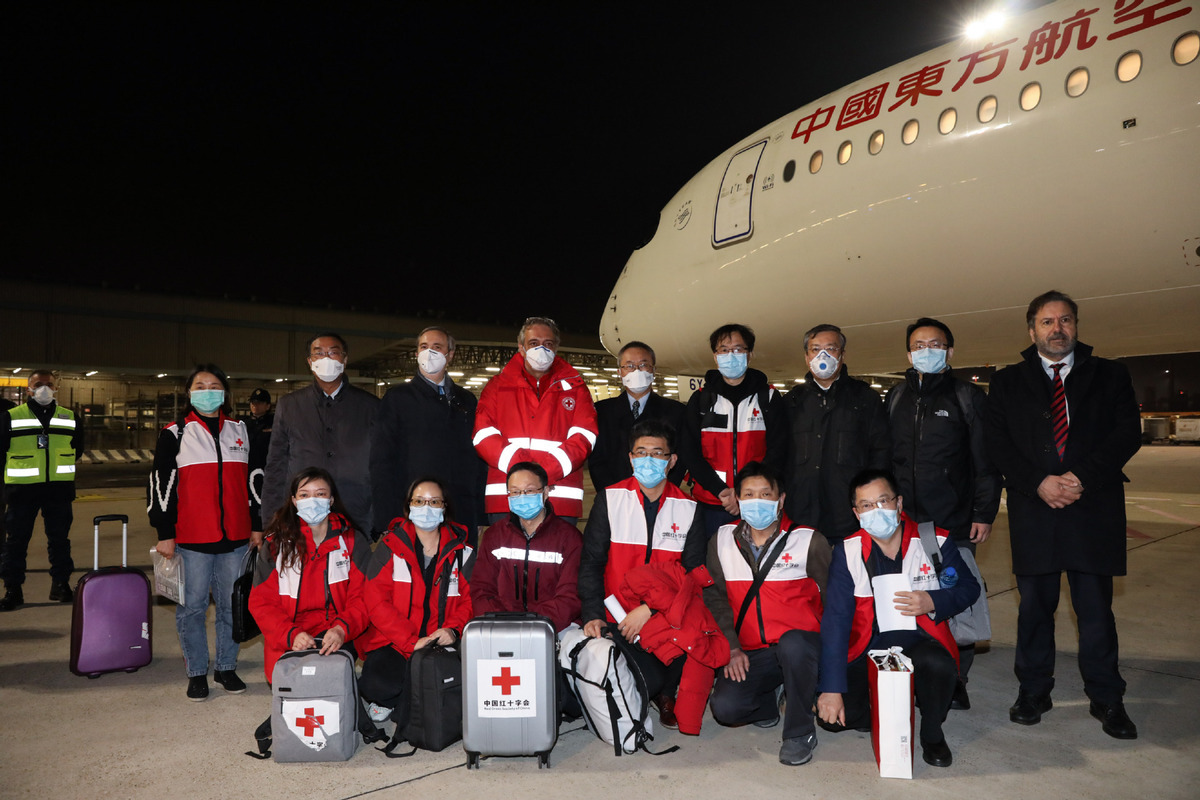 Nine experts bring valuable experience acquired in novel coronavirus battle
Italians are hailing the medical supplies China sent to aid the country's fight against the novel coronavirus as vital and timely, as Chinese medical experts in Italy race to help reduce the country's high mortality rate.
A team of nine Chinese epidemiologists, intensive care specialists and a plasma therapy expert, arrived in Italy late on Thursday with a planeload of 31 metric tons of equipment as the European country grapples with surging new infections, a shortage of protective and medical devices and heavy fatalities.
"Bringing down the mortality rate is a priority in control, especially given that we're coping with an emerging virus. So we dispatched the most competent experts in treating severe and critical cases to Italy," said Lu Ming, a team member who also works with the National Health Commission's international cooperation department.
Italy counted 21,157 total infections with 1,441 deaths, its health authority said on Saturday evening. That has put the country's fatality rate far higher than most other countries affected by the pathogen.
To facilitate treatment efforts, the Chinese team has brought intensive care equipment, such as electrocardiogram machines and respirators, as well as traditional Chinese medicines and other drugs used to cure infections in China, Lu told China National Radio.
"We have also brought plasma and blood products from recovered Chinese patients, " he added. Giving infected patients infusions of the blood plasma is believed to be a valid therapeutic approach.
Team greeted
Yang Huichuan, vice-president of China National Biotech Group, was selected for the team for his expertise in treating the infected with recovered patients' blood plasma. He said in a personal account by Xinhua News Agency on Saturday that the team was warmly greeted and was impressed with Italians' eagerness to learn of China's experiences in controlling the epidemic.
"From those working on technical details, those involved in diagnosis and treatment, to Red Cross members and diplomats-they were all eager to meet us, as Italy is now at a stage of a rapid contagion," he said.
The team had planned to visit more hospitals in Rome and then the Lombardy region in northern Italy, which was hit hardest by the virus, to better understand Italy's epidemic situation and offer more tailored suggestions, Yang said.
Eva Dal Pozzo, a senior business consultant in Italy, said as Italian hospitals are overloaded and local factories do not have sufficient production capacity, devices delivered by China, such as endotracheal tubes, used to place patients on respirator, are "vital".
"I appreciate a lot this lovely gesture from China," she told Xinhua.
Chinese experts have also underlined the significance of restricting movement of the public and strict quarantine of the infected.
"We're willing to share hard-won diagnostic and treatment guidelines with Italians, and we also hope that our Italian colleagues will be able to enforce proper quarantines of infected cases and general epidemic control measures," said Lu, of the National Health Commission.
Gratitude expressed
Italy instituted a national lockdown on Wednesday to limit the spread of the virus. Residents have been snapping up masks and disinfectants that triggered a shortage of personal protective equipment.
You can see everywhere signs that the masks are gone, Giorgio Ronzani, an Italian lawyer, told Xinhua.
"This cargo of masks from China can be vital in the areas with lots of patients. It was a godsend," he said.
Cinzia Pasquale, a senior European Union affairs consultant who lives in Lombardy, said her family's search for face masks was futile and online purchases were severely delayed due to logistics disruptions. "So one can imagine how the load of Chinese medical material had been welcomed," she told Xinhua.
"Seeing how China has managed the outbreak in Wuhan, I am, personally very confident of the contribution that the Chinese medical staff will make to the heroic Italian doctors who have been overwhelmed by this health emergency," she said.
Italy is the third country, after Iran and Iraq, to receive Chinese medical assistance as the novel coronavirus rages worldwide and the World Health Organization has declared the virus outbreak a global pandemic.
Italian Foreign Minister Luigi Di Maio and Francesco Rocca, president of the Italian Red Cross Society, had both expressed their gratitude for China's offerings at a news conference following the aid team's arrival last week.