Collapsed building illegal, say investigators
Share - WeChat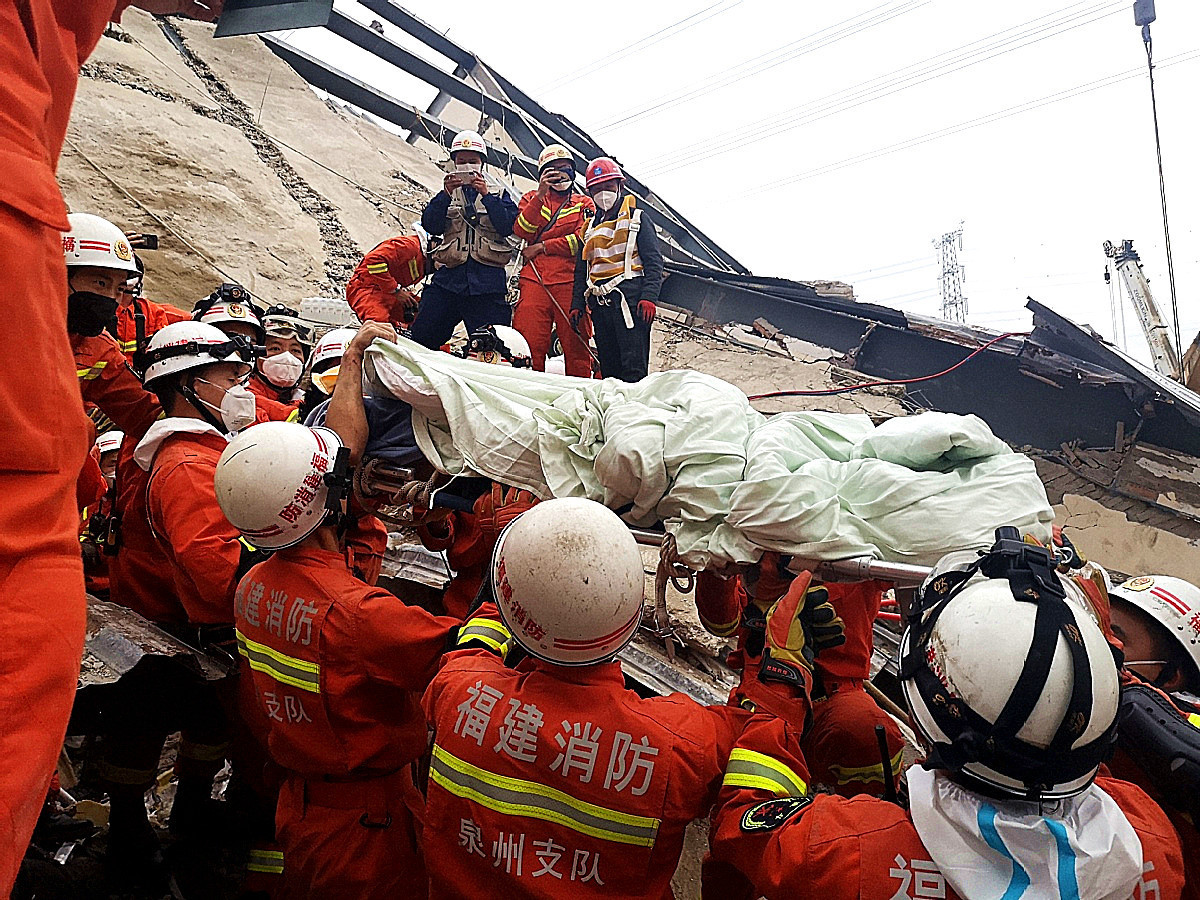 The hotel that collapsed on Saturday in Quanzhou city, Fujian province, killing 29 people, is an illegal building without construction approval, investigators said.
The Xinjia Hotel, which was undergoing renovations, had subsided and a support pillar was deformed before its sudden collapse. Despite being aware of the dangerous conditions, the owner did nothing to remedy the situation, a preliminary investigation into the accident showed. The hotel was being used as a quarantine facility for suspected novel coronavirus cases when the accident happened.
"As different sectors across the country devoted themselves to the battle against the novel coronavirus outbreak and made efforts to resume production, the collapse occurred in a hotel operating as a quarantine facility," a media release from the State Council team investigating the accident said. "The accident is extremely vile in nature and has exerted an extremely negative influence."
With 66 rooms, the hotel opened in 2018. It was designated as a quarantine facility after the outbreak of the novel coronavirus which began in December.
The preliminary investigation shows that the building was constructed without planning and construction approval. It had also undergone illegal renovations, the release said.
The investigators said relevant local authorities failed to fulfill their supervisory duties, which resulted in safety hazards that were not identified or rectified.
"The causes of the accident will be investigated in a thorough and comprehensive manner," the release said.
How the hotel was designated as a quarantine facility will also be a priority of the investigation. Any dereliction and breach of duty by relevant government bodies will be closely looked at, it said. "Those found responsible will be held accountable."
The sudden collapse of the hotel at 7:15 pm on Saturday claimed 29 lives, and injured 42 people.
The building caved in minutes after a renovation worker told the owner over the phone that a pillar had become deformed, according to authorities.
Of the 71 people trapped, 58 were under quarantine as they were from high-risk areas for the novel coronavirus. The others included hotel staff and employees of businesses located on the ground floor of the building.
According to a Beijing News report, some of the building's lobbies had been bricked up to create hotel rooms, which resulted in the steel-frame structure of the seven-story steel building becoming overburdened.
"There used to be only a wide lobby on each floor," the newspaper quoted a businessman who once leased a room on the ground floor of the building as saying.
"In 2017, cement and bricks were transported in to build the Xinjia Hotel. The wide lobbies upstairs were separated into small rooms. The hotel went into operation in 2018."
The rooms of the hotel occupy floors four to six.
"During the two to three months of construction of the hotel, at least five windows on the first floor shattered because of the increased burden," the businessman said.
"I thought it was too dangerous and moved my store."