Homestay operators under tremendous pressure
Share - WeChat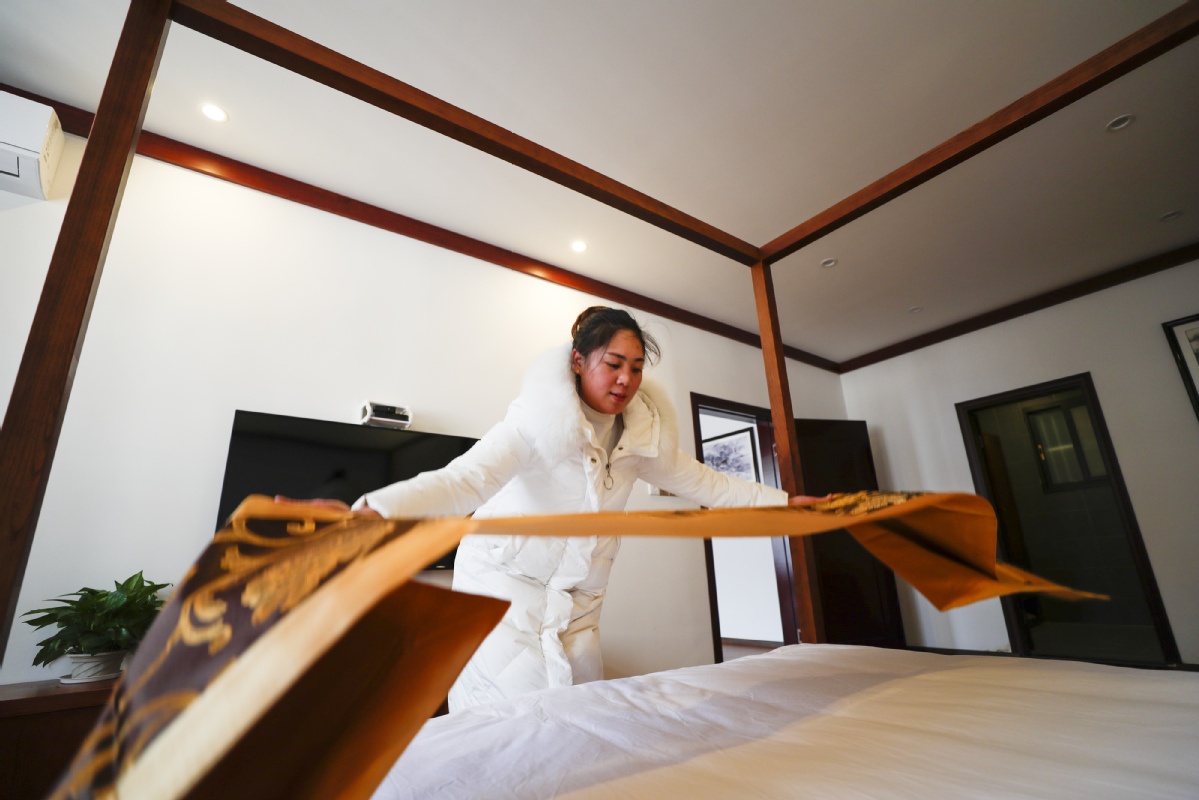 Epidemic leaves many residential communities, site of many lodging service providers, shuttered
The outbreak of the novel coronavirus epidemic, which has resulted in a temporary standstill for many industries in China, prompted Jiang Xue, a 31-year-old lodging service operator in Shanghai, to make up her mind to wind down her business.
"I had been thinking of closing down before the epidemic. It is so exhausting," Jiang said.
She began working in the lodging service industry-also known as homestay services-as a part-time pastime in 2015. Her tasks include renting residential units, refurbishing them and then renting them out to short-term guests.
The industry was starting to take shape in both China and the rest of the world that year. Global industry giant Airbnb officially announced entry into China in 2015.
In a guideline released by the State Council in November 2015, homestay and lodging services were encouraged. By the end of 2015, the industry had created nearly 1 million job opportunities in the country, according to commercial property data provider Meadin.com.
To make her business more manageable, Jiang only runs 10 one-bedroom apartments during peak time. The occupancy rate comes between 60 and 70 percent during the slow season and is only slightly more profitable during the Lunar New Year, she said.
But a slowdown already began taking place by 2018. According to Beijing-based big data specialist Gridsum, investment in the lodging service industry peaked in 2015 and started to contract in 2018.
Even though the lodging industry did not see many ambitious new faces in 2019, it was changing subtly from within. In early December 2019, Shanghai-based homestay provider Sweetome completed acquisitions of two lodging service providers, Iyoujia and Cityhome.
In March 2019, Tujia's founder Luo Jun stepped down as CEO. Yang Changle, who joined China's largest online travel platform Ctrip in 2010, resumed Luo's post. Ever since 2012, Ctrip has participated in four rounds of financing for Tujia.
"It was hardly profitable for small lodging service providers in Shanghai last year. Surging rental properties was the major reason for the low profitability. The epidemic has made the situation even worse," Jiang said.
"Service providers that do not have strong cash flow are sure to close down if they have no guests for three months," she said.
Jiang closed down all her businesses at the end of February when the leases expired. And there are many other operators taking the same action right now.
In an announcement released on Jan 26, the Ministry of Culture and Tourism urged all tourism businesses, including hotels, tourist destinations, travel agencies and lodging service providers, to suspend operations. It is so far unknown when the suspension will be completely lifted.
Zheng Yexin, 27, currently runs about 70 lodging service rooms in Shanghai and receives both tourists and visitors on business trips to the city. Ever since the outbreak of the novel coronavirus, he has been losing more than 10,000 yuan ($1,436) a day.
Zheng predicted that the lodging service industry will be the last sector in the tourism industry to see a revival after the temporary ban is completely lifted.
"Tourism is one of the most seriously impacted industries due to this epidemic. Even after the ban is lifted, hotels will show pickups first as their disinfection and hygiene standards are believed to be higher," he said.
"In addition, as a large number of the lodging service providers are located in residential communities, which do not allow the entry of visitors, it is not clear when these communities will start to receive guests again. But lodging will surely be the last sector to rebound," Zheng added.
"Of course you can borrow more money to help you endure this crisis. But the problem is, it may not be worth the money," he said.
But Zheng still thinks the industry is intrinsically healthy and sustainable. Over the past few years, tourism and hotel industries have become more diversified and Chinese consumers have also become more sophisticated. A growing number of people show preference for "nonstandard products" such as homestays or lodging services, which are more economical, practical and nimble, he said.
Of course losses have been incurred and are still mounting for most lodging service providers. But the industry will not just vanish after the epidemic, Zheng said.
"If one player leaves, a new one will enter the game in no time," he said.