Xi urges diligence in cutting poverty
Share - WeChat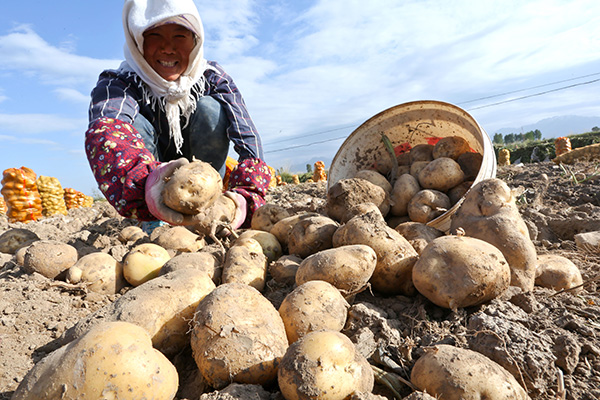 President acknowledges added challenge in achieving objectives amid outbreak
President Xi Jinping called for officials nationwide to overcome difficulties amid the novel coronavirus pneumonia outbreak and strive to meet the country's poverty elimination goals.
Xi, also general secretary of the Communist Party of China Central Committee and chairman of the Central Military Commission, made the remarks at a meeting on Friday at the Great Hall of the People in Beijing. Officials from across the nation participated in the meeting via a teleconference.
He called for officials at all levels to stay true to their original aspiration and keep their mission firmly in mind in striving to achieve poverty reduction goals. The great cause of poverty reduction has great significance not only for the Chinese nation but also for mankind, he said.
Xi called it the largest meeting of its kind about poverty reduction since the CPC's 18th National Congress. He said the meeting was aimed at uniting the whole Party and nation to ensure the victory of building a moderately prosperous society in all respects and reducing poverty on schedule.
Xi pointed out that China's poverty reduction goals are approaching success, with the number of those living in poverty declining from 98.99 million in 2012 to 5.51 million by the end of last year.
People's lives in poor regions have been improved substantially, and their difficulties in access to transportation, electricity, education, medicine and telecommunications have been broadly addressed, Xi said.
After the achievements of the poverty reduction goals this year, China will fulfill the 2030 Sustainable Development Agenda of the United Nations 10 years ahead of the schedule, Xi said, adding that there is no other country in the world that could help so many people emerge from poverty in such a short period.
Xi spoke highly of the contributions made by poverty reduction officials at all levels and he greeted them and thanked them for their hard work.
Noting that poverty alleviation work is now facing challenges from the novel coronavirus pneumonia outbreak, Xi called on officials to implement decisions made by the CPC Central Committee and focus on their poverty reduction work.
Officials in high-risk regions should innovate in their work to coordinate disease prevention and poverty reduction work, while those in low-risk regions must speed up poverty reduction work, Xi said, adding that measures should be taken to support those living in poverty to find jobs and encourage enterprises to hire more people from poverty-stricken areas.
Xi required officials to make efforts to help migrant workers return to their jobs, help farmers sell their agricultural products and make full use of poverty-reduction funds and loans.
Xi stressed the importance of maintaining the stability of poverty reduction policies, saying that continuous efforts must be made to prevent people returning to impoverishment after being lifted out of poverty.
He vowed to enhance supervision toward poverty reduction work in case officials failed to perform their duties. Poverty reduction achievements in all areas must be monitored in all aspects to ensure that they stand the test of history and the people, Xi said.