Emergency funds to help fight global spread
Share - WeChat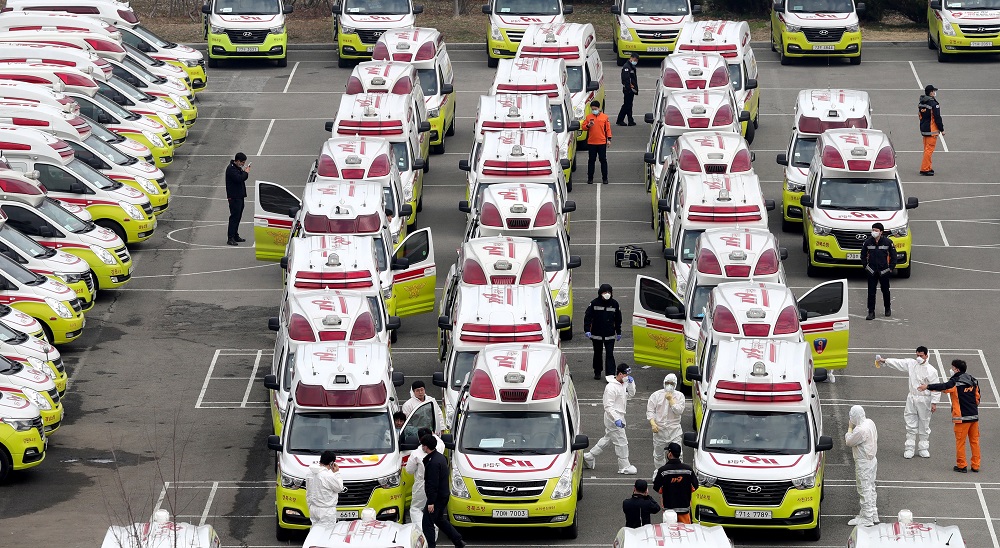 The state of Washington has reported its second death from novel coronavirus pneumonia, as COVID-19 continued to spread in the United States and the number of confirmed infections outside China grew faster than in China itself.
With the rapid spread, the United Nations and two countries hit hard by the coronavirus have announced emergency funding to fight the outbreak.
The US state of New York confirmed its first infection-a woman in her 30s who contracted the virus during a recent trip to Iran-while Florida, which has had two cases, declared a public health emergency, according to CBS News.
The US Department of Health and Human Services has said it is investigating a manufacturing defect in some initial coronavirus test kits, Reuters reported. This has prompted some states to seek approval to use their own kits, and the US Food and Drug Administration said on Saturday that it would allow some labs to use tests they have developed, in order to speed up testing capacity, Reuters said.
US President Donald Trump announced on Sunday that travelers from countries at high risk of the virus would be screened upon arriving and before leaving.
The number of confirmed cases of coronavirus infections outside China is now growing faster than inside China. While China reported 202 new cases as of the end of Sunday, South Korea alone recorded 599 cases on Monday.
The World Health Organization said on Sunday that the death rate caused by COVID-19 appears to be between 2 percent and 5 percent, with deaths in 10 countries outside China, including more than 60 in Iran and over 30 in Italy.
Italian authorities said the number of cases soared 50 percent to nearly 1,700 in just 24 hours. Cases in France jumped to 130, an increase of 30 in one day.
French officials advised people to forgo the customary kiss on the cheek upon greeting others, and the Louvre Museum in Paris closed after staff members expressed fear of being contaminated by the stream of visitors from around the world.
The European Center for Disease Prevention and Control raised the alert level for the European Union to high on Monday.
European Commission President Ursula von der Leyen said, "The coronavirus has brought governments and health systems throughout Europe to work at all different levels to contain this virus."
Also on Monday, the EU launched a European coronavirus response team to help tackle the virus.
Meanwhile, Park Won-soon, mayor of Seoul, South Korea, reportedly has sued leaders of a religious group at the center of South Korea's surge in the number of confirmed cases of the coronavirus.
According to a translation from NBC News, Park said on Facebook that he was suing the key leaders of Shincheonji "for murder, injury and violation of prevention and management of infectious diseases".
More than half of all infections in South Korea involve members of the religious group, according to Yonhap News Agency.
Lee Man-hee, the religious sect's leader, said on Monday, "I would like to offer my sincere apology to the people on behalf of the members."
One senior member, Kim Shinchang, told the BBC that some church members had been afraid to reveal their identities, but that the church had now disclosed information about its members.
South Korea will postpone opening of all schools until March 23.
South Korean Finance Minister Hong Nam-ki said the country plans to draw up an extra budget of more than $5.12 billion to deal with the virus situation and will submit a related bill this week, Yonhap News Agency reported.
The UN and Japan also announced new funding to fight the virus.
The UN said on Sunday it was releasing $15 million from an emergency fund to help countries with fragile health systems contain the virus.
In an emergency statement, Bank of Japan Governor Haruhiko Kuroda said the central bank would take necessary steps to stabilize financial markets. "Overseas and domestic financial markets continue to make unstable movements due to heightening uncertainty over the impact on the economy from the spread of the coronavirus," he said.
"The BOJ will monitor developments carefully, and strive to stabilize markets and offer sufficient liquidity via market operations and asset purchases," he added.
Japanese Prime Minister Shinzo Abe said on Monday that his administration will prepare legislation so it can declare a state of emergency if necessary to contain the spread of the virus, Jiji Press reported.
Chen Weihua in Brussels and Cai Hong contributed to this story.