Ready to lift anchor
Share - WeChat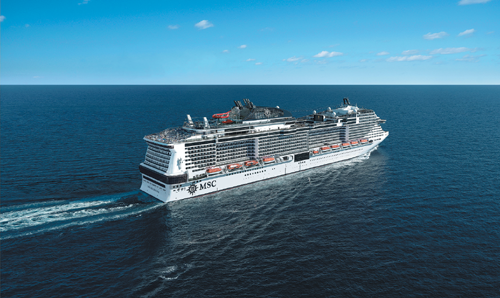 MSC Bellissima is still planned to arrive in China in June. CHINA DAILY
All cruise companies have temporarily canceled voyages that start from Chinese homeports following the novel coronavirus outbreak, resulting in a suspension in the world's second-largest cruise market after the United States.
Shanghai's Wusongkou Cruise Port welcomed its last group of tourists on Jan 29, as they disembarked from a cruise that'd returned from Japan. Cruise ships can still anchor in the closed port for free.
However, major overseas cruise companies remain confident in the Chinese market's potential.
Chinese ports received 976 cruiseliner voyages carrying about 4.9 million inbound and outbound passengers in 2018, according to the Annual Report on China's Cruise Industry 2019. Wusongkou received nearly 56 percent of the tourists.
Shanghai International Cruise Business Institute's deputy director Ye Xinliang estimates that some large cruise companies will lose 700 million to 1 billion yuan ($100 million-$143.3 million) by the end of February, while some small operators will lose over 50 million yuan.
Since Spring Festival, companies have arranged for customer service staffers to remain on duty to handle refunds and rescheduling requests in a timely manner.
They're also optimizing on-board products and services in preparation for the resumption of voyages. And they're providing online training for partner travel agencies about products and sales.
The government is also offering support.
Shanghai's culture and tourism administration recently held an online conference with cruise companies to listen to their advice and adopt relevant measures.
Costa Group Asia's president Mario Zanetti says: "I believe that once the warm weather comes and the epidemic situation is controlled, demand for travel will return immediately. Our role is to continue to carry out the instructions and advice issued by the relevant government authorities and the World Health Organization to ensure a safe and comfortable cruise environment."
Costa Cruises has increased crews' public-health training. And it will enhance sanitation and disinfection. For instance, all frequently touched surfaces in public areas will be disinfected at least three times a day.
"We are optimistic toward the development of the Chinese cruise economy and will continue to invest in the market," Zanetti says.
Costa Cruises' second ship customized for the Chinese market-the Costa Firenze-will arrive by the end of 2020, as scheduled. It's designed with the vision of providing an artistic Italian experience at sea.
He believes the most important thing is to recover consumers' confidence. Costa Cruises will work with industry partners toward this end once the outbreak is contained.
A total of 705 of 3,711 passengers aboard the Diamond Princess were confirmed to have the virus, and six had died, as of Monday, after the ship returned to Yokohama, Japan, on Feb 3.
The virus is believed to have spread quickly among passengers after the Japanese government ordered passengers to remain in on-board quarantine for two weeks.
The ship was operated by Princess Cruises, which is owned by the US-based company, Carnival Corp.