Ready to lift anchor
Share - WeChat Chinese tourists enjoy themselves aboard the Costa Venezia, which offers an Italian-style experience. JIA ZHONGXIN/FOR CHINA DAILY
Princess Cruises has canceled all trips that start from Chinese homeports throughout 2020. Sapphire Princess, which was scheduled to come to China this year, will instead sail around Australia and New Zealand.
Princess Cruises will promote its overseas routes in the Chinese market this year, meaning that travelers can fly to overseas destinations to take cruises. The company plans to resume trips from Chinese homeports in the future.
Swiss-headquartered MSC Cruises China is sticking to its plan to bring its MSC Bellissima to China in June. It expects to start trips from Shanghai, Tianjin and Qingdao throughout 2020.
"We're working with travel agencies to persuade tourists who've already paid for their voyages to reschedule for the next ones several months later, by offering cash coupons that can be used for on-board consumption," MSC Cruises China's president Helen Huang says.
Customers who book at least two months in advance will enjoy free Wi-Fi and a ticket to the Cirque Du Soleil circus.
The MSC Foundation has donated 100,000 medical masks to China's central government, especially for prevention and treatment in the epidemic's most-affected province, Hubei.
Huang suggests that cruise companies establish health-declaration systems to obtain information about passengers' health and travel histories.
"All cruise companies from the United States and Europe carry out strict public-health standards," she says.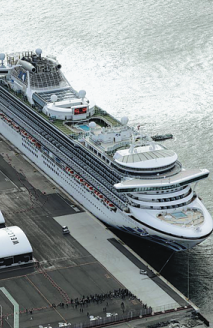 The Diamond Princess cruise ship is kept in quarantine waiting for supplies at the port of Yokohama in Japan in early February. KYODO NEWS/XINHUA
"For example, we offer hand sanitizer at the entrance of every restaurant. Such procedures as disinfection will be stricter after the epidemic."
Huang says one of their cruises has about 10 cabins with separate air-conditioner systems that can be used for quarantines.
She understands it may take time to restore confidence and hopes to work with professionals to promote public health aboard ships.
"Chinese book cruises through travel agencies. So, cruise companies don't have their contact information. Our guests can check in online and provide their basic information in advance. Such an approach should be promoted," she says.
China Tourism Academy research fellow Huang Huang agrees it'll take time to restore confidence.
"The epidemic's influence is temporary," he says. "Cruise companies should improve safety and infrastructure."
Huge Chinese demand for cruises remains, he explains. And the market penetration is very low. Many Chinese haven't yet taken a cruise.
Huang believes the current paid-annual-leave system is a major reason that the cruise market's growth has slowed in recent years.
China's paid annual leave is five, 10 or 15 days, depending on the number of years of employment. Western countries offer more.
"Chinese travel peaks around public holidays like National Day. Cruise companies have to offer big discounts during slack periods," he says.
"Chinese could travel more during times other than national holidays if they had more paid annual leave. That would better balance supply and demand for cruises. It would help the industry to develop."
Contact the writer at xulin@chinadaily.com.cn