The globe slows down
Share - WeChat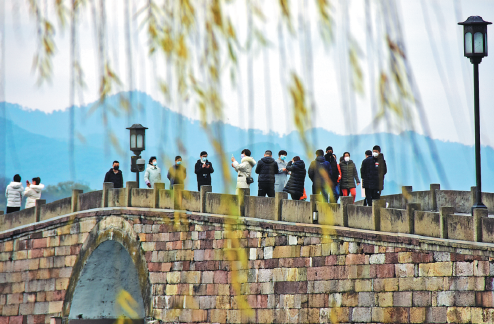 People visit the West Lake scenic area in Zhejiang province's Hangzhou. Some scenic spots in the country have reopened. Scenic areas limit the number of visitors to prevent the spread of the novel coronavirus. [Photo by Zheng Mengyu/Xinhua]
Uthaithit Chamnongnit recently had to lay off a few employees because a major segment of her customers has vanished-Chinese.
Her guesthouse in Chiang Mai, Thailand, had previously been packed with Chinese during major holidays, especially Spring Festival, since it opened about a year and a half ago.
"We were fully booked for February before it (the novel coronavirus outbreak) happened," Chamnongnit says.
She began to receive cancellations from Chinese guests, including two corporate groups and a student summer camp in February, soon after the virus grabbed headlines in late January.
"I'm looking at a 70 percent drop in business," she says. "We hear of places in the city closing up, and many drivers are struggling."
Chamnongnit is trying to get by with a few Thai and Western customers.
"I hope everything can get back to normal as soon as possible."
Popular destinations around the globe have felt the epidemic's impact, especially since Chinese are the world's No 1 source of outbound travelers.
The outbreak is likely to cut China's outbound visits by 27.63 million in 2020, the China Tourism Academy reports. Domestic visits will drop by 56 percent in the first quarter and 15.5 percent throughout the year, it says. Tourism income is forecast to drop by 1.18 trillion yuan ($167.72 billion) in 2020.
About 6.3 million Chinese traveled overseas during last year's Spring Festival, the China Tourism Academy reports.
About 75 percent of outbound Chinese visit Asia during the festival, global travel-industry-analysis company ForwardKeys says.
Thailand will likely lose $9.7 billion in tourism income until June, Thailand's Tourism and Sports Minister Pipat Ratchakitprakan says.
Japan has also been hit hard.