The globe slows down
Share - WeChat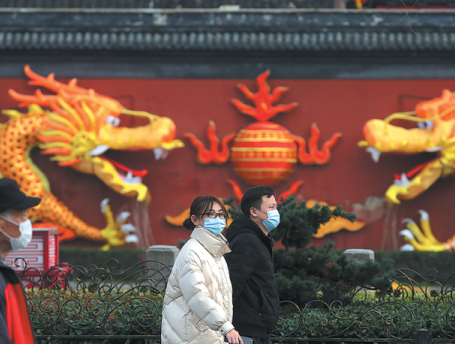 Visitors at Fuzimiao, or the Confucius Temple, in Jiangsu province's Nanjing. [Photo by Yang Bo/CHINA NEWS SERVICE]
Duty-free sales at the country's department stores have experienced double-digit drops during Spring Festival, Japanese newspaper Nihon Keizai Shimbun reports. Chinese made nearly 10 million visits to Japan in 2019.
Destinations further afield are also looking at tourism-income declines.
Chinese visitors to the US will likely decrease by about 28 percent in 2020, leading to $5.8 billion in economic losses, US-based travel-research institute Tourism Economics predicts.
Italy will likely lose over $5 billion in tourism revenue this year, according to an earlier local public opinion poll. The figure would be much higher as the country has recorded 323 confirmed cases and 11 deaths as of Wednesday, according to the country's ministry of health.
Museums and schools have been closed in certain areas of Italy where infections were found, and the Venice Carnival and several Serie A matches were canceled due to the virus impact.
Ralf Ostendorf, market management director of VisitBerlin, the city's tourism authority, says: "COVID-19, of course, has a tremendous effect on global tourism, not only in the short run."
Hainan Airlines has stopped its direct flights from Beijing to Berlin like many other airlines have halted or reduced their flights to and from Chinese cities. And many countries, including Germany, have stopped issuing visas for a few weeks, he says.
The ITB China travel show that was supposed to take place in Shanghai in May has been canceled for now. Ostendorf says this subtracts a valuable opportunity to engage China's travel industry.
About 350,000 Chinese spent at least a night in Berlin last year.
"Our target for 2020 was to reach at least 400,000. But, due to the present development, that target will be impossible to reach," Ostendorf says.
Airlines, cruise lines, hotels, restaurants and tour operators are all feeling the pinch.
Major cruise companies Carnival and Royal Caribbean have canceled about 20 trips in China and don't allow those who've been to China within two weeks to board. This is expected to affect tens of thousands of passengers.
Expert opinions toward recovery vary.
The World Travel & Tourism Council says it usually takes 19 months for tourist numbers to recover after an epidemic.
ForwardKeys spokesman David Tarsh believes the rebound will be faster than after SARS.
China Tourism Academy president Dai Bin is also optimistic about the year.
"It's highly likely that tourism consumption in China will rebound. Many subjects of our recent surveys said they'll travel after the epidemic," he said during a recent online conference.