Livestock and poultry being categorized
Share - WeChat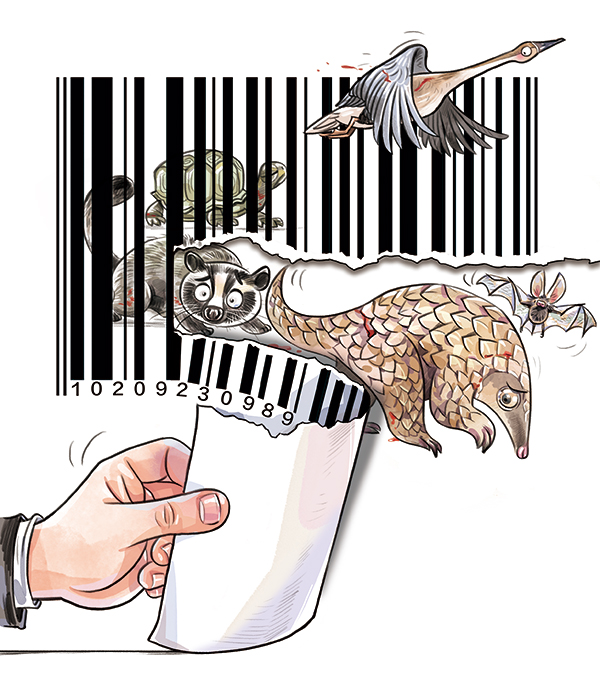 Move comes after officials implement national ban on wildlife consumption
Chinese authorities are working to differentiate poultry and livestock from wildlife after the country's top legislature rolled out a decision on Monday to ban the eating of wildlife, which scientists suspect led to the novel coronavirus outbreak, a senior agriculture official said on Thursday.
Han Xu, deputy director of the Bureau of Fisheries under the Ministry of Agriculture and Rural Affairs, said unlike wild animals, livestock and poultry have undergone captive breeding for a long time and have been widely accepted by the public.
Their physical appearance should be different from wild species. There should also be a stable disease prevention and control system, and raising them should be an internationally accepted practice, Han said at a news conference.
The ministry has conducted a national survey on the country's livestock and poultry industries since 2006, he said. The surveys include research of the heritage of animals in the industries and have helped determine which are fit for raising and which should be banned.
"We've already drafted a current list and will send it to the State Council for approval to publish as soon as possible," Han said.
A decision made by the National People's Congress Standing Committee on Monday has made it clear that all wildlife listed under the existing Wild Animal Protection Law or other laws, as well as all terrestrial wildlife, including those artificially bred and farmed, are banned from consumption.
Common poultry and livestock like pigs, cattle and sheep are not on the prohibition list. Animals that have been farm-raised for a long time and form value chains helpful in local poverty alleviation, such as pigeons and rabbits, are also excluded, said Yang Heqing, deputy director of the Legislative Affairs Commission's economic law office.
Such animals should be managed under the category of poultry and livestock, and relevant central government departments should draft and publicize a list of such animals, Yang said.
Liang Aifu, an official with the State Administration for Market Regulation, said the country has also stepped up oversight of illegal wildlife trade via e-commerce platforms.
More than 750,000 pieces of information about wildlife trade have been removed or blocked from major e-commerce platforms, and 17,000 online stores or accounts have been closed, he said at the news conference.
Liang said that some secret code words that people use to trade wildlife online are also being monitored and will be screened out whenever used.
"The market regulator has also urged online catering platforms to block information related to wildlife dishes and instructed mapping firms to remove location information on wildlife restaurants," he added.
Liu Xuejun, deputy director of the food and drug criminal investigation bureau under the Ministry of Public Security, said the police will step up law enforcement, crack down on illegal activities related to wildlife in accordance with the law and safeguard people's security and health.