Trump: US 'very ready' to handle virus threat
By AI HEPING in New York, ZHAO HUANXIN in Washington and LIA ZHU in San Francisco | China Daily Global | Updated: 2020-02-27 23:29




Share - WeChat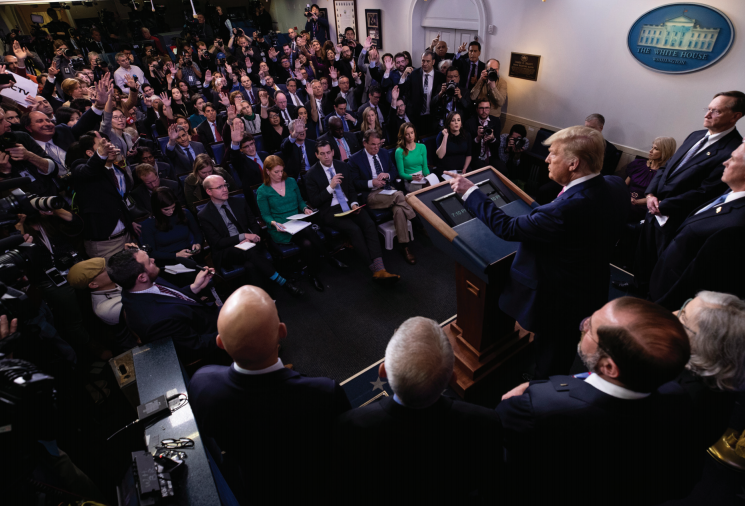 US President Donald Trump said Wednesday that the country is "very, very ready" for whatever threat the coronavirus brings, and he put Vice-President Mike Pence in charge of overseeing the nation's response.
"The risk to the American people remains very low," he said at a news conference in the White House briefing room in Washington. "We have the greatest experts, really in the world, right here. We're ready to adapt and we're ready to do whatever we have to as the disease spreads, if it spreads."
The Centers for Disease Control and Prevention said Tuesday that a coronavirus outbreak in the US is "inevitable", and the only questions are when and how severe. But Trump said that "I don't think it's inevitable."
Trump said that Americans who have been diagnosed with the virus are doing well.
"Of the 15 people ... eight of them have returned to their homes, to stay at their homes until they're fully recovered. One is in the hospital. And five have fully recovered. And one we think is in pretty good shape," he said.
The president said he had a "long talk" with Chinese President Xi Jinping the other night.
"He is working so hard on this problem," Trump said about China's efforts to contain the infection. "He wants it to go away from China and go away fast and he wants to get back to business as usual."
Trump also said China has "a significant group of very talented people that are working", and the US is giving them "certain advice", with US experts being part of the World Health Organization team visiting China.
On Tuesday while in India, Trump said China "is working very, very hard" and "they've had a rough patch" but "they're getting it more and more under control."
Trump said there might be travel restrictions beyond China, to other hard-hit countries such as South Korea and Italy.
"We have quarantined those infected and those at risk," he said.
The Trump administration has asked Congress to approve $2.5 billion to fight the coronavirus. It includes $1.25 billion in new funds, and $535 million in repurposed funds that were supposed to fight Ebola.
Lawmakers from both parties have said the White House request is far short of what is needed. Senate Democrats have called for more than $8 billion in emergency funding for anti-coronavirus efforts.
Trump said he will leave it up to Congress to decide how much money to allocate in emergency funding, that he's willing "to spend whatever is appropriate" and "be satisfied with whatever" amount.
"Hopefully we won't have to spend so much because we really think that we've done a great job in keeping it down to a minimum," he said.
Confirmed coronavirus cases have now been reported in more than 40 countries and on every continent except Antarctica.
The total number of cases globally has now reached 80,980, and nearly 3,000 have died, mostly in China's Wuhan, the epicenter of the epidemic.
US states and cities were taking precautions against an outbreak.
New York Governor Andrew Cuomo and New York Mayor Bill de Blasio echoed the CDC's alert at separate news conferences on Wednesday, saying it's only a matter of time before the virus hits the city.
Cuomo announced that the state is freeing $40 million in emergency funds for the state Department of Health to make sure it can get all the supplies needed.
Trump: VP Pence to lead US efforts to fight virus
He stressed that New York still had no confirmed cases of the virus, but "it is highly probable that we will have people in New York state who test positive'', noting that New York City is "the front door internationally" for many travelers. "No one should be surprised when we have positive cases."
The mayor said he was asking the federal government to help expedite the city's order of 300,000 more masks for healthcare workers. He said New Yorkers don't need to be wearing masks right now.
The city has made 1,200 hospital beds available for anyone suspected of having coronavirus, officials said.
San Francisco on Tuesday declared a state of emergency in the city, though it has no confirmed cases so far. Santa Clara and San Diego counties in California have issued similar declarations.
"Preparedness is critically important. Experts largely agree that the strict containment measures in China likely delayed the rate at which cases were exported to the rest of the world, buying important time for other countries to prepare," Claire Standley, an assistant professor at the Department of International Health at Georgetown University, told China Daily.
Amesh Adalja, an infectious-disease expert at the Johns Hopkins Center for Health Security, agreed.
"It is important that health care providers and health care systems begin to prepare in earnest for a pandemic and the ensuing patient surge they will experience," Adalja told
China Daily. "This is a virus with the capacity for efficient community spread and will impact health care systems throughout the world."
While China announced a decline in new confirmed cases, the number of infected people in South Korea reached 1,595, with more expected as the country attempts to test 200,000 people.
In Europe, France reported the first death of a citizen from the epidemic as cases grew across the European continent, with new infections in Spain Germany, Greece, France, Croatia, Austria and Switzerland. A case in Brazil marked the first known one in Latin America.
William Hennelly in New York contributed to this article.