10 new Beijing NCP cases were close contacts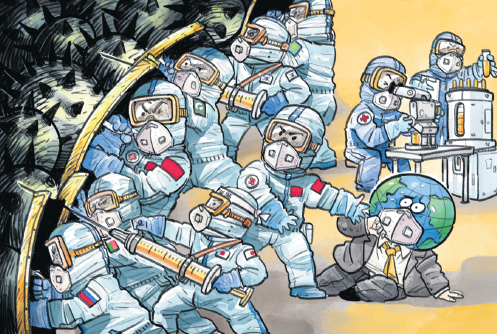 Beijing reported 10 new confirmed cases of novel coronavirus pneumonia on Wednesday, all close contacts of previously confirmed cases, bringing the city's confirmed cases to 410, Beijing Daily reported on Thursday.
The new cases have been sent to designated medical institutions for treatment.
The original patient, surnamed Sun, was a cleaner at an institution where the other 10 patients were working. Before the onset, all 11 people were living in the dormitory of the institution or working at the property management office beside the dormitory.
According to the Beijing Center for Diseases Prevention and Control, the source of Sun's infection was traced to a person Sun had close contact with from Handan, Hebei province.
The outbreak at the institution has identified 178 people having had close contact, and the municipal and district centers for disease control and prevention have conducted comprehensive disinfection work at the institution and implemented comprehensive measures such as health monitoring.
In another case, a person surnamed Huang, who was confirmed to be infected with novel coronavirus, reportedly return home to Beijing on Saturday after being released from prison in Wuhan, Hubei province.
The city's discipline inspection committee and supervisory committee have set up an investigation group to look into the matter, said Xiao Sa, director of the office of the supervision body of Beijing's leading group for the prevention and control of the epidemic, at a news conference on the prevention and control of epidemic held by the Beijing municipal government on Thursday.
The investigation will focus on how Huang entered Beijing and the residential community in question, and check whether there are loopholes in the process of epidemic prevention and control. The investigation has been carried out thoroughly and relevant information will be released in due course, Xiao said.
As of Wednesday, the number of current suspected novel coronavirus cases in the capital rose by 10 to 46 and the number of deaths reached five with one new case. There were 84 new cases of close contact with patients and the total number reached 2,658, of which 1,852 were released from isolation for medical observation.
Thirteen patients – five males and eight females -- were discharged from six hospitals on Wednesday. The youngest is 17 and the oldest is 69. A total of 248 cases have been discharged from hospitals.
Among the 410 confirmed cases, 13 are from Dongcheng district, 53 from Xicheng, 70 from Chaoyang, 62 from Haidian, 42 from Fengtai, 14 from Shijingshan, 3 from Mentougou, 16 from Fangshan, 19 from Tongzhou, 10 from Shunyi, 29 from Changping, 39 from Daxing, 7 from Huairou, 7 from Miyun, 1 from Yanqing, and 25 from outside of Beijing. There have been no cases in Pinggu district.