Entire nation mobilizes to help Wuhan
Share - WeChat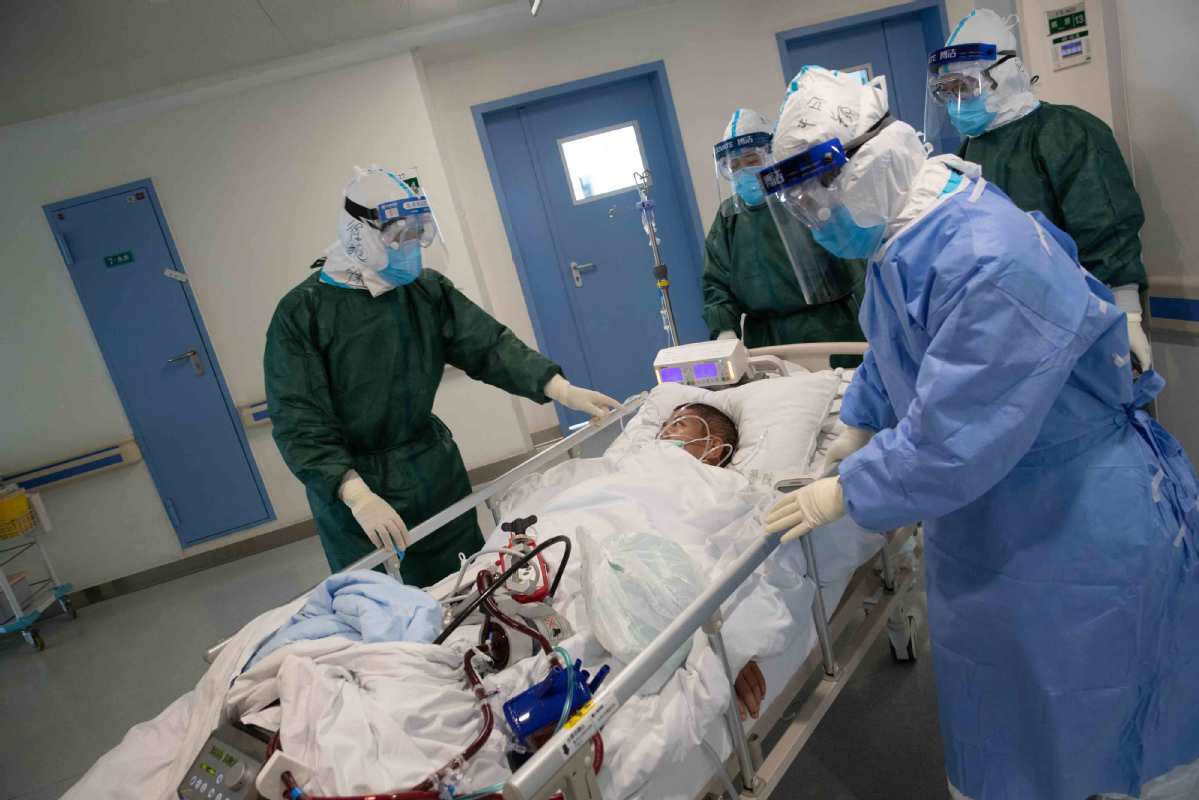 Over 41,000 medical workers from across China join forces to treat virus patients
Before arriving in Wuhan on Feb 4, Zhang Zhen, a doctor of cardiovascular diseases at a major public hospital in Beijing, had never worn a protective gown.
"Like most of my colleagues in Beijing, I never had a chance to wear a protective gown, which is only prepared for doctors treating infectious diseases," said Zhang, who is from China-Japan Friendship Hospital.
Zhang was one of the 155 volunteering doctors and nurses sent by the hospital in five groups since late January to Wuhan-the capital of Hubei province and the epicenter of the novel coronavirus pneumonia outbreak-to aid the treatment of patients in the city.
Zhang followed in the steps of his colleagues in some other departments, including the respiratory and critical care departments. The mission was organized by the National Health Commission, China's top health authority.
"The hospital has sent so many doctors in the respiratory department in Wuhan to treat the viral pneumonia that the department is almost empty," he said. "But doctors in other departments like us can also cope with patients in milder conditions."
Following two days of training, including in self-protection against the highly infectious disease while providing medical care, Zhang has been busy working with his colleagues at a temporary hospital for care of patients with the novel coronavirus. His work includes monitoring their conditions every day, providing drugs to relieve their symptoms, comforting scared or worried patients, and testing patients before they are released to ensure they are cured.
"At the beginning we could receive 150 patients, who were carried by buses from across the city, during a six-hour shift," he said. "The number of patients admitted has been stabilizing recently, and the hospital with 1,500 beds is almost full."
Although he was aware while still in Beijing of the danger he might face in Wuhan-the number of novel coronavirus cases was climbing quickly every day in the Hubei capital, hospitals in the city were severely understaffed and appealed to the public for mask donations, and there were reports that doctors were infected while treating patients-Zhang nonetheless decided to go to Wuhan.
"It would be a lie if I told you that I was not afraid at all," he said. "But this is the time when doctors are most needed. Besides, I think it is an honor for me to take part in fighting a big epidemic to save lives."
As of Tuesday, health authorities across China and the military had sent more than 41,600 medical workers in more than 330 groups to Wuhan and other cities in Hubei province to aid treatment efforts, the Chinese government said.
Guo Yanhong, a medical administration and supervision official at the National Health Commission, said at a news conference last week that more than 11,000 doctors and nurses sent to Wuhan specialize in critical care, accounting for nearly 10 percent of China's talent resources in critical care.
"Our top priority for the present is to try every means to rescue patients with the disease. In particular, Wuhan is very heavily burdened due to the large number of patients, including patients in serious condition," she said. "That is why we have mobilized the whole country to support Wuhan and Hubei province."
As of Tuesday midnight, 47,411 cases of novel coronavirus pneumonia, or COVID-19, had been reported in Wuhan-an increase of 370 from the day before-since the outbreak was first reported in the city in December. That accounts for more than 70 percent of the total cases in Hubei province and nearly 60 percent of China's total, according to data released by the National Health Commission on Monday.
Also as of Tuesday midnight, the outbreak had caused more than 2,085 deaths in Wuhan, accounting for more than 76 percent of all deaths due to the disease on the Chinese mainland.
Xu Junmei, vice-president of The Second Xiangya Hospital of Central South University in Changsha, Hunan province, leading a 42-member National Emergency Medical Team from the hospital, arrived in Wuhan on Feb 4. The team, which was the first EMT to arrive on site, was mobilized within an hour after being summoned by the National Health Commission, Xu said.
Twenty-two emergency medical teams were summoned from around the country to care for patients with mild symptoms in makeshift hospitals in converted public venues.
Xu's team works with other emergency medical teams and local medical workers in Wuchang Fang Cang Hospital, which was converted from Hongshan Stadium within 33 hours.
"We provide patients with standardized medical treatment and also psychological support, as mental intervention is important under such circumstances," he said.
The Second Xiangya Hospital of Central South University has sent 177 medical workers to Wuhan since the epidemic broke out.
Medical staff from other areas in China, including Beijing and Heilongjiang province, are also helping treat 800 COVID-19 patients in the Wuhan hospital, including about 20 in ICU wards, Zhang said.
In Northeast China's Liaoning province, authorities have organized nine medical teams since Jan 26 comprising a total of 1,730 doctors and nurses who were sent to Wuhan to help.
Liu Bende, vice-president of Jiangxia First People's Hospital in Wuhan's Jiangxia district, said nearly 300 medical workers sent by health authorities from East China's Jiangsu province are working with them to treat about 500 patients in the hospital.
"We are very grateful for their assistance, which has greatly relieved our workload," he said.