Fighting outbreak new role for team engaged in alleviation of poverty
Share - WeChat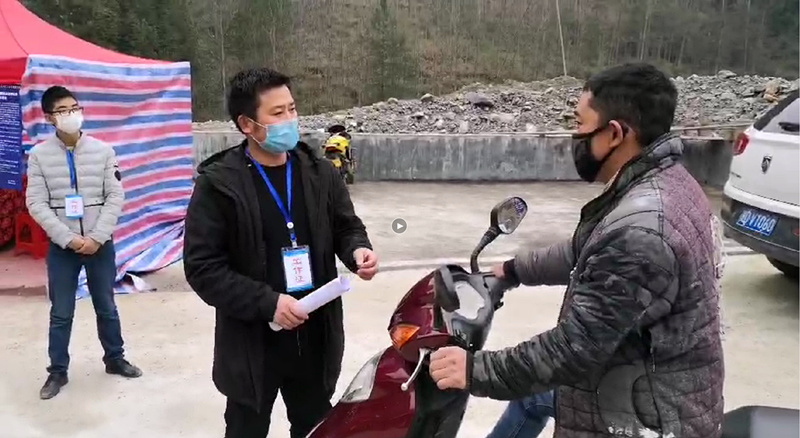 Editor's note: This series tells the stories of selfless individuals, from medical workers to volunteers, who are bravely fighting the virus outbreak with extraordinary dedication.

Tongren, a prefecture-level city in Southwest China's Guizhou province, had mobilized all its officials to work toward poverty alleviation when the deadly novel coronavirus struck.

On learning about the outbreak, Li Kang drove 55 kilometers from his hometown to Zhouzhai village in Tongren on Jan 24, the eve of Lunar New Year.

As soon as Li, the secretary-general of the village's Communist Party committee, arrived, he turned the poverty alleviation team into a unit that would fight the latest outbreak.

To begin with, the team was entrusted with the task of finding out if there were any cases of coronavirus infection in the village. It was responsible for keeping the virus out.

All villages in Tongren have their own teams to deal with the situation.

On Jan 28, Li learned there was a confirmed case of coronavirus infection in Shiqian county that adjoins Zhouzhai village. He immediately decided to have a checkpoint at the entrance to the village.

As of Jan 30, a total of 2.6 million people had been questioned in Tongren, and it was found 6,944 people had returned from Wuhan, Hubei province, the epicenter of the outbreak.

Of these, 111 had fever, with 17 showing flu-like symptoms. However, none tested positive for novel coronavirus pneumonia, now named COVID-19.

In an effort to control the spread of the virus, Tongren asked its officials to create awareness among residents about the virus and screen the people coming from other areas, especially Wuhan.

The virus, which struck during Spring Festival, had created panic among local residents.

Yanhe Tujia Autonomous County in Tongren asked 449 teams that were engaged in poverty alleviation to help prevent local people from getting infected with the virus.

Through public broadcasts, mobile loudspeakers, WeChat groups and posters, they tried to get the message across to people about coronavirus and prevention measures that needed to be taken.

An Ying, a member of one of the teams, postponed his wedding in view of the prevailing situation. He was asked to educate people every day on the streets about prevention measures and ask villagers not to venture out of their homes.

High technology was used to track the telephone users who came to Tongren from Hubei. The cloud platforms helped local officials to locate the migrant workers returning from Hubei. Those suspected of being infected were told to undergo health checks.

In recent years, Guizhou province has mobilized the grassroots workers to fight against poverty and change the mindset of its rural people living below poverty line.

A total of 51,542 workers were involved in poverty alleviation efforts. Many changes have taken place since the 19th National Congress of the Communist Party of China in 2017, and efforts toward poverty reduction in the province have borne fruit.

Teams in the province are not meant for epidemic prevention but also to ensure the success of rural poverty reduction.

At present, the urgent task is to guarantee a safe environment for all.

Meanwhile, all efforts are being made to meet this year's economic and social development goals. "Working together, people will finally see victory in epidemic prevention and control, and poverty alleviation," said Sun Zhigang, secretary of the CPC Guizhou Provincial Committee, at a conference on overall planning for epidemic prevention and control, and economic development in Guizhou province, on Feb 15.

Cai Hong contributed to this story.