Experts applaud handling of outbreak
Share - WeChat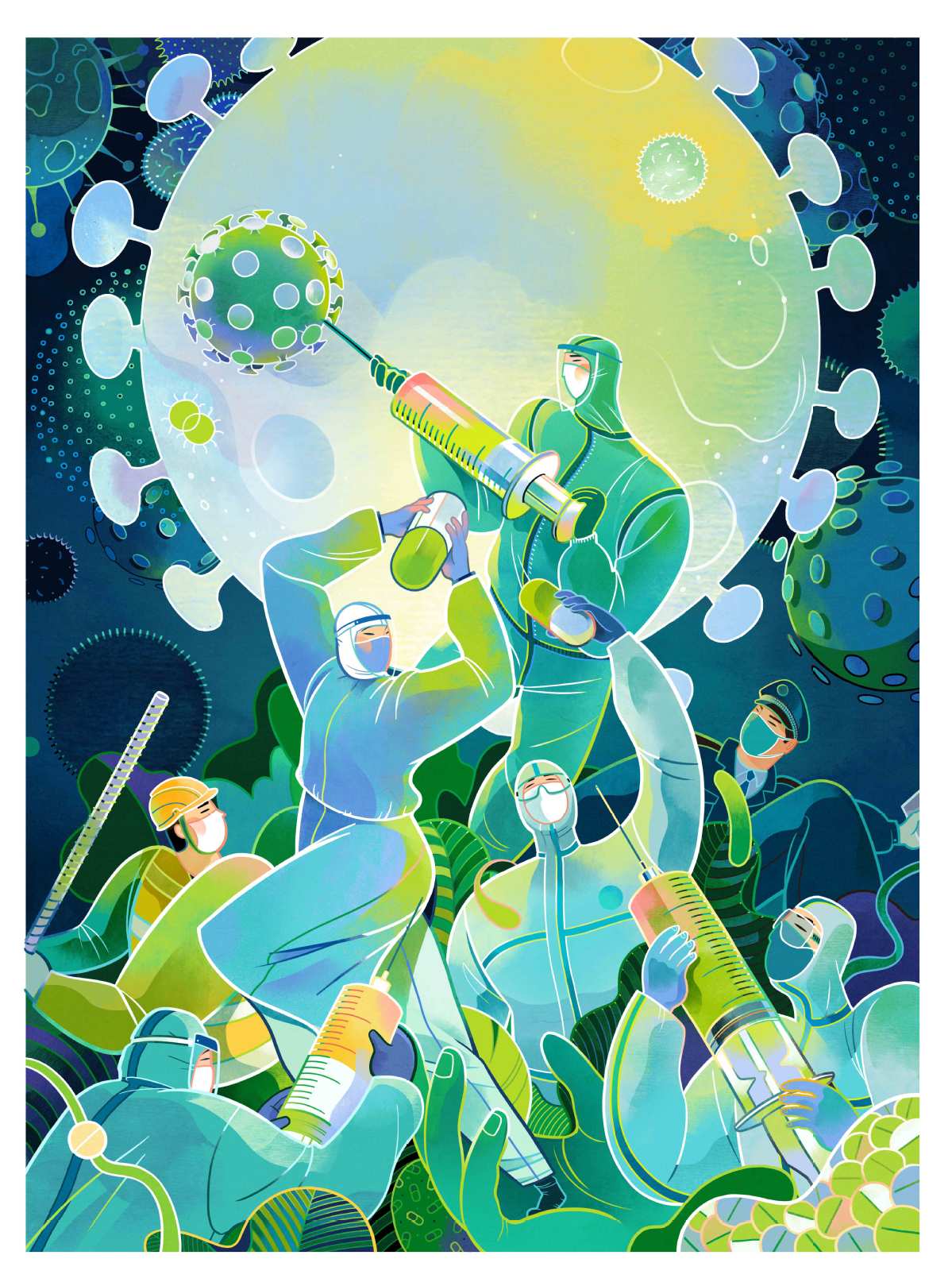 Country plays vital role as 'global citizen'
China has bought the world time in the fight against the novel coronavirus pneumonia outbreak, according to an internationally renowned virologist.
Paul Hunter, professor of health protection at the University of East Anglia in the United Kingdom, said the measures taken by China may yet be seen to have averted a global disaster.
"What China is doing is almost certainly delaying the spread and, hopefully, it will be delayed to a point where we have mass vaccination available. The availability of a vaccine is the thing that is going to make a difference to the total number of deaths," he said.
"People are working on this more than any other vaccine in history. Everything is uncertain."
China's response to the outbreak has been unprecedented, demonstrating how seriously the country takes its responsibilities to its own citizens and to people around the world.
It not only sealed off Wuhan, Hubei province, the outbreak's epicenter, but made the genetic sequence of the virus available at the earliest opportunity and has also been issuing daily bulletins on the latest information about the epidemic.
At a key meeting on Sunday, President Xi Jinping said China will continue to maintain close contact with the World Health Organization, share its experiences on disease control with relevant countries and enhance international cooperation on the research and development of medicines and vaccines.
Koh King Kee, president of the Centre for New Inclusive Asia, a leading Asian think tank based in Kuala Lumpur, Malaysia, said China has shown itself to be a true global citizen in its moment of crisis.
"The Chinese people have demonstrated unity and made huge sacrifices to contain the spread of the virus for their own good and that of the world. China deserves loud applause from around the world," he said.
Robert Dingwall, a leading medical sociologist and professor at the School of Social Sciences at Nottingham Trent University in the UK, said China has taken extraordinary steps that would not be possible in the West.
"It has done many things that are only possible in a society with a strong central government able to take rapid initiatives once decisions have been made," he said.
However, he believes that local governments in China also need to learn lessons from the outbreak.
"Once the crisis is over, China will need to consider how local governments can be empowered to act more on their own initiative, rather than waiting for authorization from an appropriate level in the central government," Dingwall said.
The efforts made by China to stem the crisis have not always been recognized by some leading international political figures and the global media. Chinese people have also been subjected to cruel incidences of xenophobia.
Alistair Michie, chairman of the international board at the Centre for China and Globalization, an independent think tank based in Beijing, regards this as highly regrettable.
"Despite all the efforts China has made, there has been a lot of negative coverage in the media. The eyes and ears of the world are often closed to almost any communication coming out of China," he said.
Michie, a prominent figure in the UK business community in China, believes that when the war against the virus has been won, there will need to be a "rethinking" about how China gets its message across. He has previously called for a "new mindset in communication".
"Many in Europe and the United States are very ignorant about China and the astounding changes I have witnessed over the past 30 years. It was fresh thinking and policies that created the success that was reform and opening-up. There needs to be similar thinking to make a comparable change in communications," he said.
Michie believes this is fully recognized by the Chinese leadership-in particular, by President Xi Jinping.
He said that in a speech at the World Economic Forum in Davos, Switzerland, in January 2017, Xi expressed the goal of "building a community of shared future for mankind".
"This is China's concept of being a global citizen and it is this powerful message that needs to be communicated. We are certainly seeing this in action during this outbreak."
Dingwall said he particularly regrets the xenophobia being encountered by Chinese people.
"It is unfortunate that the outbreak has coincided with an upsurge of nationalism in many other countries that has already led to xenophobia and fear of people who have different ideas, beliefs and cultures," he said.
"While people always try to blame new diseases on 'outsiders', we are in particularly fertile times for this to have serious consequences for the individuals who are stigmatized."
Oliver Stelling, a communications adviser specializing in emerging markets, the Middle East and Asia, said he believed the media had its eyes elsewhere and were slow to catch up with what was happening in China.
"It took until late January before there was any global awareness (about the outbreak). For most of December and January, the world was absorbed by (US President Donald) Trump's impeachment trial, Brexit and the UK election, Harry and Meghan, and the Australian bushfires. Perhaps this is a wakeup call," said Stelling, who is based in Dubai, United Arab Emirates.
It has become clear during the outbreak that global cooperation is vital to defeat it, and UK Foreign Secretary Dominic Raab is among those who have underlined this message.
"The coronavirus outbreak represents an unprecedented global health challenge. No single country can overcome, or fully defend against, the threat that coronavirus presents," he wrote in UK newspaper The Sunday Telegraph on Feb 16.
"Whether it is looking out for our nationals around the world or finding a vaccine for the virus, the international community must work together," Raab said.
However, Hunter, from the University of East Anglia, who has become a familiar face in the media in recent weeks, believes this is easier said than done.
"Getting the global community to act together on these things is very difficult. This outbreak will be difficult to contain in China and it will spread to being a pandemic some time this year, although the scale of it might be reduced because of the measures China has taken," he said.
Dingwall said such problems can only be dealt with by "joined up thinking" across governments.
"Epidemics and pandemics are not exclusively public health problems and cannot be approached as such. In the UK, we have, since the early 2000s, been thinking about them as civil emergencies that require cross-government responses, rather than being exclusively the property of the Health Department," he said.
This is certainly the case now in China, where the whole apparatus of the State is focused on tackling the emergency.
Stelling, the communications expert, said that despite these being tough times for China, the country's international reputation could eventually be enhanced by the way in which it has dealt with the crisis.
"If it proves it has handled this well, China's global standing will rise dramatically," he said.