County chief in Guangxi promotes fruit through online streaming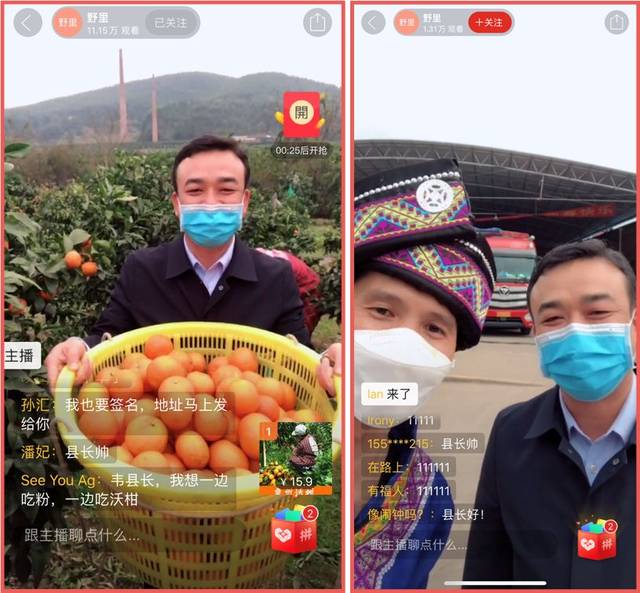 A county chief is promoting local oranges through the streaming services of e-commerce platform Pinduoduo to help farmers during the epidemic in Xiangzhou county, South China's Guangxi Zhuang autonomous region.
Wei Tao, acting county chief of Xiangzhou, picked oranges himself from an orchard in the online video to help promote the fruit to consumers. Wei managed to sell out 50,000 kilograms of the commodity within two hours.
Nearly 200,000 people watched his live streaming and many gave likes to the county chief.
Although the offline wholesale channel is set to resume while achieving victory over the virus, farmers still face pressure as the fruit ripens.
The local government has taken various measures such as offering delivery convenience and exploring innovative sales campaigns.
In cooperation with Pinduoduo, which launched an exclusive service on its app to help farmers market agricultural products to urban consumers nationwide on Feb 10, the local government managed to help 800 farmers sell their goods through online streaming.
Wei said the total orange cultivation area exceeds 2,333.3 hectares in Xiangzhou, yielding 100 million yuan for farmers annually and marking the most important way for villagers to increase earnings and emerge from poverty.
With the outbreak of the novel coronavirus, e-commerce has become the most common way for consumers to buy agricultural products.
It is estimated that one third of the county's orange production will be consumed through the cooperation with Pinduoduo this year .