Restaurant owner cooking up free meals for front-line doctors
By Zhou Lihua, Liu Kun in Wuhan and Li Hongyang in Beijing | China Daily | Updated: 2020-02-20 09:07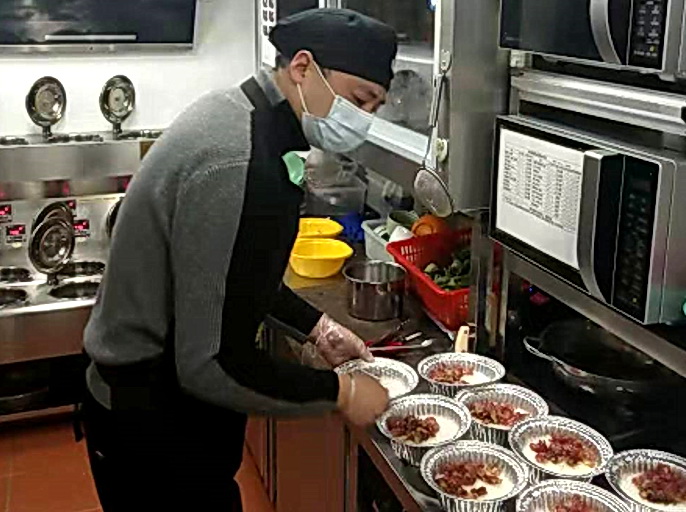 For the past month, restaurant owner Liu Xiaohu has cooked 200 free takeout meals each day by himself for doctors who are combating the novel coronavirus in Wuhan, Hubei province.
The 36-year-old runs a Suntata Pot Rice franchise in Wuhan, featuring steamed rice with cured meat and vegetables in clay pots that sells for 25 yuan ($3.60) each.
"When I saw on the internet that doctors and nurses who were fighting the virus ate instant noodles and bread for lunch in hospital, I really wanted them to have some fresh and nutritious food," Liu said.
On Jan 27, Liu joined a campaign launched by Meituan, a leading online food delivery company, that called on restaurants in the city to offer free meals in the name of "love" for doctors.
Before that, Liu had worked as both chef and waiter because his four employees had left the city for the Spring Festival holiday and had not returned. He closed the restaurant as the epidemic began to spread.
The central kitchen of the Suntata headquarters in Changsha, Hunan province, has provided meat and rice to Liu for free. It has also offered him a salary, but he refused.
"If I accepted their money, it would go against my conscience," Liu said. "Our country is suffering from a health crisis, and it is every Chinese person's duty to help.
"I don't know the current situation in hospital canteens, but I guess that there is a shortage of cooks due to the virus. I will try my best to guarantee the quality and taste of my food. It will be not inferior to their canteen food."
The food, which he spends 15 hours cooking every day, goes to a Shanghai medical team who came to support Wuhan.
In the morning, he usually buys some fresh lettuce in a market and then prepares two meals-one at 10:30 am and the other at 4:30 pm.
Since he is the only one in the restaurant, he needs to do all the work, including soaking rice for an hour and a half, preparing meat and vegetables, looking after 15 cooking stoves at the same time and packaging.
Riders from Meituan quickly transport the meals to the hospital to ensure they are warm when they arrive.
At night, Liu prepares materials for the next day and goes to sleep at the restaurant around 10 pm.
"Though I haven't received any feedback or met any of the doctors I have served, I will still try my best to cook the best pot rice. It's in my conscience," he said.
"Fresh vegetables are important. For an authentic taste, I must use Shanghaiqing, a kind of Chinese cabbage, or lettuce, with good flavor.
Making 200 servings of claypot rice every day requires nearly 30 kilograms of vegetables.
Liu, whose hometown is Shiyan, Hubei province, started his business from scratch in 2004 in Wuhan, selling boxed lunches at the Hankou Railway Station.
In 2013, he quit and ran a grocery until June, when he opened the Suntata Pot Rice restaurant.
Before this Spring Festival, he had planned to attract more customers by staying open during the holiday while other restaurants were closed. But the virus interrupted his plan.
"I would contribute all the food materials I have stored and even my savings to help doctors fight the virus," he said.
Now, there are only materials for about 400 servings of pot rice left. Liu has applied to the headquarters, but there is a problem with logistics due to the lockdown of Wuhan.
"I am contacting various parties to get food materials, and I will continue working until the end of the epidemic.
"Life is short, and I don't want to have nothing to be proud of in my entire lifetime. When I become old and think of this precious experience occasionally, it will be worth it," he said.