Spring Festival travels cut in half nationwide amid epidemic
Share - WeChat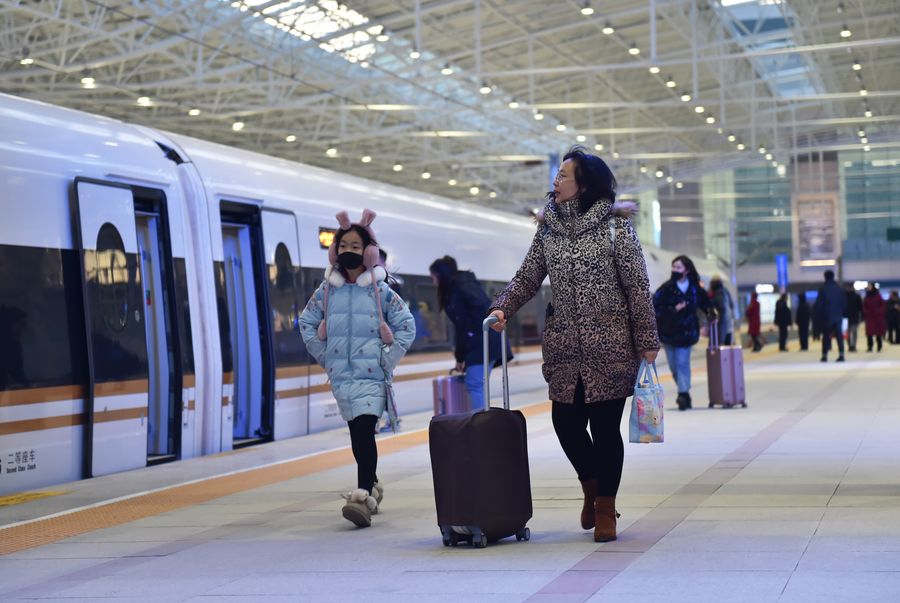 China witnessed passenger trips slump more than 50 percent this year-falling to nearly 1.48 billion during the Spring Festival travel rush-due to the novel coronavirus outbreak, the country's top transport authority said on Wednesday.
The 40-day travel rush, which kicked off on Jan 10 and ended on Tuesday, was expected to see about 3 billion trips, according to a forecast by the National Development and Reform Commission in late December.
However, multiple measures, especially travel restrictions, have been implemented to lower the risks of the virus transmission, which led to the free fall in the volume of passenger trips.
The country recorded 210 million rail trips during the period-196 million fewer than during the same period a year ago, a decrease of 48.3 percent, according to China State Railway Group.
The number of rail trips made ahead of Spring Festival-which fell on Jan 25 this year-did increase as expected, up 17.2 percent compared with the same period last year, with 168 million trips recorded between Jan 10 and 24, it said.
But the number of trips dropped significantly after Jan 25 due to travel restrictions and quarantine aimed at containing the outbreak.
Only about 42.5 million trips were made between Jan 25 and Feb 14, an 83.9 percent drop year-on-year, it added, with the railway network handling 1.7 million trips on a daily basis.
The same sharp decline also occurred in the country's civil aviation sector during this year's travel rush, according to the Civil Aviation Administration of China.
The country only handled about 38.4 million air trips during the rush period, a 47.3 percent drop from last year.
Only 157,500 trips were made on Tuesday, the last day of the travel rush, which saw a year-on-year decrease of 91.2 percent, the administration said.
The number of road trips also plunged this year and only reached about 1.21 billion, declining 50.8 percent over last year. Only some 16.9 million boat trips were made, a 58.6 percent year-on-year decrease, according to the Ministry of Transport.
While the public travel demands remained in a downward trend, transport authorities have ramped up cargo support to deliver daily necessities and medical supplies, especially to Hubei province, the center of the epidemic outbreak.
As of Tuesday, the ministry had made full use of all transportation means and delivered a total of 339,500 metric tons of materials necessary for the fight against the epidemic, as well as 885,000 tons of production materials such as coal and oil.