Poultry industry suffering amid epidemic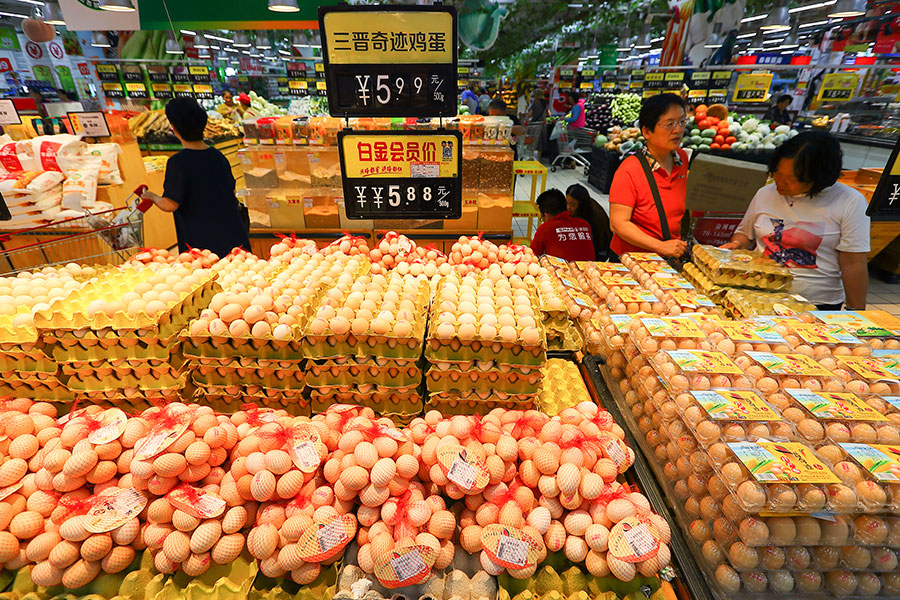 China's poultry industry has been under great stress due to a lack of adequate feed and interruptions in the timely marketing of farm products amid the fight against the novel coronavirus pneumonia, according to a senior official with the Ministry of Agriculture and Rural Affairs.
Yang Zhenhai, chief of the ministry's Animal Husbandry and Veterinary Medicine Bureau, said on Tuesday that the poultry sector has suffered serious losses due to problems such as feed shortages, inconvenient transportation and sales difficulties, as well as the shutdown of slaughtering factories since the outbreak.
"If nothing is done, these problems might lead to a poultry and egg supply hiccup in the second and third quarters," he said, adding that the ministry has been taking multiple measures to reduce farmers' losses and ensure a steady supply.
The ministry is striving for financial support including special loans and lower interest rates for large-scale poultry enterprises, which have a huge output and account for a high portion of the industry, according to Yang.
Yang also said that more technical guidance will be given to poultry farms to enhance their breeding management and strengthen biological safety protection, along with provisions of more service to help them tackle feed shortages, logistics barriers and blocked sales channels.
Coupled with the coronavirus fallout, the two recent bird flu cases in Hunan and Sichuan provinces, which have raised public concerns about eating poultry, have also had some effect on poultry sales.
The two bird flu outbreaks reported early this month were likely caused by wild birds, Yang said, adding that there's a very low rate of bird flu transmission between chickens and humans, and people can eat poultry products that have passed quarantine inspections.
The outbreaks took place at two small farms. The farms had 10,347 chickens, and 6,340 of them have died from the contagion. Local authorities have killed 28,214 poultry since the outbreak, Yang said.
No human cases of bird flu have been reported. All people with close contact with the infected poultry are in good health condition and tested negative for the virus, he added.
Jiang Kaiyong, deputy chief of the ministry's Fishery Affairs Administration Bureau, said that the sales of aquatic products-especially tilapia, prawns, crayfish and many types of freshwater fish-have also felt the pinch as a result of the coronavirus outbreak, which has caused losses for the farmers and hindered their reproduction.
He said the ministry has smoothed channels to promote sales of the aquatic product stock while encouraging authorities to introduce support policies for logistics and subsidize logistics companies and personnel.
wangkeju@chinadaily.com.cn