Steps taken to resume work across nation
By OUYANG SHIJIA and MA SI in Beijing and LI WENFANG in Guangzhou | China Daily Global | Updated: 2020-02-18 09:03




Share - WeChat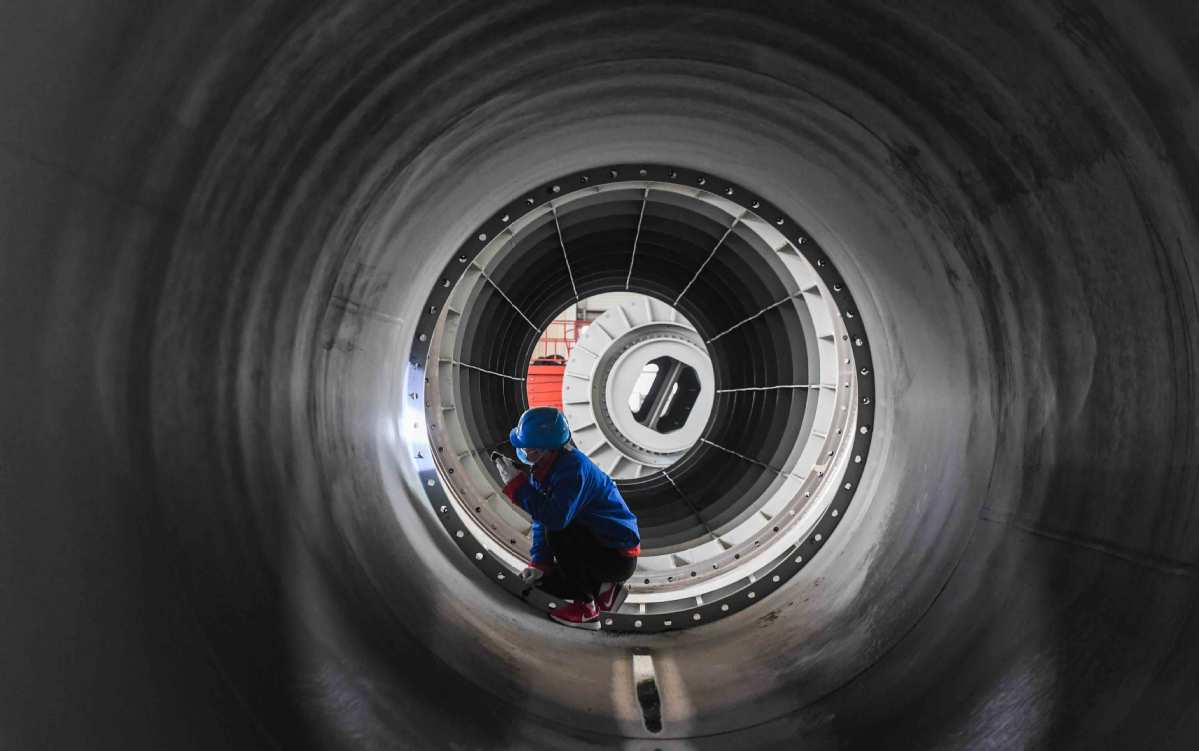 Production ramps up gradually to minimize outbreak impact, shore up domestic supplies
China is boosting efforts to step up production and resume work, as part of its bigger drive to fight the novel coronavirus pneumonia outbreak and maintain economic stability.
The country has taken a series of key measures, including offering loans with discounted interest and easing enterprises' rent and tax burdens, to help companies weather temporary difficulties caused by the coronavirus epidemic.
"On the one hand, we'll strive to prevent the spread of the epidemic," Cong Liang, secretary-general of the National Development and Reform Commission, said at a recent news conference in Beijing."On the other hand, we will also focus on minimizing the economic fallout and shore up the domestic supply of daily necessities and urgently needed goods to deal with the coronavirus."
The government urged different regions to carry out their respective measures and arrange for workers to return to work in groups, according to their own local conditions, rather than all at once, said an official from the country's top economic regulator.
For areas with a severe epidemic situation, the priority should be epidemic prevention and control. Regions less affected by the epidemic should set up standards for resumption of operations and gradually implement reopening.
As of Feb 11, capability for production of masks in China had been restored to 94 percent of the normal level. In addition, 94.6 percent of food production and processing enterprises in China had resumed production as of Feb 10, Cong said.
In the next step, the NDRC said, it will make a big push to speed up the production of daily necessities and urgently needed medical equipment. It will also expand production capacity and resolve any issues that manufacturers are facing, such as financing or supply of materials, and increase mask supplies for key provinces and areas hit hard by the coronavirus.
Experts said the economic impact on China hinges on the ability of the government to contain the virus and its measures to mitigate the impact. They also said they don't expect the epidemic to cause any permanent damage to China's economy.
"Despite the temporary impact on the Chinese economy, the outbreak won't affect the economy's mid-to long-term fundamentals," said Tang Jianwei, chief researcher at the Financial Research Center of the Bank of Communications.
According to Tang, if the outbreak comes gradually under control in the first quarter, the Chinese economy would likely show signs of rebounding in the second quarter.
"Particularly, the government needs to further adopt a series of measures to support those hit badly by the epidemic, including small and medium-sized enterprises, single-owner-run businesses and migrant workers, to maintain social stability, Tang added.
In order to encourage small and medium-sized enterprises to resume production as early as possible, the Ministry of Industry and Information Technology has unveiled 20 measures to help boost their innovation capabilities.
To ensure employees' health, companies are encouraged to start normal operations. One of the top priorities is to implement favorable tax policies designed for crucial medical equipment makers, the ministry said.
The ministry also said it has encouraged local governments to roll out their own favorable fiscal policies to support SMEs. In addition, more efforts will be made to help SMEs better apply for loans from banks and adopt cutting-edge technologies to advance digital transformation.
Local government departments are stepping away from the one-size-fits-all approach to roll out measures according to their local features.
The government of Guangzhou, Guangdong province, has issued measures to support SMEs and self-employed businesses amid the coronavirus epidemic, with an estimated 7.2 billion yuan ($1.03 billion yuan) of their costs to be shed directly.
Guangzhou is home to 1.27 million enterprises, most of which are SMEs, and 1.05 million self-employed businesses.
The city's State-owned property owners will slash rents by about 600 million yuan, said Zhang Hongwei, deputy director of the city's bureau of industry and information technology, at a news conference.
The adjustment in the rate of unemployment insurance and continued floating rate of employment injury insurance are expected to save enterprises 4.412 billion yuan and 635 million yuan, respectively, this year.
The city's State-owned banks will cut their profits by 1.65 billion yuan in favor of enterprises. The Bank of Guangzhou and Guangzhou Rural Commercial Bank will increase loans to SMEs by 57 billion yuan this year and offer lending rates lower by 10 percent or more compared with the rates applied last year.
Meanwhile, the coastal municipality of Tianjin in North China has rolled out a series of measures to help SMEs get through the virus prevention and control period, during which their businesses might be affected, according to a circular by the city's government.
More than 20 supporting measures in various fields, including administrative approval, importation, tax and finance, will be implemented, with the measures remaining in effect until three months after the epidemic ends, according to the circular.
Yang Cheng in Tianjin contributed to this story.