Epidemic prevention tips for the maternal or the perinatal
Share - WeChat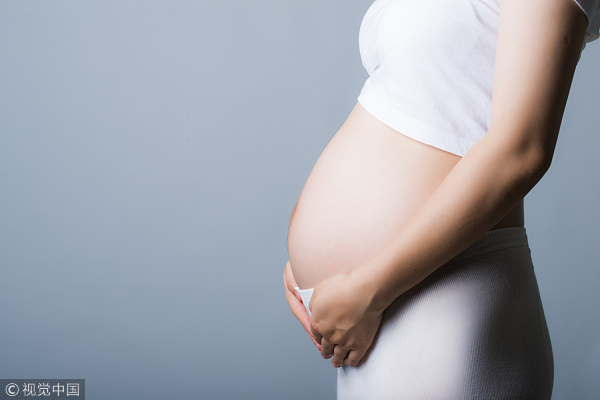 An updated version of epidemic prevention tips for maternal or perinatal women was published by the Chinese Center for Disease Control and Prevention (CCDCP).
During the outbreak of the novel coronavirus pneumonia, if women are infected by the virus late in their pregnancy, the illness will severely affect the mothers and endanger their fetuses.
These tips, designed to guarantee maternal and infant health, have been based on current information about the disease, and are applicable as prevention guidance for the maternal or the perinatal - as well as their family members - during the epidemic.
Prevention at home
1. Make sure that indoor rooms have good air flow and a comfortable temperature; keep the window open appropriately and avoid being too cold or overheating so as not to catch a cold.
2. Towels, bath towels, tableware, bedding and other daily necessities for the maternal or the perinatal should be used alone to avoid cross-infection.
3. Keep hands clean at all times.Before meals and after using the toilet, wash your hands with running water and soap, or use an alcohol-based hand sanitizer. When you are not sure whether your hands are clean, avoid touching your mouth, nose and eyes. Cover your mouth and nose with a tissue when you cough or sneeze.
4. Maintain balanced nutrition; eat a light and healthy meal; avoid overeating; control your weight.
5. Avoid visits from friends and relatives; avoid close contact with people who have flu or cold-like symptoms and people who have been to epidemic-stricken areas within two weeks of their return.
6. Insist on breastfeeding, and wash hands before feeding babies.
Self-health monitoring and management
1. Practice self-health monitoring. Measure your daily body temperature, weight changes, and respiratory tract infection symptoms, and monitor fetal movements regularly.
2. Women in the early stage of pregnancy confirmed by B-ultrasound as intrauterine pregnancy, with slight abdominal pain or a small amount of bleeding, can be at home under If they experience repeated irregular small amounts of bleeding, they should consult their obstetrician in time after B-ultrasound examination. If more abdominal pain or increased bleeding happens, or there is uncertain intrauterine pregnancy with B-ultrasound confirmation, a timely telephone consultation with the obstetrician should take place, as advised by the doctor.
3. During the period of high epidemic outbreak, if there are no special circumstances, pregnant women can negotiate with their obstetricians to delay their prenatal examinations and monitor their intrauterine conditions (fetal movements) at home. When necessary, they should make an appointment, taking all precautions and doing it as quickly as possible.
Pregnant women who experience complications should receive medical treatment strictly according to their doctors' prescription. If a pregnant woman experiences abnormal conditions during pregnancy such as headache, blurred vision, and abnormal fetal movement, she should receive medical treatment immediately.
4. If a pregnant woman has a stuffy nose and sore throat - but doesn't have travel and residence history, or close contact with patients who have been in badly epidemic-stricken areas within the last 14 days - she can stay at home if she doesn't have a fever. She must have enough rest, monitor her body temperature every day and observe any changes in symptoms.
5. If a pregnant woman has had a history of travel with, residence with, or close contact with a patient with confirmed novel coronavirus infection within the last 14 days, medical observation should be conducted at home or designated places as required. The pregnant woman should also pay close attention to her symptoms and monitor her fetal movements.
6. Breastfeeding is not recommended until maternal self-isolation is finished. It has been recommended that newborns born to mothers with novel coronavirus pneumonia should be isolated for 10-14 days and closely monitored. Any symptoms of discomfort during this time should lead to promptly-sought medical attention.
Notes for going outdoors for medical treatment
1. If not undergoing regular antenatal examinations, pregnant women should choose the nearest medical institution with the fewest daily outpatient visits. Necessary and urgent medical examinations and medical procedures should be taken first, and appointments and preparations should be made in advance of the visit. The layout of the hospital departments and the procedures of the outpatient visit should be gotten familiar with; the visiting time should be reduced as much as possible.
Build a file of the antenatal examination at hospital, and pay attention in order to do a good job of protecting yourself during the whole procedure.
2. On the way to the hospital, as well as in the hospital, keep warm and avoid catching a cold. Pregnant women and accompanying family members should wear surgical masks or N95 medical masks at all times. Use hand sanitizer or disinfection wipes to maintain hands hygiene. When on the road or in the hospital, keep as much distance as possible (at least one meter) from one another.
3. Avoid taking public transportation when you go out for medical treatment. You can choose to take a taxi or drive a car owned by your family. If necessary, open the windows to ventilate the car.
4. After touching hospital door handles, curtains, doctors' uniforms and other hospital articles, use hand disinfectant as soon as possible. Do not touch your mouth, nose or eyes before you disinfect.
5. After returning home, outdoor masks should be handled, change clothes, wash hands, clean face and other exposed parts. Clothes should be cleaned and disinfected as soon as possible and coats should be placed in a well-ventilated place.