Wang says US posing threat via suppression
Share - WeChat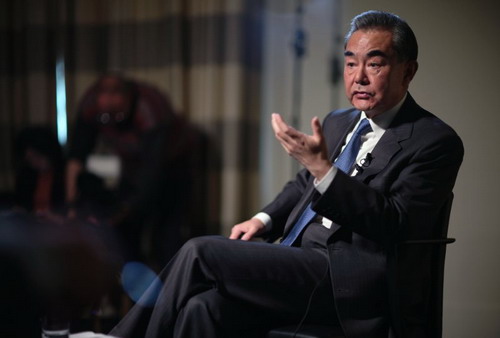 It is the United States that poses threats to China through repeated suppression, accusation and smearing, and not the other way around, State Councilor and Foreign Minister Wang Yi said in an exclusive interview with Reuters on Friday.
Wang cited cases-such as the US Congress reviewing and adopting bills that interfere in China's internal affairs, US naval ships and airplanes flexing muscles at China's doorstep and the US suppressing Chinese companies-and said the issue is how to address the US threat to China.
In the far-ranging interview in Berlin, Wang said that countries with different social systems will not pose a threat to each other as long as they adhere to the purposes and principles of the United Nations Charter, in particular the principle of noninterference in internal affairs, and respect each other's sovereignty.
Asked whether the novel coronavirus pneumonia epidemic would influence the recently signed China-US phase one trade deal, Wang said China is ready to implement the deal, and he urged the US to fulfill its commitment.
The epidemic will affect China's economy temporarily, but afterward, the Chinese economy will rebound and the Chinese market will continue to expand, he said.
There will be better conditions to implement the consensus in the deal as China deepens reforms and expands opening-up in accordance with its own timetable and road map, he said.
However, Wang added, the US curbs on movement of people between the two countries will objectively bring some difficulties in implementing the agreement.
Wang said he hopes the US will respect the World Health Organization's recommendation and avoids unnecessary travel and trade restrictions.
Regarding US accusations against Chinese telecommunications company Huawei, Wang said they are neither reasonable nor moral.
The US cannot accept other countries' companies displaying economic and technological talent because it doesn't want to see other countries and their businesses develop and flourish, Wang said.
Fu Ying, vice-chair of the Foreign Affairs Committee of China's 13th National People's Congress, dismissed US accusations that Huawei poses a threat to global political stability at the Munich Security Conference on Friday.
Speaker of the US House of Representatives Nancy Pelosi said at the conference that China is seeking to export digital autocracy through Huawei.
While introducing technologies from Western countries, China has maintained its political system and it is not threatened by these technologies, Fu said, asking Pelosi, "Do you really think the democratic system is so fragile it could be threatened by this single high-tech company, Huawei?"
The US has heavily lobbied other countries to follow suit and boycott the Chinese company.
German lawmakers remain divided on the Huawei question, and the United Kingdom ruled last month that Huawei may continue to operate in a restricted capacity.
There is no doubt that all countries should safeguard the security of their own telecommunications infrastructure, and also companies from all countries should be offered a level playing field and non-discriminatory business environment, Wang said in a Q&A session after his speech at the security conference.