66,492 coronavirus cases confirmed on Chinese mainland
Share - WeChat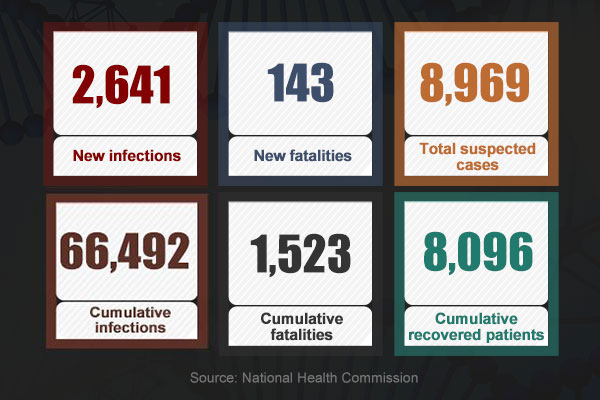 The Chinese mainland has confirmed 66,492 infection cases of the novel coronavirus pneumonia as of Friday midnight, with 2,641 newly confirmed cases reported on the day, the National Health Commission said on Saturday morning.
On Friday, 143 died of the disease, bringing the death toll across the mainland to 1,523, and another 2,277 new suspected cases and 849 cases with severe symptoms were also reported on the same day, according to the commission.
It said that 1,373 people were released from the hospital and 30,081 discharged from medical observation on Friday.
So far, 8,096 have recovered and no longer need to be hospitalized, it said.
The mainland has traced 513,183 people who had close contact with the patients as of Friday midnight and 169,039 of them are under medical observation, it added.
According to the commission, 56 cases have been confirmed in the Hong Kong Special Administration Region, 10 in the Macao SAR and 18 in Taiwan by now.
Hubei province, the epicenter of the disease, reported 2,420 new confirmed cases on Friday, bringing the provincial total of confirmed infections to 54,406, the local health commission said on Saturday.
The province also added 139 new deaths and 912 new recovery cases on the same day, according to the commission.
Of the newly confirmed cases, 1,138 were clinically diagnosed as having the novel coronavirus pneumonia.
As of Friday midnight, a total of 4,774 patients in the province have been released from the hospital while 38,107 are still being hospitalized -- 8,276 of them with severe symptoms and 1,876 in critical condition.
The commission said that out of the 5,534 suspected infections, 5,149 are receiving quarantine in the province, adding that another 176,148 people who were in close contact with patients have been traced and 77,323 of them are under medical observation.