Transport measures key to containing coronavirus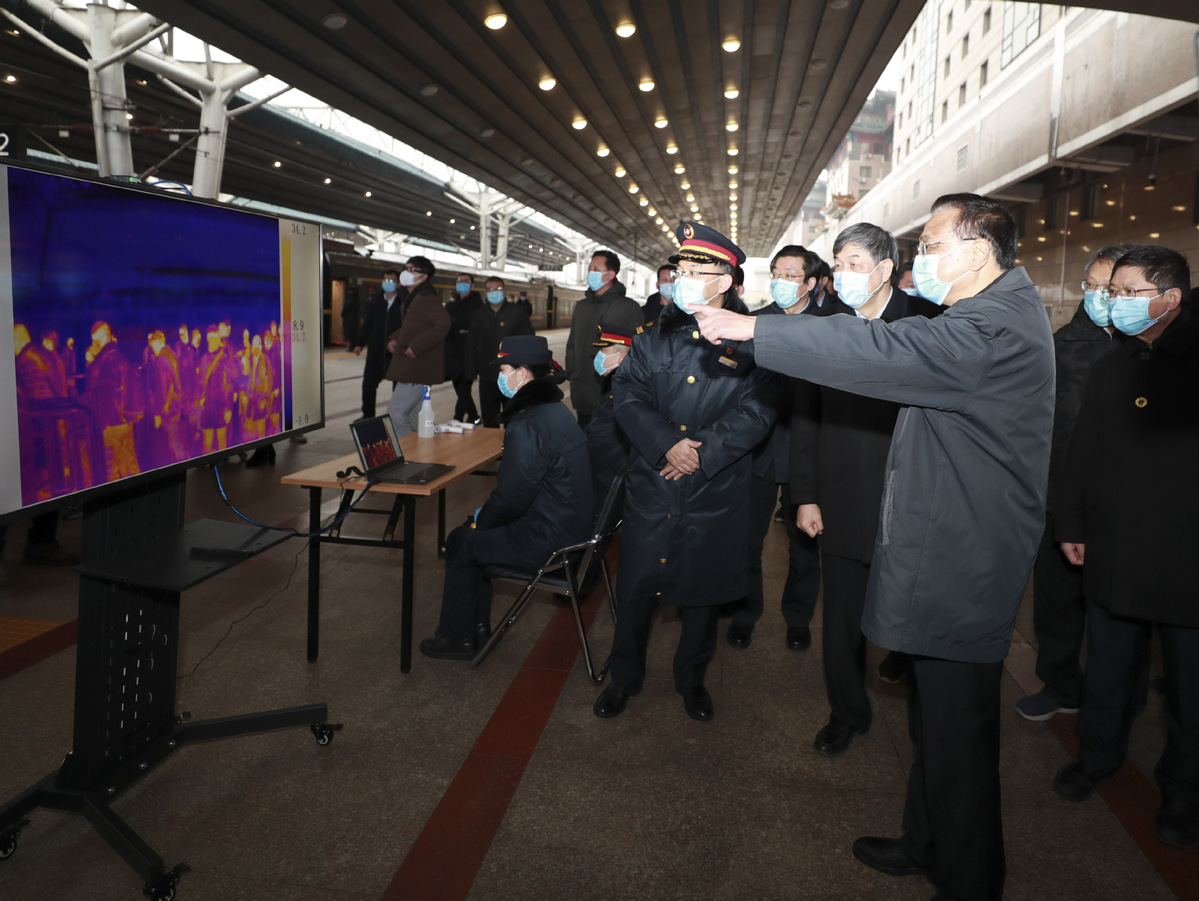 Premier Li Keqiang underlined the importance of reducing the risk of spreading the novel coronavirus through the flow of people coming back from the Spring Festival holiday as he inspected the Beijing West Railway Station on Friday.
But the peak traffic season after the Spring Festival seen in previous years will not occur this year, according to the result of big data analysis of ticket booking and passenger flows. The same situation applies to other transportation and civil aviation sectors.
Li urged epidemic preventive measures to be implemented in a detailed way and multiple measures to be adopted at the same time to avoid large numbers of people returning at the same time.
Li was briefed on the off-peak dispatch of trains nationwide and the trends of passenger flows in the coming days at the station's dispatch and command center.
Saying that epidemic prevention and control is still at a critical period while work and production are resuming in a majority of places, Li urged efforts to strengthen the monitoring of passenger flows and reasonable arrangement of ticket sales.
Li instructed that policies that temporarily lift all tolls on toll roads, including those for cars, passenger cars and trucks, be worked out promptly.
No effort should be spared to implement all preventive measures to better guarantee the smooth transportation of key medical protective supplies and life necessities and reduce companies' logistics costs.
Traffic expectations should be well guided to realize people's orderly and balanced travel, and orderly resumption of work and production should be promoted while avoiding contagion, Li said.
The premier stressed the importance of personnel flows and guaranteeing the supply of preventive materials and daily necessities.
Epidemic preventive measures on public transportation vehicles and stations should be put into practice to enable passengers to travel safely and at ease, he said.
To ensure smooth and effective transportation, activities including arbitrarily setting up checkpoints and blocking traffic will be corrected, Li said.