US stocks rally, but latest figures show virus surge
Share - WeChat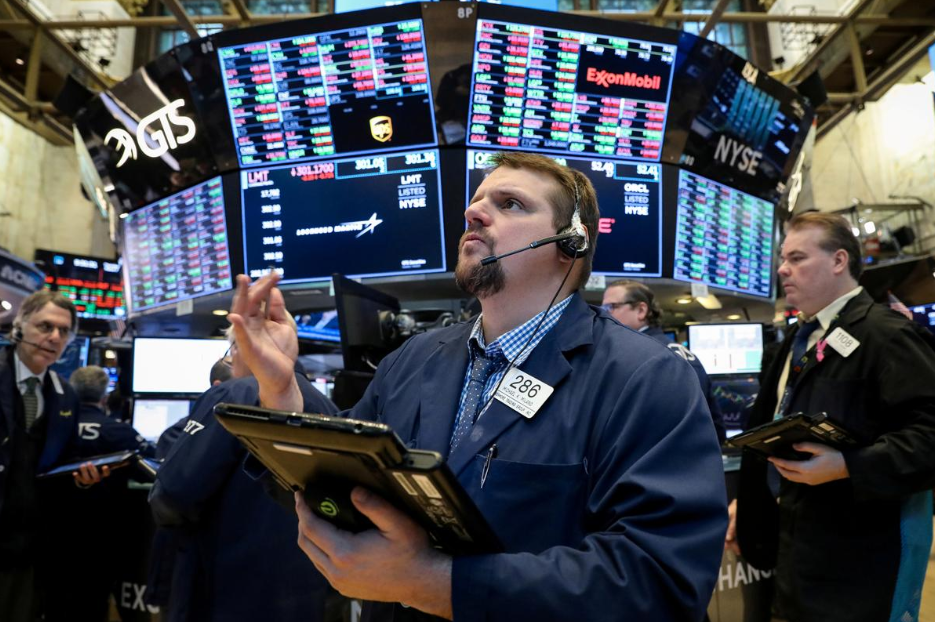 Wall Street rallied on Wednesday, partly on news that the number of new coronavirus cases in China was tapering.
All three major US stock averages closed at record highs. Technology shares led the broad-based rally, which set up the S&P 500 and the Nasdaq Composite index for their third consecutive all-time closing highs. The Dow Jones Industrial Average last set a closing record on Feb 6.
The Dow rose 228 points, or 0.78 percent to 29,503.82; the S&P gained 18.08 points, or 0.54 percent to 3375.83; and the Nasdaq Composite added 71.65 points, or 0.74 percent, to close at 9710.59.
Also a factor in the bullishness: Of the 351 companies in the S&P 500 that have posted fourth-quarter earnings reports, 70.9 percent have surprised analyst expectations to the upside, according to Refinitiv data.
China had reported its lowest number of new coronavirus cases in two weeks Wednesday.
The relief and investor optimism could be short-lived, however, because on Thursday, China's National Health Commission reported more than 15,000 new confirmed coronavirus cases.
China's stock market also had rallied Wednesday, to its seventh straight day of gains.
The benchmark Shanghai Composite Index was up 0.87 percent to close at 2926.9 points. The index has rebounded by more than 6 percent after a sharp fall of nearly 8 percent on the first trading day after the extended Chinese New Year holiday.
Market participants closely watched as US Federal Reserve Chairman Jerome Powell wrapped up his semiannual economic report before Congress on Wednesday, during which he reiterated that the central bank is closely monitoring the coronavirus and other threats.
"(The Fed has) communicated that they're going to be on hold for some time, and the dovish stand will be in place for the rest of the year," said Matthew Keator, managing partner in the Keator Group, a wealth management firm in Lenox, Massachusetts.
"The Fed has indicated that they're going to take a wait-and-see approach that gives the market a bit of a runway."
Kamal Khan, chief US editor at investing.com, told China Daily: "Wall Street hasn't completely discounted any more effects from the coronavirus, but investors are confident a white knight in the form of the Fed will ride to the rescue.
"Fed chief Powell obviously didn't commit to easing at his appearance on Capitol Hill this week, but gave enough hints that more monetary (easing) mmunition is available," Khan said.
As for the duration of the coronavirus, four researchers from universities in China – three from Xi'an Jiaotong-Liverpool University (XJTLU) and one from Southern University of Science and Technology in Shenzhen – predict the number of new, confirmed coronavirus cases in China will dwindle to almost nothing in under two weeks, according to a press release Monday.
They created a website to provide scientists, journalists and other researchers open access to data from across China on novel coronavirus and daily statistical modeling.
"The current model predicts a rapid decrease in new, confirmed cases in the next week and virtually no new, confirmed cases by February 23," wrote Dr Yi Zou, who is based in the Department of Health and Environmental Sciences at Xi'an Jiaotong-Liverpool University.
"According to the data we collected, the virus disease pattern shows a classic sigmoid function curve," he said. "The curve looks like a stretched version of the letter 'S'. We appear to be at the top curve of the 'S', where the top curve indicates the maximum number of cases.
"We hope that through the integration of information, we can provide more people with data sharing and fight the epidemic together," Zou said. "All data and information are automatically captured every 30 minutes through a background program to ensure timeliness.
"Our team uses a logistic regression model, which is widely used in epidemiological analysis, to predict the trend of the outbreak in China as a whole and for each of the country's provinces from the data," he said.
Other volunteers responsible for developing the website include Dr Peng Zhao and Dr Lei Han of XJTLU's Department of Health and Environmental Sciences and Dr Xiaoxiang Wang from Southern University of Science and Technology.
Li Xiang and Zhou Lanxu in Beijing and Reuters contributed to this story.