Open-air farmers markets in epicenter curb infections
Share - WeChat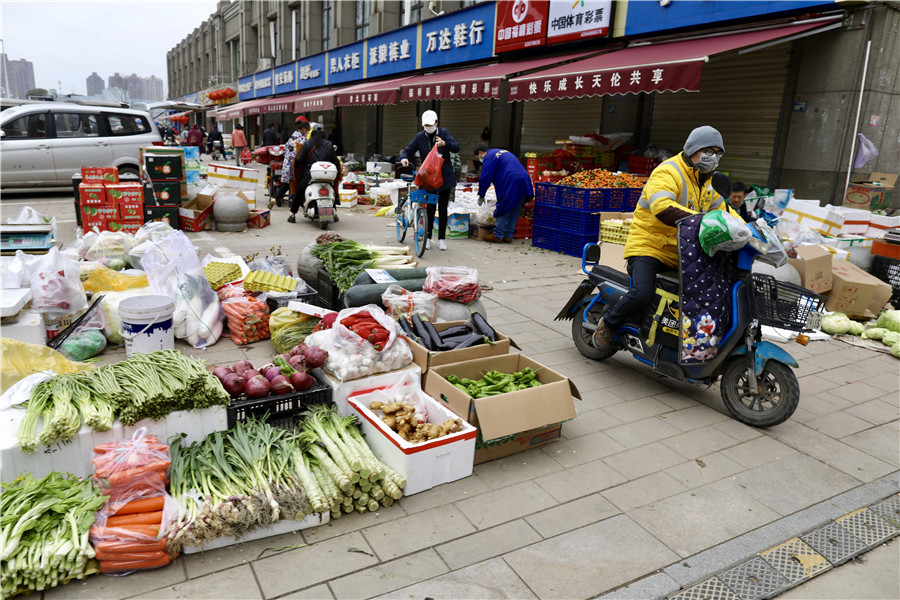 Smaller, outdoor venues provide food, reduce risks of pneumonia spreading

More small, open-air markets for fresh food have opened in Wuhan, the epicenter of the novel coronavirus outbreak, to help control and prevention measures while providing convenience to residents.
"Such markets are smaller in size than traditionally roofed farmers markets, so not many people will gather," said Gao Xiangyong, an official from Wuhan's commerce bureau. "They can reduce the chances of transmission of the virus between people as they buy food in the open air rather than in a concealed environment such as a supermarket."
The number of such markets in the city has gradually increased over the past few days and reached about 180 as of Tuesday, he said.
Following the outbreak in December, the city closed all farmers markets to prevent the spread of the virus, he said.
With the outbreak gradually stabilizing recently, following local authorities' efforts to admit all patients and suspected cases to hospitals and other temporarily-built medical facilities, the city has started to encourage the opening of such markets, Gao said.
"People have to eat and drink every day, and they have to buy food," he said. "We have seen that many supermarkets in Wuhan are crowded with people indoors, which increases the risk of virus transmission. These small, open-air markets can help divert people from supermarkets and reduce the risks."
On Wednesday morning in Nanhu Fresh Food Market in Hongshan district, residents were choosing vegetables and fruits such as cabbage, tomato, potato, cucumber and eggplants, from about a dozen stalls while some stall owners helped unload vegetables from vehicles.
A woman surnamed Xiao, who lives nearby, said the produce sold in the market is a bit more expensive than in the supermarket, but she can accept it.
"All supermarkets nearby have been closed but one, so it is crowded and people have to line up to pay," she said. "The market is very close to my home, and we don't have to line up as there are not many people. We can buy things in the open air, and it is safer."
Wu Feng, a vendor at a vegetable stall in the market, said the number of buyers has dropped greatly over the past few days, with measures being taken by the government to restrict the movement of people to reduce chances of infection.
"Now, I mostly send the goods to residential areas after receiving orders online," he said. "The vegetables that sell best are those that can be stored longer, such as Chinese cabbage, radishes and potatoes."
Prices of locally produced vegetables such as cabbage remain stable, but some vegetables transported from outside Wuhan such as eggplant and ginger have become more expensive in the past few days due to restrictive measures on transportation into the city, he said.