Foreign affairs office advises expats to stay inside and keep hands clean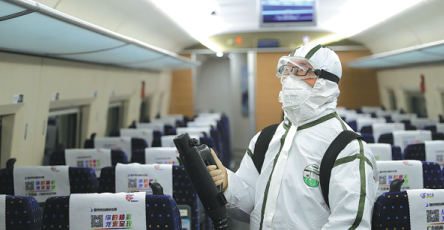 To cope with the outbreak of pneumonia caused by the novel coronavirus, the Shanxi Foreign Affairs Office recently sent a message to foreign citizens living and traveling in the province.
Foreigners are advised to reduce or avoid outdoor activities, stay away from crowds, and cancel parties, group dinners and other group activities. They are suggested to keep a distance of more than 1 meter when talking with others.
"After returning home, immediately wash your hands with hand sanitizer and running water, or use hand disinfectant containing alcohol. When you come back from the hospital, take a shower and change your clothes first," the message said.
They are required to wear masks when going out and properly dispose of the used masks, avoid unprotected contact with wild animals, consume thoroughly cooked food and drink hot water.
Foreigners are also advised to measure their body temperatures on a regular basis. When such symptoms as fever, cough, breathing difficulty or general weakness occur, foreigners should wear masks and seek medical care right away at designated hospitals.
To better prevent and control the outbreak while protecting the health of themselves and their families, foreigners are reminded to pay close attention to the relevant information and preventive measures released by the authorities of the central government and the Shanxi provincial government.
Foreigners can follow the WeChat account of the Shanxi Health Commission by searching "jksxgw" and the official website "http://wjw.shanxi.gov.cn" to obtain the latest updates on the virus, information of designated hospitals for patients with the novel coronavirus, preventive measures and important notices.
A 24-hour English service line in the Shanxi Provincial Foreign Affairs Office-0351-4048572-is available. Foreigners can also contact the Health Commission of Shanxi Province through 0351-3580527 or 0351-3076127.