Community official on front lines of fight against disease
Share - WeChat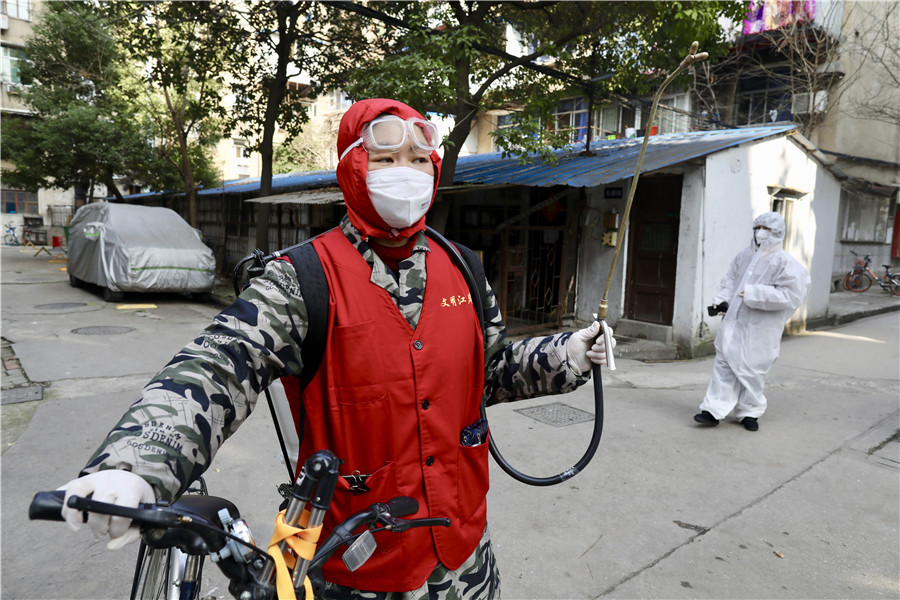 Before the novel coronavirus outbreak in Wuhan, Hubei province, community official Liu Juan's daily work mostly revolved around the maintenance of old houses and solving disputes between residents -- but now she's on the front line of the neighborhood's fight against infectious disease.
"The outbreak hit us out of the blue, and we were totally unprepared," said Liu, deputy director of the residential committee of the Weiqun community. "We had not received training in public health before, and did not know what to do at first."
The outbreak caused more than 8,300 confirmed pneumonia cases in Wuhan as of Tuesday, resulting in 362 deaths, Hubei's provincial health commission said on Wednesday.
In Weiqun community, which has a population of more than 5,800, four people died from pneumonia, Liu said, with three other confirmed cases of infection.
Twenty-three other community residents had symptoms like fever, and three had been transferred to a nearby quarantine and observation site on Tuesday, Liu said.
All suspected cases in Wuhan should be transferred to designated sites, such as hospitals or hotels, for quarantine instead of self-isolating at home, Wuhan's city government said in a notice issued over the weekend. Those in more serious condition must be hospitalized for treatment, it said. These measures will help reduce transmission of the virus.
Liu said despite an increase in the number of designated quarantine places for suspected cases, they might not be able to cope with the large number of suspected cases in the city at the moment. So before suspected patients move to designated sites, they have to be quarantined at home.
With local authorities taking more measures to increase the number of beds, such as building new hospitals, more residents in the community may receive treatment in hospital if they fall ill, Liu said.
Although official working hours for the nine workers in the community office start at 8 am, Liu has to start at least an hour earlier every day. She said she has to wear an isolation gown to deliver breakfast to some people suspected of being infected.
Keeping in contact with all suspected cases has been a major part of her daily work since late January, she said.
"I will give them telephone calls asking about their condition, such as whether they have a cough or feel fatigued, and ask them to take their body temperature," Liu said. "In many cases I have to comfort them or their family members."
Although admitting she sometimes worries about infection, she said she was not afraid of her work.
"I always tell myself I cannot fear," she said. "We are just over 40 years old and if we fear, who will take care of the elders in the neighborhood?"