People in lockdown learn to entertain themselves
Share - WeChat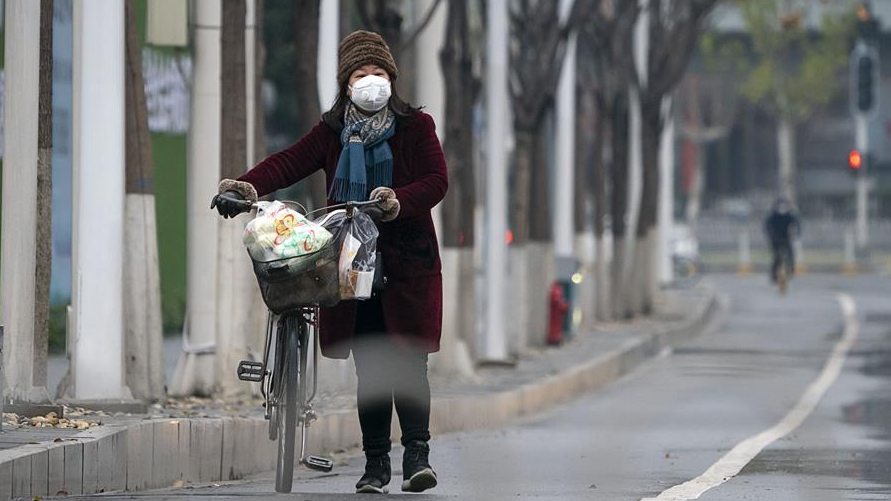 It has been more than 10 days since Wuhan, the epicenter of the deadly novel coronavirus outbreak, entered an unprecedented lockdown. For most residents trapped in their homes, life has not been easy, but they are trying their best not to let the epidemic affect them too much.
The city of 11 million people in Hubei province has been on lockdown since Jan 23. Flights, trains and buses leaving and entering Wuhan have been canceled, highways in and out of the city blocked and public transportation suspended. The city later even banned some private vehicles to limit as much movement as possible.
Many residents are finding new ways to make staying at home not as boring as it sounds.
In one popular video, which garnered more than 320 million views on Sina Weibo, a man speaking in the Wuhan dialect is seen shouting at the darkness asking if there is anyone out there.
"People living at the nearby apartment building, open your windows," he said. "Let's start a shouting match. I am going crazy."
Later, another man replied: "Roger that. I also want to talk to someone. Let's open our windows and our hearts to talk."
There were also popular videos on different social media platforms showing people's daily exercise routine-getting up around noon, taking a small walk in their living room, in their kitchen, guest bedroom and restroom and then returning to their bedroom.
Some tried to play badminton in their living rooms or ping-pong on their dinner tables. Others simply posted screenshots of their daily exercise results on social media, showing them walking less than 100 steps in a day.
Bai Yu, 29, a university teacher in Wuhan, said she has only gone out twice to buy daily necessities at nearby stores since the lockdown and spent the rest of the time at home with her husband.
"We usually get up around noon, my husband cooks lunch, then I will do some reading for the paper I am writing in the afternoon, and we usually spend the evening watching some TV series or shows."
"My husband's cooking skills have improved greatly since we cannot rely on convenient food delivery service as before," Bai said. "I am dying to go to a restaurant for some grilled streaky pork and pork rib soup, though."
"I think our love for each other has also deepened, as we are going through a unique period of time together," she said.
Bai said she thinks compared with young people who are savvy internet users and are more than capable of finding entertainment online, older people like her parents and grandparents have a harder time coping with the sedentary life.
"They are more susceptible to all kinds of rumors about the virus, and new and often false prevention measures," she said. "Their psychological well-being deserves more attention."
To help them cope with the situation, Bai said she and her husband have been frequently chatting with their parents and grandparents on video to check up on them.
Liu Can, 31, who works at a government institution in Wuhan, said her life has not been affected much by the epidemic since both she and her husband are indoor people.
Liu, who lives with her husband, daughter and in-laws, said they also have not left their home unless it was to buy groceries at a nearby store or take out trash.
"My husband has basically spent the past 10 days playing video games, and he said as long as there is an internet connection, he is fine with not leaving the house."
Liu has taken a more vigilant approach toward the virus. She has frequently ventilated the house, disinfected all clothes and kitchenware and made sure all shoes are left outside the door.
She and her in-laws were also busy taking care of her 1-year-old daughter. "With a small baby around, life can never be too dull," she said.