Volunteers step up, give medical workers rides to and from hospitals
Share - WeChat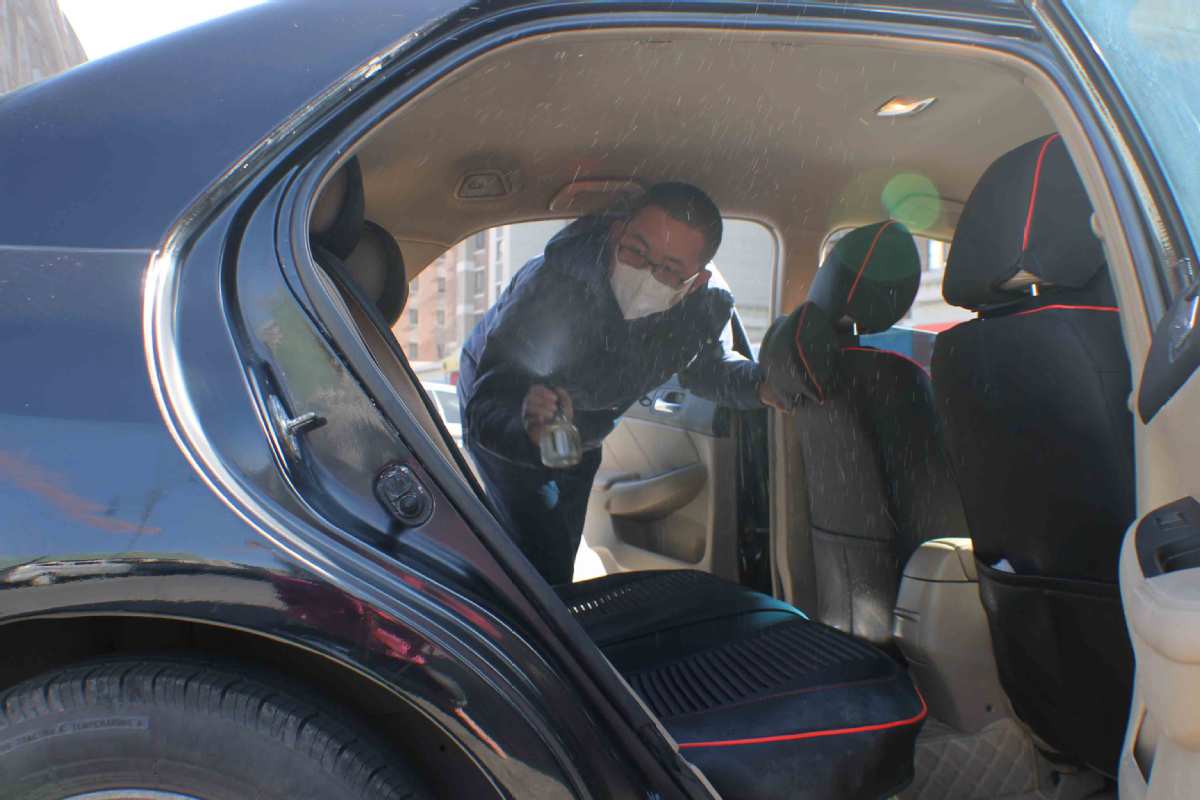 Editor's note: This series tells the stories of selfless individuals, from medical workers to volunteers, who are bravely fighting the virus outbreak with extraordinary dedication.
Leifeng Xiaoyang (not his real name), who works at a hotel in Wuhan, Hubei province, the epicenter of the coronavirus outbreak, is among a group of volunteers providing medical workers with rides.
The hotel, which is on the outskirts of Wuhan, is open as usual. "But when I'm off duty, I volunteer to drive medical workers home or to hospitals," said Xiaoyang, who asked that his real name not be used.
After Wuhan was put under quarantine, Xiaoyang, a Wuhan native, posted a message on weibo (a Chinese version of Twitter) on Jan 24 offering doctors and nurses free pick-up service.
"And later I found a group of volunteers who are also helping those medical professionals who need a lift," Xiaoyang said. "We get information about when and where to pick up and drop off medical workers in our group WeChat.
"We don't talk much in the car," he said. "They (doctors and nurses) are too tired, and I let them take a nap."
At every destination Xiaoyang asks his guests to take a selfie with him as a memory of this time of emergency, and "everyone agrees," he said.
Among Xiaoyang's guests was a nurse in her 20s who left a deep impression. She was working at the children's hospital in the city but wanted to work on the front line to help patients infected with the new coronavirus.
"The day I gave her a lift she submitted her application for a frontline job," Xiaoyang said.
Before Xiaoyang provided her with rides, the young nurse had been going to work on foot, a one-hour journey, since the authorities in Wuhan had suspended public transportation on Jan 23 to better fight the outbreak.
Xiaoyang said that when he told his parents he would volunteer to drive medical workers, "they were worried about me and dead against the idea".
"As I have protected myself and my guests well, I'm not worried about my safety," he said.
When he drives, he rolls the windows down a little so the car is not an enclosed space. After dropping off his guests, he always disinfects the seats.
"Now many hospitals have arranged buses for their doctors and nurses. So we have fewer guests now," Xiaoyang said. "But as long as I am free, I'm ready to be their driver."
The masks Xiaoyang wears were gifts from a couple of medical professionals to whom he had given a ride.
"What I'm doing as a volunteer means something special for me," he said. "If we don't do something, the city may be sunk."
Meanwhile, Yinchuan, the capital of the Ningxia Hui autonomous region in Northwest China, suspended bus service on Jan 29 in an attempt to contain the coronavirus. The city had 19 confirmed cases of the virus as of Sunday.
As soon as Ban Bo, a 39-year-old teacher at Ningxia Vocational College of Finance and Economics, heard the news that public transportation had been halted, he decided to do his part for those who needed help.
He joined two groups of volunteers who give medical workers free rides.
"Many of my relatives are working at hospitals, so I know how hard their work is," Ban said.
The taxi industry in Yinchuan has set up 19 groups, including more than 300 cabs for free pickup service for medical professionals from eight hospitals, with 200 of the taxis specifically for doctors and nurses.
See more by scanning the code.