Worker overcomes obstacles to build Wuhan hospital
Share - WeChat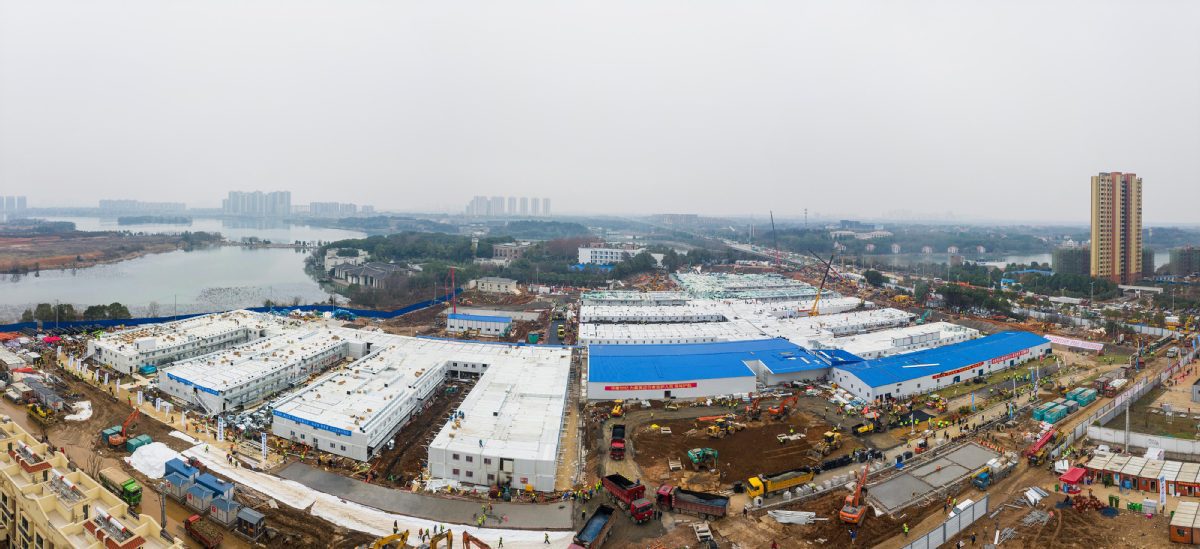 Within just 10 days, construction of a new 1,000-bed hospital in Wuhan, Hubei province for novel coronavirus patients was completed, and the facility was handed over for use on Sunday.
The miracle was possible thanks to about 4,700 workers, putting in shifts day and night.
Yuan Tianxiong, a 54-year-old manager of a mixed concrete plant under the China State Construction Engineering Corporation, is one of them.
Based in Wuhan, he got a call on Jan 23 asking him and his team to join in the construction of Huoshenshan Hospital, designed for receiving highly contagious pneumonia patients.
"Most of my staff returned home for the Spring Festival holiday, and I had just seven people available, including an electrician, a truck operator, two quality inspectors and a cook," he said.
In addition to a shortage of workers, he was recovering from a bone fracture. On Jan 2, his right arm was broken due to an accidental slip at home.
But thinking of his cousin, who died just a few days before from pneumonia caused by the novel coronavirus, he agreed. "I realized the severity of this outbreak after Wuhan's lockdown and my cousin's death," he said.
To avoid too much attention to his broken arm, his wife used an old scarf to replace the white bandage that held his arm, which accompanied him through the 10 days of working.
The first task for his team was to provide 3,000 cubic meters of mixed concrete for construction. It meant they need to transport about 2,000 metric tons of mud and sand to the construction site.
Starting at 2 pm on Chinese New Year's Eve, he led the seven-member team and transported the material through the wee hours of the Lunar New Year.
Fortunately, the shortage of workers and materials were relieved each day, as thousands of workers asked to join the mission.
"I have never seen or even imagined a project done within such a short period and in such a rapid way," he said.
The construction workers operated about 1,000 machines on shift 24 hours a day at the site. They had to improve work efficiency, which shortened their time for sleeping and eating.
Yuan said he hasn't slept well for days because of the special demands of the project.
The project demanded concrete be ready early, which meant the hardening of concrete should be reduced from 10 hours to just five. He often got calls at midnight, and also called drivers of cement mixer trucks to keep them awake at night, because "they would easily fall asleep after long shifts," he said.
His son, who was working abroad without knowing the situation, called him on Jan 29 and asked him to rest for better recovery and not to go to crowded places to avoid infection.
Yuan agreed, but secretly knew the place where he worked was probably the most crowded place in Wuhan.
"I just hoped we could build the hospital faster so more people can be saved," Yuan said. "That will make all our effort worth it."